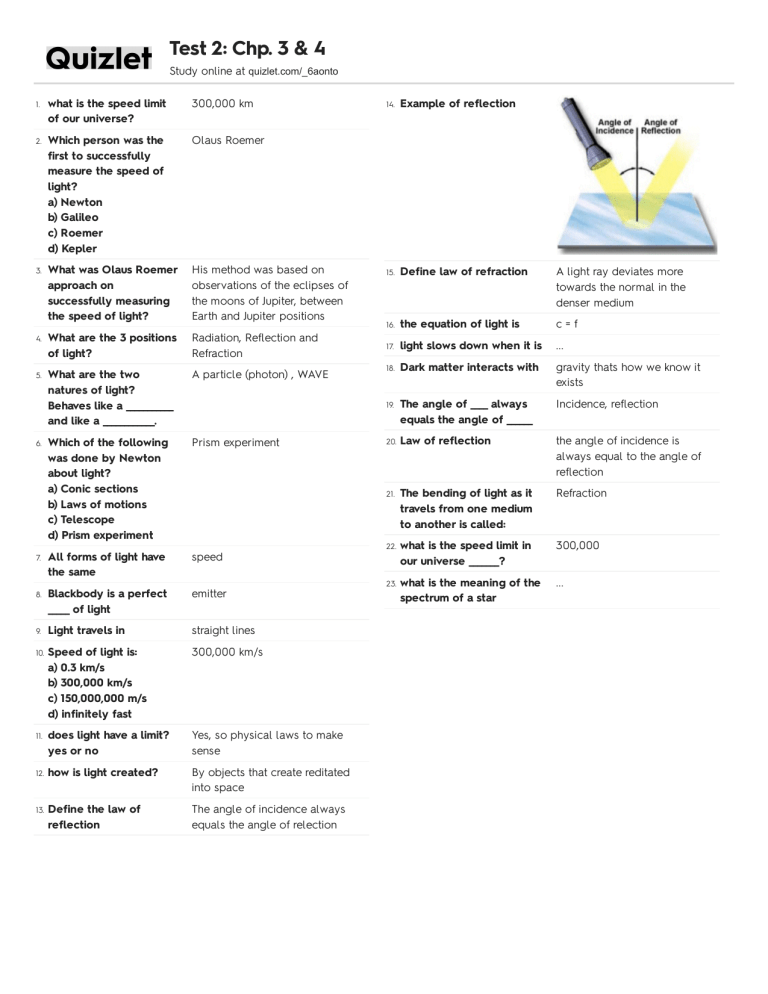 Test 2: Chp. 3 & 4
Study online at quizlet.com/_6aonto
1.
what is the speed limit
of our universe?
300,000 km
2.
Which person was the
first to successfully
measure the speed of
light?
a) Newton
b) Galileo
c) Roemer
d) Kepler
Olaus Roemer
3.
What was Olaus Roemer
approach on
successfully measuring
the speed of light?
His method was based on
observations of the eclipses of
the moons of Jupiter, between
Earth and Jupiter positions
4.
What are the 3 positions
of light?
Radiation, Reflection and
Refraction
5.
What are the two
natures of light?
Behaves like a ___________
and like a ____________.
A particle (photon) , WAVE
Which of the following
was done by Newton
about light?
a) Conic sections
b) Laws of motions
c) Telescope
d) Prism experiment
Prism experiment
7.
All forms of light have
the same
speed
8.
Blackbody is a perfect
_____ of light
emitter
9.
Light travels in
straight lines
10.
Speed of light is:
a) 0.3 km/s
b) 300,000 km/s
c) 150,000,000 m/s
d) infinitely fast
300,000 km/s
11.
does light have a limit?
yes or no
Yes, so physical laws to make
sense
12.
how is light created?
By objects that create reditated
into space
13.
Define the law of
reflection
The angle of incidence always
equals the angle of relection
6.
14.
Example of reflection
15.
Define law of refraction
A light ray deviates more
towards the normal in the
denser medium
16.
the equation of light is
c=f
17.
light slows down when it is
...
18.
Dark matter interacts with
gravity thats how we know it
exists
19.
The angle of ____ always
equals the angle of ______
Incidence, reflection
20.
Law of reflection
the angle of incidence is
always equal to the angle of
reflection
21.
The bending of light as it
travels from one medium
to another is called:
Refraction
22.
what is the speed limit in
our universe _______?
300,000
23.
what is the meaning of the
spectrum of a star
...