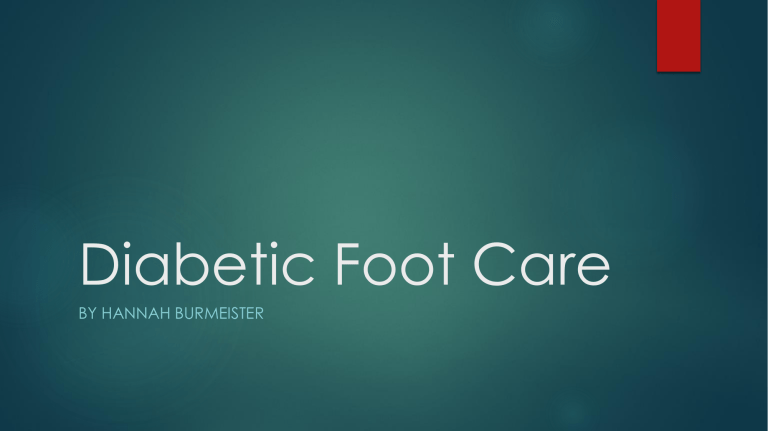 Diabetic Foot Care
BY HANNAH BURMEISTER
Objectives

Examine the prevalence of diabetic foot complications and the
impact on the patients across the nation.

Understand the pathogenesis of diabetic foot ulcerations (DFU's).

Describe the Comprehensive Diabetic Foot Exam (CDFE) to identify
at risk feet.

Examine standards of care in regard to diabetic foot care.

Investigate preventative strategies to reduce the risk of diabetic foot
ulcerations and amputations.

Empower Nurse Practitioners and other providers who treat diabetic
patients to collaborate to reduce diabetic foot complications and
amputations.
Diabetes
incidence

United States: 34.2 Million
People, or 10.5% of the U.S.
Population

Georgia: More than 1 in 10
people (Or more than 1
million people)

Augusta, Georgia:
Approximately 18% of the
population has Diabetes.
Georgia Department of Community Health. (2015). Georgia Diabetes Report and Action Plan.
Diabetic Foot Statistics

Foot ulcers develop in 9.1-26.1 million people every year worldwide.

The lifetime incidence of foot ulcers in diabetic patients is 19-34%.

More than 50% of DFU's become infected and 20% with moderate
to severe infection result in amputation.

Nearly 85% of diabetes-related amputations are caused by an
ulcer.

In Georgia, the death rate for diabetes is 8% higher than the
national average.