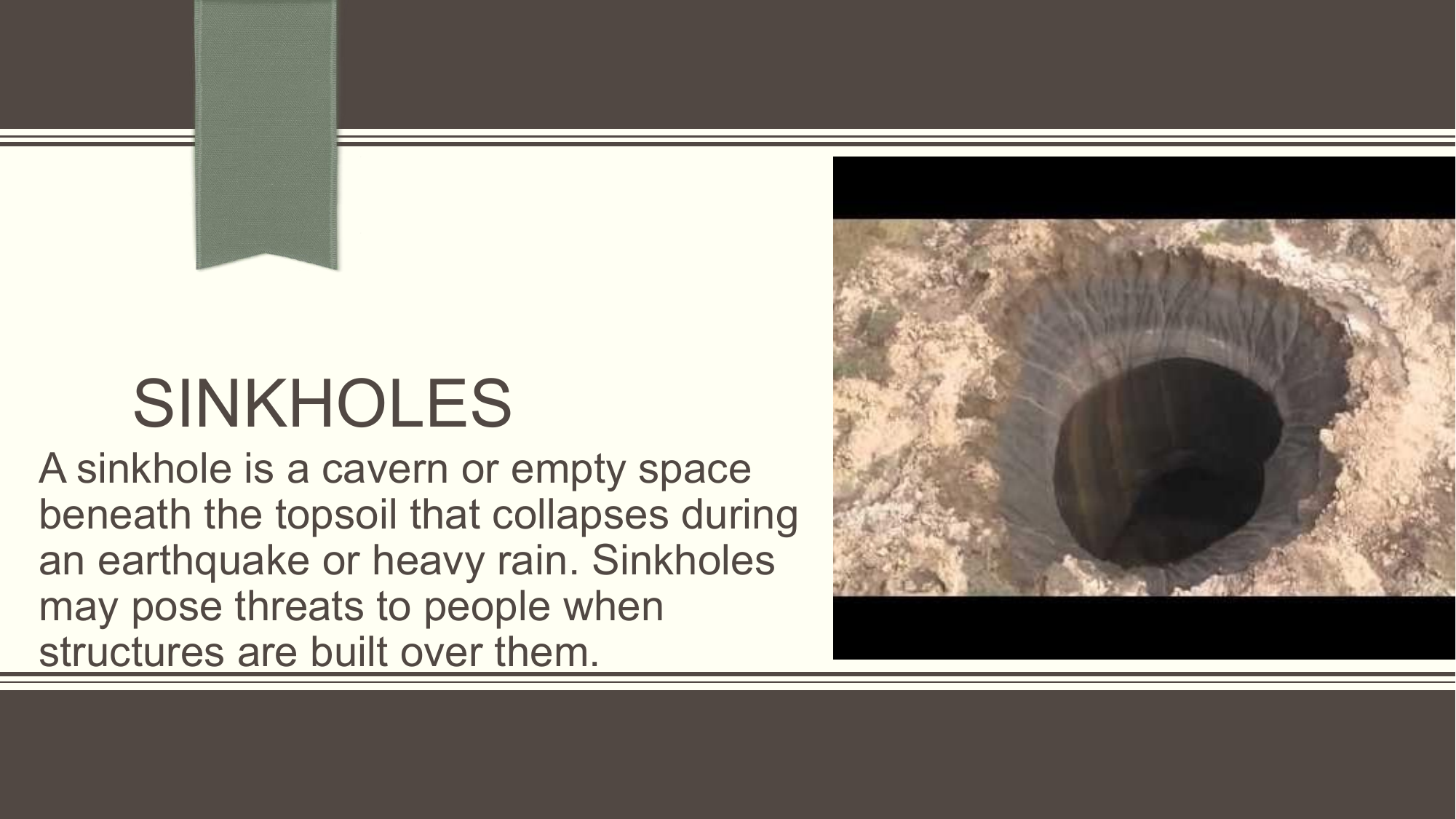 SINKHOLES
A sinkhole is a cavern or empty space
beneath the topsoil that collapses during
an earthquake or heavy rain. Sinkholes
may pose threats to people when
structures are built over them.
A MAJORITY OF THE
COUNTRY'S
MUNICIPALITIES – 1,171
OUT OF THE TOTAL
1,490 – SIT ON SOLUBLE
ROCKS.
THE MGB PROGRAM USES
A GROUND PENETRATING
RADAR (GPR) TO DETECT
SINKHOLES AND GROUND
SUBSIDENCE WITH
ELECTROMAGNETIC
ENERGY.
THE THREE COMMON
ROCKS THAT DISSOLVE
ARE ROCKSALT, GYPSUM AND LIMES
TONE (INCLUDING
CHALK).
DISSOLUTION OF THESE
ROCKS PRODUCES
CAVES, SINKHOLES,
SINKING STREAMS AND
LARGE SPRINGS,
CREATING A LANDSCAPE
KNOWN AS KARST.
5 places in the Philippines with known sinkholes (Photos and
videos courtesy of respective owners):
1. Sinkhole in Bantayan Island and Badian,
Cebu
2. Sinkhole in Kabankalan City, Negros
Occidental
3. Baguio City sinkholes
4. Sinkhole in Bohol
5. Mysterious Underwater sinkhole of
Dadiangas, GenSan
1. SINKHOLE IN BANTAYAN
ISLAND AND BADIAN, CEBU
A new sinkhole in Sta. Fe town in
Bantayan island was found in July last
year that forced families in sitio Dapdap,
Barangay Langub to relocate. Initially, the
hole is two to three feet wide but grew
wider according to residents. The
sinkhole was about 40 feet wide and 4
feet deep.
2. SINKHOLE IN
KABANKALAN CITY,
NEGROS OCCIDENTAL
Six people have reportedly fallen into a 12 feet
deep sinkhole that suddenly appeared in the
middle of a basketball court in Purok Jalandoni,
Barangay Oringao in Kabankalan City, Negros
Occidental in July last year. MGB said the hole
may have been created by water flowing
underground. They considered this as a
geological hazard.
3. BAGUIO CITY
SINKHOLES
Sinkholes are quite common in Baguio City, which
also has at least seven known faults and numerous
areas vulnerable to landslides. Landslides could be
triggered by an earthquake or continuous rainfall,
which can also cause sinkholes to wreak havoc.
Because Baguio has one of the 10 highest daily
rainfall records in the world and is visited by an
average of five cyclones in a three-year period,
landslides and sinkhole-related mishaps are
expected.
4. SINKHOLE IN BOHOL
 The deep hole found in Barangay
Cambilan, Catigbian, Bohol according
to Harlans Multimedia Production
who has posted the video in Youtube
said it was due to the 7.2 magnitude
earthquake that struck the province in
October 2013.
5. MYSTERIOUS
UNDERWATER SINKHOLE
OF DADIANGAS, GENSAN
Disaster officials are still puzzled on a deep hole suspected
sinkhole at Purok Tinago, a community of informal settlers in
Barangay South Dadiangas, General Santos City. Local TV
stations have reported that it suddenly appeared in February
this year.
Local reports said the underwater hole continues to eat into
the shores and gobble their homes. When they tried to
measure the depth of the hole using a pumpboat anchor, only
20 dipa (fathoms) were left of the 350 fathoms of rope.
SOURCE:
https://www.thesummitexpress.com/2015/04/in-photos-5-places-philippines-with-mysterioussinkholes.html
In the Article No 1. Sinkholes: The Philippine Experience, answer the following
1. Discuss how sinkholes are formed.
2. Discuss the relationships between limestones and sinkholes.
3. Enumerate the sinkhole-prone areas in the Philippines. What could be the reasons?
4. How to determine/probe potential sinkholes?
In the Article No 2. Sinkholes:
1. Based from this article, define sinkholes.
2. What are the causes of sinkholes?
3. Discuss the three types of sinkholes.
4. Discuss the effects of sinkholes.
In the Article No. 3: What are Sinkholes?
1. Define sinkholes as contextualized in this article.
2. What is the most dangerous type of sinkhole? Why?
3. What are the warning signs of sinkholes? Explain.
4. What are Blue Holes?