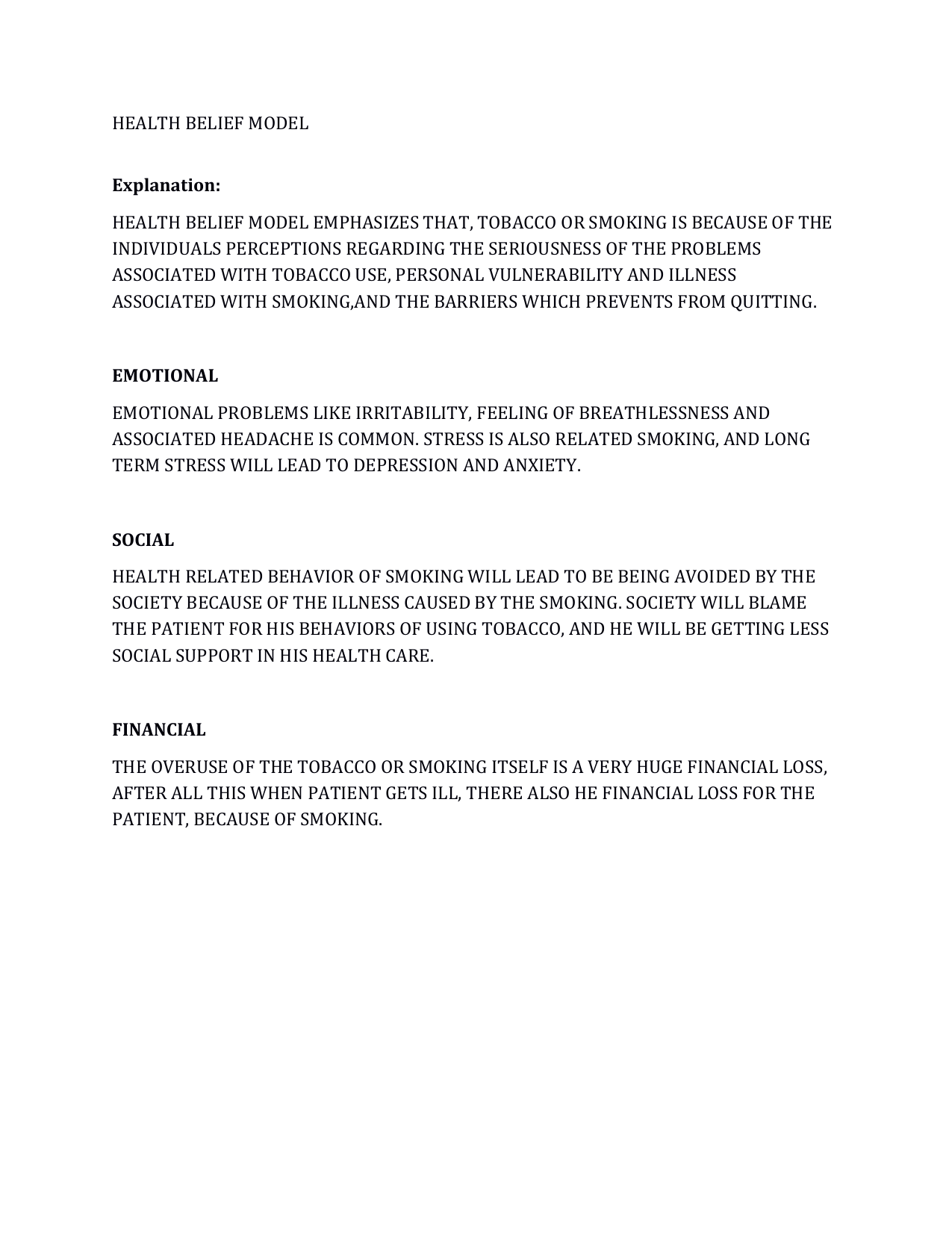 HEALTH BELIEF MODEL
Explanation:
HEALTH BELIEF MODEL EMPHASIZES THAT, TOBACCO OR SMOKING IS BECAUSE OF THE
INDIVIDUALS PERCEPTIONS REGARDING THE SERIOUSNESS OF THE PROBLEMS
ASSOCIATED WITH TOBACCO USE, PERSONAL VULNERABILITY AND ILLNESS
ASSOCIATED WITH SMOKING,AND THE BARRIERS WHICH PREVENTS FROM QUITTING.
EMOTIONAL
EMOTIONAL PROBLEMS LIKE IRRITABILITY, FEELING OF BREATHLESSNESS AND
ASSOCIATED HEADACHE IS COMMON. STRESS IS ALSO RELATED SMOKING, AND LONG
TERM STRESS WILL LEAD TO DEPRESSION AND ANXIETY.
SOCIAL
HEALTH RELATED BEHAVIOR OF SMOKING WILL LEAD TO BE BEING AVOIDED BY THE
SOCIETY BECAUSE OF THE ILLNESS CAUSED BY THE SMOKING. SOCIETY WILL BLAME
THE PATIENT FOR HIS BEHAVIORS OF USING TOBACCO, AND HE WILL BE GETTING LESS
SOCIAL SUPPORT IN HIS HEALTH CARE.
FINANCIAL
THE OVERUSE OF THE TOBACCO OR SMOKING ITSELF IS A VERY HUGE FINANCIAL LOSS,
AFTER ALL THIS WHEN PATIENT GETS ILL, THERE ALSO HE FINANCIAL LOSS FOR THE
PATIENT, BECAUSE OF SMOKING.