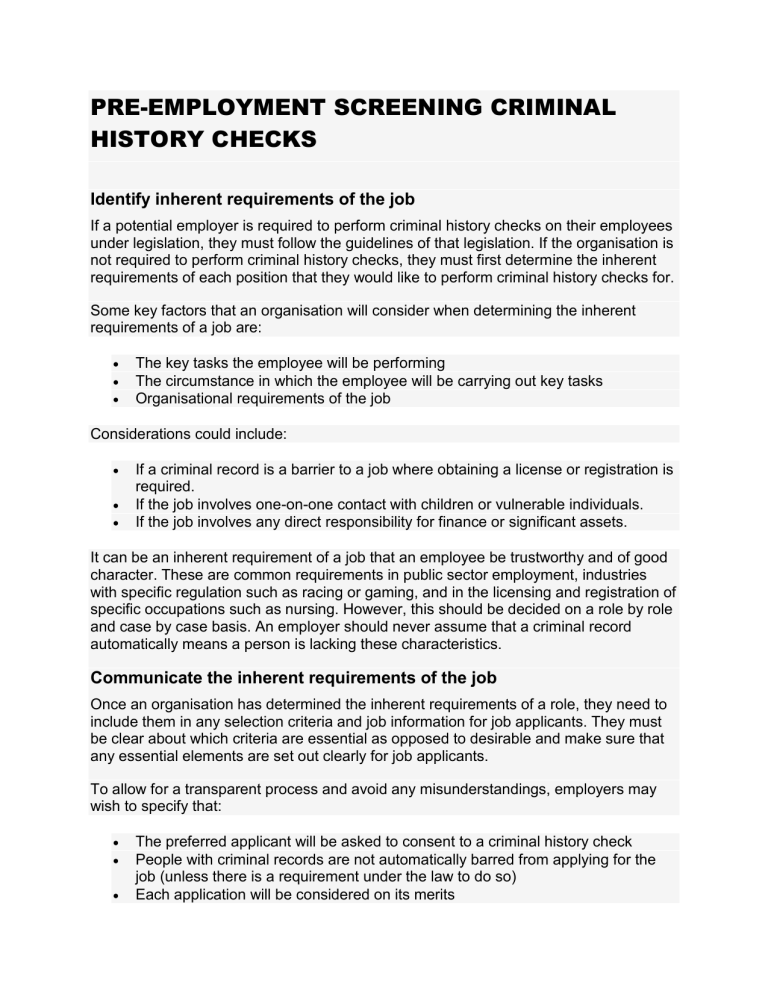 PRE-EMPLOYMENT SCREENING CRIMINAL
HISTORY CHECKS
Identify inherent requirements of the job
If a potential employer is required to perform criminal history checks on their employees
under legislation, they must follow the guidelines of that legislation. If the organisation is
not required to perform criminal history checks, they must first determine the inherent
requirements of each position that they would like to perform criminal history checks for.
Some key factors that an organisation will consider when determining the inherent
requirements of a job are:



The key tasks the employee will be performing
The circumstance in which the employee will be carrying out key tasks
Organisational requirements of the job
Considerations could include:



If a criminal record is a barrier to a job where obtaining a license or registration is
required.
If the job involves one-on-one contact with children or vulnerable individuals.
If the job involves any direct responsibility for finance or significant assets.
It can be an inherent requirement of a job that an employee be trustworthy and of good
character. These are common requirements in public sector employment, industries
with specific regulation such as racing or gaming, and in the licensing and registration of
specific occupations such as nursing. However, this should be decided on a role by role
and case by case basis. An employer should never assume that a criminal record
automatically means a person is lacking these characteristics.
Communicate the inherent requirements of the job
Once an organisation has determined the inherent requirements of a role, they need to
include them in any selection criteria and job information for job applicants. They must
be clear about which criteria are essential as opposed to desirable and make sure that
any essential elements are set out clearly for job applicants.
To allow for a transparent process and avoid any misunderstandings, employers may
wish to specify that:



The preferred applicant will be asked to consent to a criminal history check
People with criminal records are not automatically barred from applying for the
job (unless there is a requirement under the law to do so)
Each application will be considered on its merits

The applicant can contact the potential employer to find out information
By doing the above, a company is helping applicants decide whether or not to apply for
the position.
Obtain consent
For most jobs, a company will only request short-listed applicants complete a criminal
history check. This minimises:



Excessive and time-consuming administration involved with collecting consent
and ordering multiple checks
The expense of ordering multiple checks.
The risk of infringing on privacy when information is collected but not required
It is mandatory that an organisation obtains consent from you before conducting a
criminal history check in order to comply with Australian Privacy legislation. Australia
implemented changes to privacy laws in March 2014 which require an individual about
whom information is being collected to be informed of certain things, including the fact
that the information is being collected and who is collecting the information.
Potential employers should warn you that your employment is dependent on an
assessment of the results of your criminal record check. This should be clearly stated
on the job application form and explained carefully in the interview.
The organisation's criminal history check provider should have a consent form
incorporated into their process to ensure any applicants have signed their consent to
the check.
Order the criminal history check
Once you have given consent for a criminal history check to be performed, your
potential employer will order a criminal history check through their ACIC accredited
provider. The provider will lodge the application form and satisfy your identity by sighting
four identity documents. Your details will be submitted to the National Police checking
Service for processing. This personal information is checked against a central index of
names to determine whether there is a match. If there is a match, whether there is any
criminal history information that can be released will be checked.
It is up to the employer who pays for the criminal history check, however it could be
considered best practice that the employer pays to ensure authenticity and consistency.
Wait for results
Ideally, a company shouldn't make a final job offer before the results of a criminal
history check are returned. If a potential employee begins employment and training, and
a criminal record later reveals a relevant conviction, it can have a serious impact on
employees in addition to the company wasting resources.
Depending on how complex a criminal history check is, it may sometimes take a few
days, or even weeks to return. If this happens, it may be because the application has
been flagged for further review if it has been matched against somebody on the
database with a similar name, gender and/or date of birth. When this occurs, there is a
review process that is undertaken where each of Australia's criminal history agencies
are consulted to resolve the match.
If an employer offers you a position prior to the criminal record check, they should
clearly inform you that your employment is conditional on the results of the criminal
history check.
Consider the results of a criminal history checks
When a Police check is being conducted, there are two possible outcomes that will be
released. These outcomes are:
No Criminal Record – This result indicates that there is either no criminal history
history information against the applicant, or no information that can be released.
Criminal Record – This result indicates that there is criminal history history information
held against the applicant that can be released.
It's important to note that if you have a criminal record, you will not be automatically
barred from employment. According to the Australian Human Rights Commission Act
1986, unless inherent requirements of a job can't be met, all persons have the right to
equal opportunity. If your criminal history check is returned with a Criminal Record,
there are measures that you can take to ensure equal opportunity in the workplace.