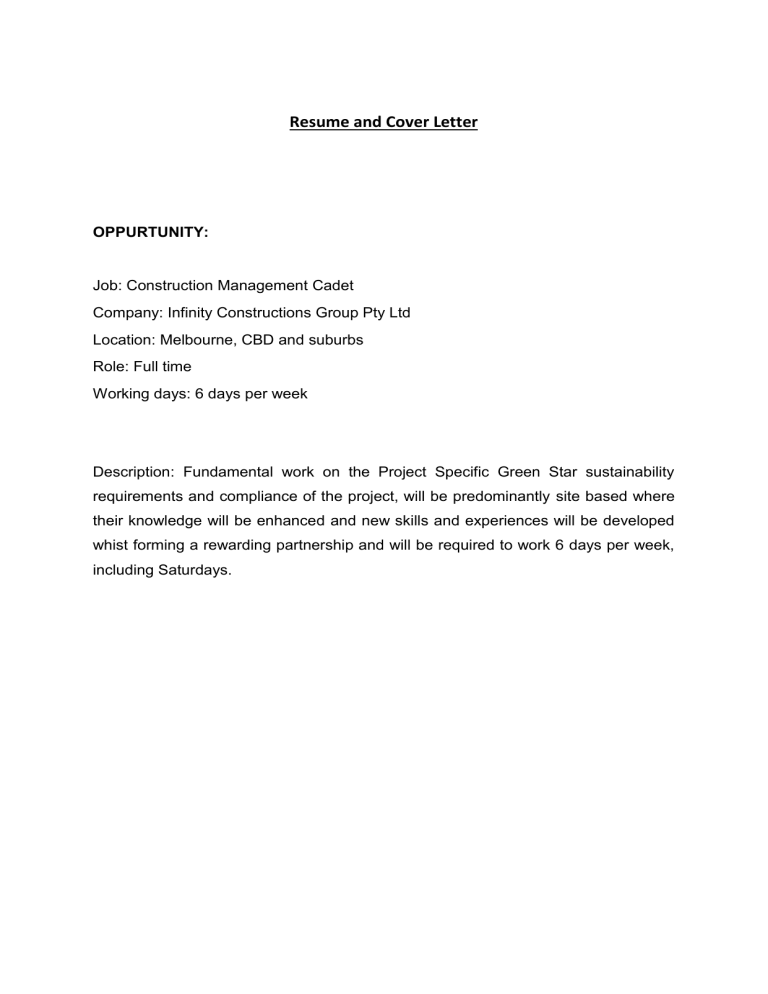 Resume and Cover Letter
OPPURTUNITY:
Job: Construction Management Cadet
Company: Infinity Constructions Group Pty Ltd
Location: Melbourne, CBD and suburbs
Role: Full time
Working days: 6 days per week
Description: Fundamental work on the Project Specific Green Star sustainability
requirements and compliance of the project, will be predominantly site based where
their knowledge will be enhanced and new skills and experiences will be developed
whist forming a rewarding partnership and will be required to work 6 days per week,
including Saturdays.
COVER LETTER
Hemanth Kosaraju,
4 Cornbury Mews,
Grovedale, Victoria-3216.
To
Human Resources Manager,
Infinity Constructions Group Pty Ltd.
I was very much interested and looking forward for the role of construction
management cadet in your company. I have an experience of working in a similar role
of site engineer in India. In addition, I have done my bachelors in stream of civil
engineering and masters in construction management.
While working as site engineer, my role is to provide engineering support to the project
managers, preparing project reports and to monitor the progress of project accordingly
with the allocated schedule. The project is a part of infrastructure development for the
new capital in particular state. This experience helped to develop my leadership, site
management skills and understand the architectural drawings in specific. Additionally,
my masters course improved my project management and quantity estimating skills.
The role you advertised will fit my education, skills and experience. The resume
provided below will help you to know my achievements and education in detail. I hope
this position fits for my profile and expecting a call from you.
I like to thank for your valuable time and looking forward to work with your team.
Sincerely,
Hemanth Kosaraju.