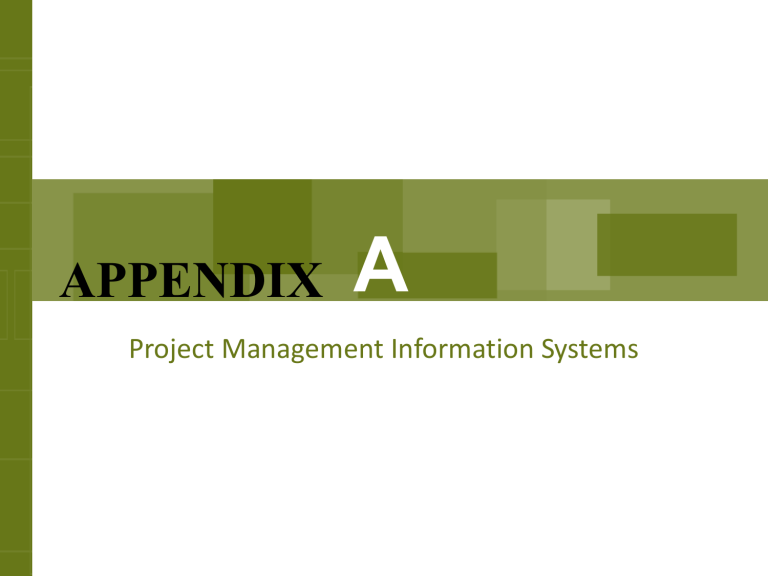 APPENDIX
A
Project Management Information Systems
Appendix Concepts
Discussions of:
The common features available in most PMISs
Advantages of using a PMIS
Concerns of using a PMIS
How to find vendors offering PMISs
Criteria for selecting a PMIS
Project Management Information System
Features
Budgeting and Cost
Management
Communications
Documentation
Management
Integration and
Customization
Online Tutorials
Project Planning
Project Portfolio
Management
Project Tracking and Control
Report Generation
Resource Management
Risk Management
Sales and Business
Development
Security and Access
Controls
Criteria for Selecting
Project Management Information Systems
Capacity
Documentation and
online help facilities
Ease of use
Features available
Installation
requirements
Integration with other
systems
Internet features
Reporting capabilities
Security
Vendor support
Advantages of Using
Project Management Information Systems
Ability to handle complexity on large-scale projects
Accuracy
Affordability
Ease of use
Maintainability and modifiability
Record keeping
Speed
What-if analysis
Concerns about Using
Project Management Information Systems
Distraction
False sense of security
Information overload
Learning curve
Overreliance on information system
Project Management Information Systems
Vendors
Numerous systems are available
 Provide support for project management process
 Provide online demonstrations or free trials
Evaluations of top selling systems online
 Comparison of popular systems
 Lists of features
 Summary of strengths and weaknesses
Summary
Project management information systems include a number of features . The most
common are budgeting and cost management, communications, documentation
management, integration and customization, portfolio management, online
tutorials, project planning, project tracking and control, report generation,
resource management, risk management, sales and business development, and
security and access controls.
Criteria for selecting a project management information system include capacity,
documentation and online help facilities, ease of use, features available,
integration with other systems, installation requirements, reporting capabilities,
Internet features, security, and vendor support.
The benefits of project management information systems include accuracy,
affordability, ease of use, ability to handle complexity, maintainability and
modifiability, record keeping, speed, and what-if analysis.
The concerns about project management information systems include becoming
distracted by the project management information system, a false sense of
security, information overload, the learning curve, and overreliance on the project
management information system.