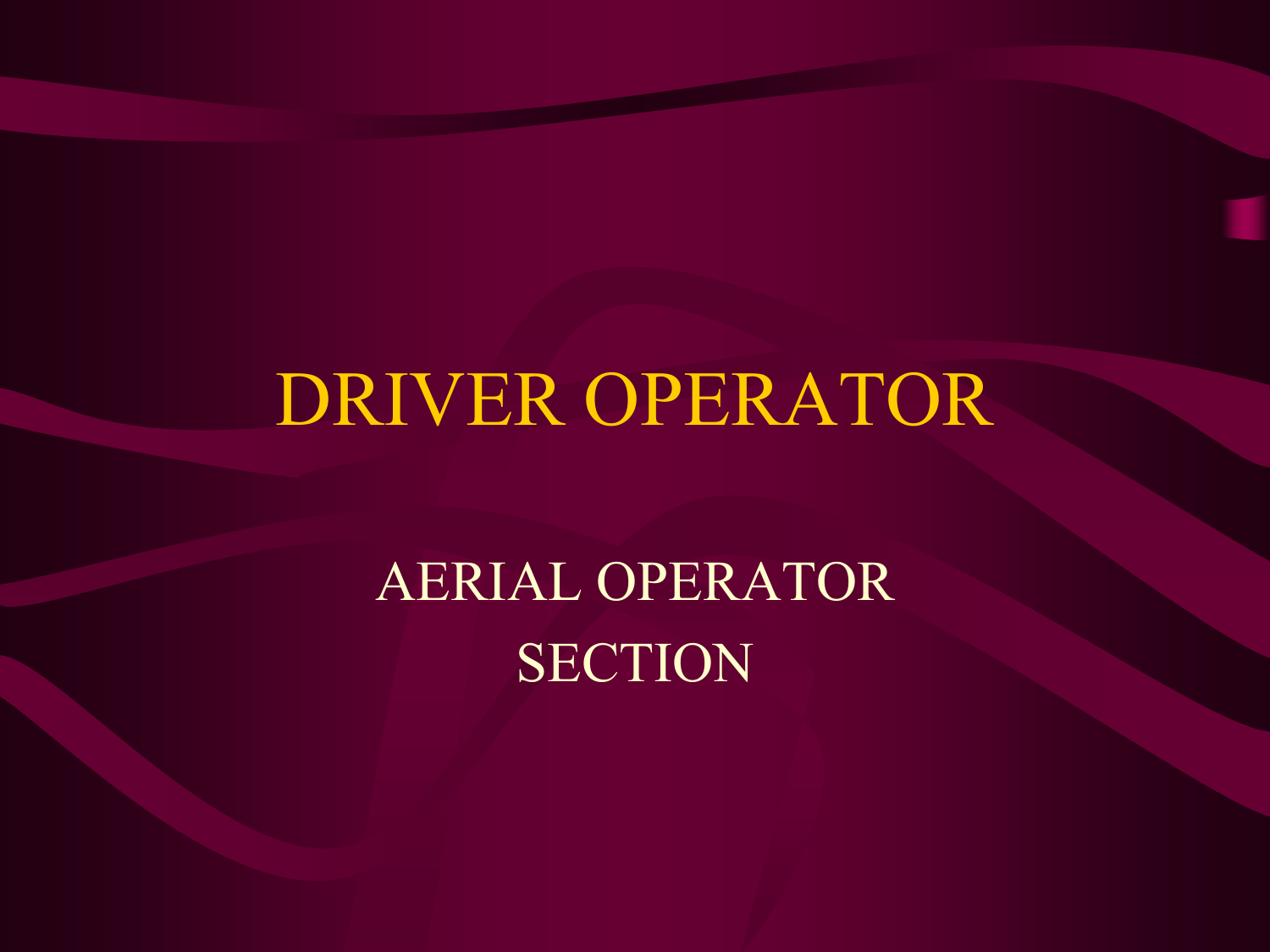 DRIVER OPERATOR
AERIAL OPERATOR
SECTION
Introduction to Aerials
• NFPA sets the minimum job requirements
• Authority having jurisdiction may set a
higher standard
• Must be certified to NFPA 1001 Firefighter
Level 1.
• Must be licensed for all fire department
apparatus that they will drive.
Introduction to Aerials
• Should be certified in Driver Operator
Pumps and Emergency Vehicle Driving
• Must meet the medical requirements of
NFPA 1500
3 Major Aerial Apparatus
Categories
• Aerial Ladders IFSTA p.8
• Elevating Platforms IFSTA p.11
• Water Towers IFSTA p.15, 26
NFPA Standard
•
•
•
•
•
NFPA 1901
NFPA 1904
NFPA 1901
NFPA 1901
NFPA 1901
Prior to 1991
1991 edition
1997 edition
1999 edition
2003 edition
4 Main Subdivisions of Aerial
Apparatus
•
•
•
•
Aerial Ladders IFSTA p.8
Aerial Ladder Platforms IFSTA p.13
Telescoping Aerial Platforms IFSTA p.13-14
Articulating Aerial Platforms IFSTA p.14
Aerial Subdivisions
Aerial Ladder
• Aerial Ladders
• Most common aerial fire apparatus in North
America
4 Main Functions of an
Aerial Ladder
•
•
•
•
Rescue
Ventilation
Elevated Master Stream
Access to Upper Levels
Aerial Ladders
• Rear Mounted
• Midship Mounted
• Tractor Trailer
Combination
Ladder
•
•
•
•
Aluminum
Steel
All are truss construction because of weight
Trusses are designed to be stronger when
the ladder is unsupported.
• Supporting a ladder reverses the tension and
compression loads.
Aerial Ladders
• Truss Construction
Parts of a Typical Aerial Ladder
•
•
•
•
Truss
Base / Bed section
Fly section
Tip
•
•
•
•
•
Base Rail
Top Rail
Rungs
Folding Steps
Turntable
Lesson 1, IG 1-8
Aerial Ladder Measurement
• An aerial ladder is measured from the tip of
the last rung on the top fly section with the
ladder fully extended and at maximum
elevation to the ground.
• Maximum angle of elevation is
approximately 85 degrees.
• Aerial Ladders range from 50 to 135 feet
Aerial Ladder
• Old: Ladder raised by the cable drum
assembly
Aerial Ladder
• New: Hydraulic cylinder and cable
Aerial Ladder
• Ladder
Aerial Ladder
• Ladder
Aerial Ladder
• Ladder
Aerial Subdivisions
Elevating Platforms
• Aerial Ladder Platform
Aerial Platform Measurement
• NFPA: From the ground to the top surface
of highest platform handrail at maximum
elevation and extension.
• Outline: From the ground to the bottom of
the platform with the booms at maximum
elevation
• Aerial platforms range from 85 to 110 feet.
• A 4" kickplate is required.
Aerial Ladder Platform
•
•
•
•
•
•
A work platform attached to a ladder
Rear and midship mounted models
Leveling system is required for platform
Minimum floor area is 14 sq. ft.
A heat protective shield is required
A protective water fog nozzle is usually
installed under the platform for protection
minimum 75 gpm
Aerial Ladder Platform
• Must have a rail completely enclosing the
platform with no opening under the railing
greater than 24"
• Must provide drain openings
• 2 operating control stations, ground overrides bucket
• Back-up hydraulic system required
Aerial Ladder Platform
• Minimum load capacity 750 lbs. when fully
extended, at any elevation within normal range
of motion; with no water in piping
• This requirement drops to 500lbs when
waterway is charged
• Must be capable of 1,000 GPM at any position
• Communication system required between the 2
operating stations
Aerial Ladder Platform
• Platforms of 110' or
less are required to be
raised from the bedded
position to the
maximum elevation
and rotate 90 degrees
in 150 seconds or less
Aerial Ladder Platform
• Platform
Telescoping Aerial Platform
• A large boom replaces the ladder
– Small ladder attached to boom is used only for
escape
– Commonly 75'-100'
• Box beam or tubular truss beam
construction
• Hydraulic lines, air lines, electrical lines, or
waterways can be inside the beam or
outside the beam
Aerial Platform Design
• Telescoping Aerial Platforms
Aerial Subdivisions
• Telescoping Boom
Aerial Subdivisions
• Articulating Aerial Platforms
Articulating Aerial Platform
• Booms are connected by a hinge and fold
like an elbow
• Commonly range from 55'-85'
• Some may telescope and articulate, which
may range from 90' -174'
Articulating Aerial Platform
• Air, Water, and Electric lines are generally
connected to the outside of the booms
• Platform leveling device is required
• Arm construction limits the ability to get
near a building without placing the
apparatus too close
Aerial Platform Design
• Articulating Telescoping Booms
Aerial Platform Design
• Articulating Telescoping Boom
Turntable
• The primary function of the turntable is to
provide continuous rotation of the aerial
device on a horizontal plane IFSTA p.21
Turntable
• Must be able to rotate 360 degrees
• Lower control position must be able to
override the upper bucket control position
• Operate on large ball bearings
• Gear teeth are mounted on the outside
• Gear Teeth are turned by hydraulic,
mechanical drive or electric motor
Turntable Rotation
• Rotation motor
Rotation Motor
Rotation Motor
Pierce Quantum
Turntable
Control Pedestal
IFSTA 21-22
• Usually Waist High
• NFPA 1901 Required in platform if
equipped
• Turntable control must over-ride platform
• Some water towers, and smaller Quints
have controls at pump panel or rear of truck
Control Pedestal
• Most use three
separate levers
– Elevate
– Rotate
– Extend
• Some Use a Joystick
Control Pedestal
• Other controls include:
–
–
–
–
–
–
–
High Idle
Hydraulic oil pressure
Light
Rung Alignment
Inclinometer
Stop and lock controls
Communication system
Control Pedestal
Control Pedestal
Control
Pedestal
Equipped with
chart of safe
working heights
and angles
Communication
• Hands free for user at
the tip
• Hard wire or radio
• Required on all after
1996 per NFPA 1901
Fixed Breathing Air Systems
• Allow for use without donning standard
SCBA
• Supply hose and mask, Cylinder at base
• NOT REQUIRED BY 1901
• If equipped, must supply enough for 2
firefighters
• Piping system and components designed for
3x working pressure
Fixed Breathing Air Systems
IFSTA 27-28
• Low air alarm required at both control
stations when capacity drops below 20%
• Must conform to Government regulations
for compressed air cylinders and be
maintained per NFPA 1500
Firefighting Equipment
Firefighting Equipment
• Nozzles
Firefighting Equipment
• Lighting
• Forcible entry tools
– Axe
– Pike pole
• Ladders
• SCBA
• Standpipe and/or hand line
Fixed Equipment and Systems
Power Distribution Systems
• Power Inverters
– Convert the vehicle's 12 or 24 volt DC to 110
or 220 volt AC
– Used when little power is required
– Fuel efficient, compact
– Limited mobility
– May be tied to Shoreline system
Fixed Equipment and Systems
Power Distribution Systems
• Electric generators
– Most common power
source
– Gasoline, Diesel,
Hydraulic PTO, Propane
– Wiring through circuit
breakers
– 110-220 Volt; 7-12KW
– Flood lights, cord reels
IFSTA 28-30
Fixed Equipment and Systems
Power Distribution Systems
•
•
•
•
Flood Lights: range 500-1,500 watts
Most are telescoping
May be hydraulic or pneumatic light tower
Must match lighting with power available
Fixed Equipment and Systems
Power Distribution Systems
• Electric Cables, cord Reels, Extension
Cords
• Often used to power portable equipment or
remote lighing
• Usually 12 guage, 3 wire
• UL Listed, Twist-Lock
• Must be insulated and grounded
Fixed Equipment and Systems
Power Distribution Systems
• Hydraulic tool pumps
– Limitations when hose exceeds 100'
– Gas, Diesel, Hydraulic PTO
• Pneumatic tools and On-Board Air systems
– Separate from breathing air storage
– May have on-board compressor
– Hose reels
Portable Power Equipment
• Portable electric generators often powered
by gas or diesel
• Mounted in the compartment or deployable
• Usually up to 5 KW
• Portable lighting 500-1,000 watt
Portable Firefighting Equipment
•
•
•
•
•
Ground Ladders
Forcible Entry
Ventilation
Salvage and Overhaul
NFPA vs ISO requirements
Ground Ladders
• NFPA 1904 required
• NFPA 1901 now requires:
–
–
–
–
–
Minimum of 115 feet to include
One attic ladder
Two roof ladders
Two extension ladders
Quint only requires 1 of each totaling 85'
Forcible Entry Equipment
• NFPA 1901 Minimum
Requirements:
– (2) Flat-head axes
– (3) pick-head axes
– (2) 3-4' D-handle pike
poles
– (2) 6' Pike poles
– (2) 8' Pike Poles
– (2) 12' Pike Poles
•
•
•
•
•
(2) crow bars
(2) claw tools
(2) 12 lb sledge hammers
1 24" or longer bolt cutter
Assorted hand tools in a
tool box
Ventilation Equipment
•
•
•
•
Various saws
Smoke Ejectors
Door Jacks
Positive Pressure Fans
Salvage and Overhaul Equipment
• NFPA 1901:
– (6) salvage covers at
least 12 x 18'
– 2 scoop shovels
• Additional Equipment:
–
–
–
–
–
–
–
–
Thermal Imagers
Heat detectors
Plastic Sheeting
Dewatering devices
Sprinkler wedges
Floor runners
Squeegees
Mops and buckets
Other Equipment Required by
NFPA 1901
• (1) 80 B:C extinguisher
• (1) 2 ½ gallon water can
• (1) SCBA and (1) spare
cylinder for each
assigned seating
position- minimum 4
• First aid kit
• (4) spanner wrenches
• (1) hose roller or hoist
• (4) Class I safety
harnesses (1983)
• (1) 150' 1-person Life
Safety rope
• (1) 150' 2-person Life
Safety rope
• (2) 150' Utility rope
• (4) wheel chocks
ISO REQUIREMENTS
Chassis
Stabilizer Assembly
• Outriggers
Stabilizer Assembly
• Torque Box
Stabilizer Assembly
Stabilizer Types
•
•
•
•
Manual
Box Beam
A-Frame
Fulcrum
Stabilizers
• Manual
Stabilizers
• Box Beam
Stabilizers
• Box Beam
Stabilizers
• A-Frame
Stabilizers
• A Frame
Stabilizers
• Fulcrum
Stabilizers
• Fulcrum
Stabilizers
• Sutphen
E-0ne
Outriggers
• E-One new
Ground Plates
Outrigger Safety
• Pins
Stabilizer Control
• Sky-Arm
Stabilizer Control
• Snorkle
Stabilizer Control
• LTI
Stabilizer Control
• Seagrave
Stabilizer Control
• American LaFrance
Stabilizer Control
• E-One
Stabilizer Control
• E-One
Stabilizer Control
Chock Blocks
Front Brake Lock
Hydraulic Systems
IFSTA p.17
• Use hydraulic fluid to transmit force
because it is practically incompressible
• Allows force to be transmitted over a
relatively long distance with little loss of
power
• Pressures of up to 3,500psi, sometimes
greater
Hydraulic Systems
• Never use any part of your body to cover a
leak
• Can develop pinhole leaks that cut through
tissue
• Hydraulic pump powered by PTO
• Either rotary vane or rotary gear positive
displacement pump
Hydraulic Systems
• Fluid is moved from a reservoir that holds
enough fluid to operate the system and
condition displaced stored fluid
• Fluid is supplied through a series of steel
tubing and aircraft-type steel braided hoses
– Burst pressure must be 4x stronger than normal
operating pressure
• High Pressure swivel assembly
Hydraulic Valves
• Check Valves- prevent fluid from flowing
backwards, act as a safety feature if a leak
occurs
• Relief Valves- Limit pressure build-up,
prevents damage from over -pressure
• Counterbalance Valves- Prevent
unintentional or unwanted movement of the
device from position
Hydraulic Valves
• Selector Valves (Diverter Valve) – Direct
fluid to either the stabilizer control valves or
the aerial control valves; acting as an
interlock to prevent dual operation
Transferring Power
• Snorkle
Selector Valve Seagrave
Transferring Power
• LTI
Selector Valve
Pierce
Hydraulic Valves
• Actuator, Monitor, Stack, and Proportional
Directional Control Valves- four or five
way valves that direct and control the power
in the selected system (aerial or stabilizer).
– These valves supply the fluid to the actuators in
the system, which convert it to mechanical
force. In Aerials, the actuator is the hydraulic
cylinder
Hydraulic Systems
• Emergency Power Unit (EPU)
– An auxiliary hydraulic pump for use incase of
main pump failure
– Typically 12v, some have 110v capability
– Required by NFPA 1901
• Use is limited to bedding the aerial device
• Operate at intervals of 1 minute with equal
rest periods
• Some models have hand cranks
Emergency Power Unit
Pierce Quantum
Hydraulic Cylanders
• Stabilizer Cylinders
• Elevating / Hoisting Cylinders
Hydraulic Cylinders
Stabilizer Cylinders
• Force stabilizer arms out and down to take
much of the weight off the apparatus
suspension system
Hydraulic Cylinders
• Elevating Cylinders
Hydraulic Cylinders
• Elevating Cylinders
Elevating / Hoisting Cylinders
•
•
•
•
Also called Elevating Cylinders
Chrome plated to resist wear
Pressures of 850 to 3,000 psi
Piston rod fitted with a trunion that holds it
in contact with the aerial and turntable
• Hydraulic fluid force dependant on the
system pressure and the piston surface area
Elevating / Hoisting Cylinders
• Integral safety valves that lock and hold oil
in the cylinder in the event of a blowout to
prevent damage and injury
• Double-Acting cylinders: receive oil under
pressure from both sides of the piston so
force can be created in either direction
• Elevating / Telescoping control
Extension Cylinders
• Dual cylinders fitted on the base section,
used to extend the second section.
• Third, Fourth, and Fifth sections are usually
extended by cables.
Cables, Slides, and Rollers
IFSTA 20-21
• Extension and retraction cylinders are
usually galvanized aircraft type made of
steel and resistant to abrasion
• Over-engineered, built-in safety factor
• Dual- chain drive may also be used
• Most use a combination of slide pads and
rollers to prevent excessive wear
Triple Combination Pumper
• Fire Pump
• Hose Bed
• Water Tank
Quad
•
•
•
•
Fire Pump
Hose Bed
Water Tank
Ground Ladders
Quint
•
•
•
•
•
Fire Pump 1,000 GPM or greater
Hose Bed – 800' of supply, 400' of attack
Water Tank of at least 300 gallons
Ground Ladders- 85'
Aerial Device with permanent waterway
Fire Pump
• Class A Pump
–
–
–
–
100 % capacity @ 150 psi
70 % capacity @ 200 psi
50% capacity @ 250 psi
From draft thru 20' of hard suction hose with
no more than 10' of lift
Pump Panels
Pump Panels
Pump Panel
American LaFrance
Pump Panel-Foam System
Pump Panel- Foam System
Water Tank
• Minimum 150 gallons per NFPA 1901
Water
• Intake to Pump
Intake to Waterway
• Aerial Intake, Pump discharge
• No Pump
Intake into Waterway
Water Delivery Systems
1.
2.
3.
4.
5.
Bed ladder piped waterways
Telescoping piped waterways
Detachable ladder pipe systems
Elevating Platform waterways
Water Towers
3. Detachable Ladder Pipe System
4. Elevating Platform Waterways
4. Elevating PlatformWaterways
• Platform
Articulating
5. Water Tower
Waterways
• Relief valve on waterway pre-set at 225 psi
per NFPA 1901
Waterway Drain
• E-One
Hose Bed
• Can carry attack hose such as 1 ½", 1 3/4",
2" or 2 ½"
• Can carry Water Supply Hose such as Large
Diameter Hose
Electrical Systems
• Over-rides
Road Transmission
• Automatic
Road Transmission
• Manual
Pump Transmission
• Air Shift
Pump Shift
• Engaging the pump shift will override the
fast idle
• Engaging the pump shift early could
damage the pump?
• Discuss Engine to Pump gear ratio
Power Take Off
• Aerial operates on a power take off
Engaging the Aerial
• Aerial Master
• PTO
Unsafe Operating Conditions
• Sloped terrain
– 5-6 percent grade maximum,
– 20 degrees or rise of 5' per 100'
• Soft ground, thin pavement, or ice
• Power lines
– Electric
– Telephone
– Cable
Unsafe Operating Conditions
• Wind conditions
– 35 to 40 mph varies with manufacturer
• Cold
– Ice Build-up on ladder
• Exceeding load
– Don't exceed manufacturers recommendations
• Water Hammer---Nozzle Reaction
Unsafe Operating Conditions
• Long extension at low angles
• An operator must always be on the pedestal
during and operation
• Do not move an apparatus until boom,
ladder, and stabilizers are in the transport
position
• Proper use of the dead man switch
Unsafe Operating Conditions
• Heat
– Placement of ladder too close to building
– Ladder damage
– Danger to personnel on ladder or platform
Collapse Zone
• Equals the height of the building
• Some books teach the building height plus
½.