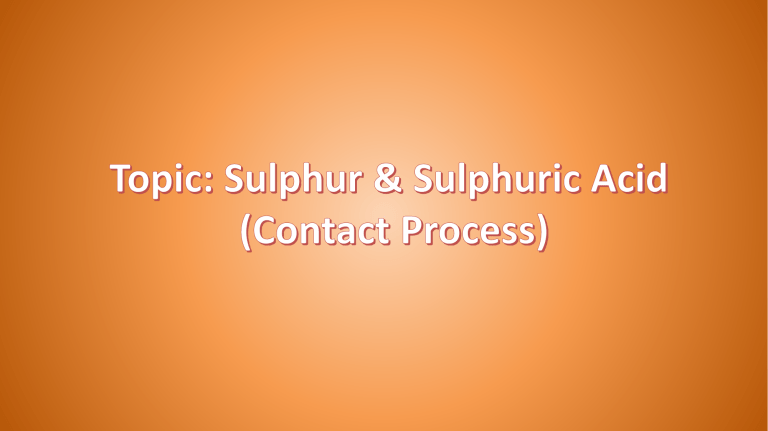 
Sulphuric acid is an oily, colorless liquid with no odor. It
is a key component in batteries, wastewater treatment,
ore production, and fertilizer creation. Sixtyfive
percent of all fertilizers available on the market today
are created from a combination of this acid and other
chemicals. It is created from inorganic materials
through a process that utilizes a special type of
chemical reaction. A variety of substances can be
mixed with sulfuric acid in order to create new
products. Sox refers to all sulphur oxides , the two
major ones being sulphur dioxide ( 𝑆𝑂2 ) and sulphur
trioxide (𝑆𝑂3 ).
Soluble
in water
Diprotic
acid
Dense
Nonvolatile
acid
Properties
of
Sulphuric
Acid
Highly
corrosive
Viscous
colourless
liquid
Oily
liquid
*Diprotic Acid:
- Acids that contain two hydrogen
ions
For eg, 𝐻2 𝑆𝑂4
*Viscous:
- A fluid which does not
flow easily
Property of dilute sulphuric acid
1. Ions in the acid
Sulphate 𝑆𝑂42− , and hydrogen ions, 𝐻 +
(the 𝐻+ 𝑖𝑜𝑛𝑠 𝑔𝑖𝑣𝑒 𝑠𝑢l𝑝ℎ𝑢𝑟𝑖𝑐 𝑎𝑐𝑖𝑑 𝑖𝑡𝑠 𝑎𝑐𝑖𝑑𝑝𝑟𝑜𝑝𝑒𝑟𝑡𝑖𝑒𝑠)
2. Reaction with metals
Products: a salt and hydrogen gas
Eg: Fe + 𝐻2 𝑆𝑂4 → 𝐹𝑒𝑆𝑂4 + 𝐻2
3. Reaction with carbonates
Products: a salt, water and carbon dioxide gas
Eg: 𝐶𝑢𝐶𝑂3 + 𝐻2 𝑆𝑂4 → 𝐶𝑢𝑆𝑂4 + 𝐻2 𝑂 + 𝐶𝑂2
4. Reaction with metal oxides and hydroxides
(bases)
Products: a salt and water
Eg: 𝐻2 𝑆𝑂4 + 𝐶𝑢𝑂 → 𝐶𝑢𝑆𝑂4 + 𝐻2 𝑂
5. Types of salts produced with alkalis
Two salts: products of reaction with NaOH are
𝑁𝑎𝐻𝑆𝑂4 𝑎𝑛𝑑 𝑡ℎ𝑒𝑛 𝑁𝑎2 𝑆𝑂4
6. Effect of Indicators
Blue litmus turns red
Universal indicator turns red (shows a pH of 1 or 2)
H2SO4
• commercially important raw material
In the surface, molten sulphur is
burnt in dry air to produce sulphur
dioxide,𝑆𝑂2 . The gas produced is
purified and cooled.
In the converter, 𝑆𝑂2 and
excess oxygen gas, 𝑂2 are passed
over a few plates of Vanadium (V)
oxide, 𝑉2 𝑂5 catalyst at 450°C to
produce sulphur trioxide, 𝑆𝑂2 .
In the absorber, the sulphur
trioxide, 𝑆𝑂3 is first reacted with
concentrated sulphuric acid,
𝐻2 𝑆𝑂4 to form a product called
oleum, 𝐻2 𝑆2 𝑂7 .
The oleum, 𝐻2 𝑆2 𝑂7 is then diluted
with water to produce concentrated
sulphuric acid, 𝐻2 𝑆𝑂4 in large
quantities.


Main source of Sulphur Dioxide : Burning of fossil fuels like petroleum and from
manufacture of plastic or rayon.
Other industrial processes such as manufacturing of sulphuric acid also contribute
to the presence of 𝑆𝑂2 in the air.