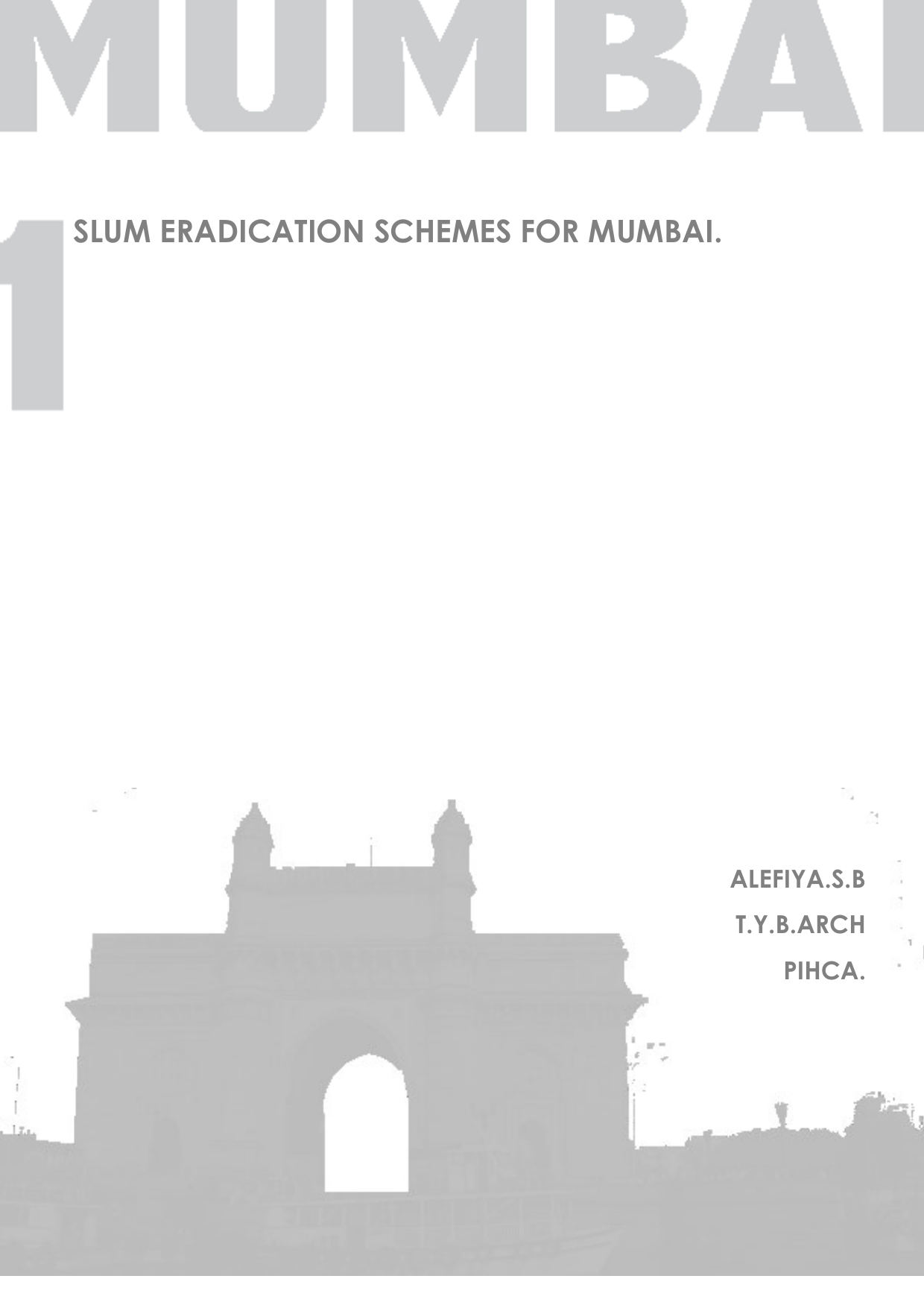 SLUM ERADICATION SCHEMES FOR MUMBAI.
ALEFIYA.S.B
T.Y.B.ARCH
PIHCA.
"SLUMS ARE LITMUS TESTS FOR INNATE CULTURAL
STRENGTHS AND WEAKNESSES. THOSE PEOPLES
WHOSE CULTURES CAN HARBOR EXTENSIVE
SLUM LIFE WITHOUT DECOMPOSING WILL BE,
RELATIVELY SPEAKING, THE FUTURE'S WINNERS.
THOSE WHOSE CULTURES CANNOT WILL BE THE
FUTURE'S VICTIMS." ROBERT D. KAPLAN, THE COMING
ANARCHY, 1994.
THE MUMBAI METROPOLITAN REGION IS THE LARGEST URBAN
AGGLOMERATION IN THE COUNTRY. (ACCORDING TO 2001
CENSUS)THE TOTAL SLUM POPULATION IN THE COUNTRY IS 40.3
MILLION COMPRISING 22.6 PERCENT OF THE TOTAL URBAN
POPULATION OF THE TOWNS WHICH REPORTED SLUMS. THE
LARGEST SLUM POPULATION WAS REGISTERED IN THE STATE OF
MAHARASHTRA. AROUND 6 PER CENT OF MAHARASHTRA'S
POPULATION LIVES IN THE SLUMS OF THE STATE CAPITAL,
GREATER MUMBAI WHICH HAS INCREASED TO 6.5 MILLION
SLUM PEOPLE (ACCORDING TO CENSUS 2011).NEARLY HALF
OF MUMBAI'S POPULATION LIVES IN SMALL SHACKS
SURROUNDED BY OPEN SEWERS. NEARLY 55% OF MUMBAI'S
POPULATION LIVES IN SLUM AREAS.
THE AVERAGE SIZE OF HOUSEHOLDS DECLINED FROM 5.1
MEMBERS TO 4.8 IN 1991 TO BELOW 4 IN 2011. (ACCORDING
TO THE CENSUS 2001 AND 2011 FOR MAHARASHTRA) DURING
LAST 30 YEARS THE SEX RATIO OF MUMBAI HAS INCREASED
FROM 670 IN 1971 TO 774 IN 2001 TO 832 IN 2011(859 IN NONSLUM AREAS AND 770 IN SLUM AREAS). SUBURBAN DISTRICTS
HAVE ALSO SHOWN IMPROVEMENTS FROM 769 IN 1971 TO 826
IN 2001. HOWEVER, THESE ARE STILL THE LOWEST OF ALL THE
DISTRICTS IN THE STATE OF MAHARASHTRA. HOWEVER, IN
TERMS OF LITERACY MUMBAI SUBURBAN DISTRICT HAS THE
HIGHEST LITERACY RATE OF 87.1 PER CENT (CENSUS OF INDIA,
2001).
DEFINITIONS AND CONCEPT OF SLUM
A SLUM IS TAKEN TO MEAN 'HUTTING AREAS WITH SQUALID
SURROUNDING'S WHERE:
 HUTS ARE ERECTED IN A MANNER WITHOUT PROPER
ACCESS.
 MINIMUM BASIC AMENITIES ARE LACKING.
 PROTECTED WATER SUPPLY AND DRAINAGE
ARRANGEMENTS DO NOT EXIST.
HABITATIONS LOCATED ON DISPUTED AS WELL AS UNUSED
GOVERNMENT, MUNICIPAL AND PRIVATE LAND AND
CHARACTERIZED BY A SERIOUS LACK OF AMENITIES AND
SANITATION WITH DENSE AND OVERCROWDED HOUSING
CONDITIONS.
A SLUM, FOR THE PURPOSE OF CENSUS, HAS BEEN DEFINED AS
RESIDENTIAL AREAS WHERE DWELLINGS ARE UNFIT FOR HUMAN
HABITATION BY REASONS OF DILAPIDATION,
OVERCROWDING, FAULTY ARRANGEMENTS AND DESIGN OF
SUCH BUILDINGS, NARROWNESS OR FAULTY ARRANGEMENT
OF STREET, LACK OF VENTILATION, LIGHT, OR SANITATION
FACILITIES OR ANY COMBINATION OF THESE FACTORS WHICH
ARE DETRIMENTAL TO THE SAFETY AND HEALTH.
ORIGIN OF SLUMS
MAP: LOCATION OF SLUMS IN MUMBAI, CENSUS 1976.
HISTORICALLY, SLUMS HAVE GROWN IN BOMBAY AS A
RESPONSE TO A GROWTH OF POPULATION FAR BEYOND THE
CAPACITY OF EXISTING HOUSING. MIGRANTS ARE NORMALLY
DRAWN TO THE CITY BY THE HUGE DISPARITY BETWEEN URBAN
AND RURAL INCOME LEVELS. USUALLY THE RESIDENTS OF THESE
DENSELY POPULATED ENCLAVES LIVE CLOSE TO THEIR PLACE
OF WORK. THE RESIDENTIAL AREA ITSELF DOES NOT PROVIDE
EMPLOYMENT.
BOMBAY KNOWS ANOTHER REASON FOR THE FORMATION OF
SLUMS. AS THE CITY GREW, IT TOOK OVER LAND THAT WAS
TRADITIONALLY USED FOR OTHER PURPOSES. THE KOLI
FISHERMEN WERE DISPLACED DURING THE DEVELOPMENT OF
THE HARBOUR AND PORT. THOSE DRIVEN OUT OF THE FISHING
VILLAGES IMPROVISED LIVING SPACE THAT WAS OFTEN FAR
SHABBIER THAN BEFORE. THIS PROCESS CONTINUES EVEN
NOW, AT THE END OF THE 20TH CENTURY.
ON THE OTHER HAND, SOME VILLAGES WERE ENCYSTED BY THE
CITY GROWING AROUND THEM. DHARAVI, ORIGINALLY A
VILLAGE WITH A SMALL TANNING INDUSTRY, HAS BECOME A
SLUM IN THIS FASHION. MANY OF THE OLDER SLUMS IN
BYCULLA AND KHAR WERE INITIALLY SEPARATE VILLAGES, WITH
THEIR OWN TRADITIONAL INDUSTRIES.
SOME OF THE WORST SLUMS IN THE WORLD CAN BE FOUND IN
INDIAN CITIES. DUE TO THE LACK OF INFRASTRUCTURE AND
PLANNING IN THE CITIES, THEY ARE HELPLESS OF
ACCOMMODATING THE INCREASING FLOW OF MIGRANTS
FROM THE RURAL AREAS (DESAI AND PILLAI, 1970).
QUALITY OF LIFE IN SLUMS
DECENT HOUSING IS A BASIC HUMAN NEED AND A BASIC
HUMAN RIGHT. SLUM UPGRADING AND PARTICIPATION CAN
IMPROVE THEIR HOUSING CONDITIONS.
STUDIES INDICATE THAT THE PREVALENCE OF DISEASES
(PNEUMONIA, DIARRHEA, MALARIA, MEASLES AND HIV/AIDS)
IN URBAN SLUMS IS DUE TO BAD LIVING CONDITIONS RATHER
THAN INCOME LEVELS. FOR EXAMPLE THERE IS LACK OF SAFE
DRINKING WATER AND PIT LATRINES SHARED BY THOUSANDS
OF PEOPLE. CHILDREN FROM THE SLUMS WITH HIGHER INCOME
GROUP HAVE HIGHER RATES OF DIARRHEA THAN CHILDREN OF
POOREST RURAL FAMILIES BECAUSE THEY ARE EXPOSED TO
CONTAMINATED WATER AND FOOD.
PNEUMONIA AND DIARRHEA EACH KILL MORE THAN 2 MILLION
CHILDREN IN DEVELOPING COUNTRIES ANNUALLY. HIGHER THE
PREVALENCE OF SLUMS IN THE CITIES, GREATER WILL BE THE
PREVALENCE OF DIARRHEAL INFECTIONS AMONG THE URBAN
POPULATION (UN-HABITAT, 2006-07).
QUALITY OF LIFE OF THE MIGRANTS IN SLUMS IS MOST
ADVERSELY AFFECTED; LIVING IN UNHYGIENIC AND
CONGESTED PLACES DEVOID OF BASIC NECESSITIES FOR A
HEALTHY LIFE LIKE HOUSING, WATER SUPPLY, DRAINAGE AND
SANITATION, SLUMS ARE ALSO THE BREEDING GROUND FOR
CRIME, POLLUTION AND HEALTH HAZARDS (BHANDARI AND
BASU, 2000). WOMEN AND CHILDREN ARE THE WORST VICTIMS.
PHYSICALLY, MENTALLY AND EMOTIONALLY THEY ARE
AFFECTED. THE RAPID GROWTH OF SLUMS AND SQUATTER
SETTLEMENTS HAS LARGELY CONTRIBUTED TO THE SOCIAL,
ECONOMIC AND ENVIRONMENTAL PROBLEMS IN URBAN
AREAS. THE REHABILITATION PROGRAMME OF SLUM
CLEARANCE BOARD IS TOTALLY INADEQUATE IN RELATION TO
THE MUSHROOM GROWTH OF SLUMS. (SUNDARI, 2001).
SOCIO-ECONOMIC CONDITIONS OF SLUM DWELLERS
INDICATED THAT A MAJORITY OF SLUM DWELLERS WERE
MIGRANTS FROM DIFFERENT PLACES, AND WERE OF UNSKILLED
WITH LOW OCCUPATIONAL STATUS AND LOW INCOMES.
THEREFORE THE POLICY MAKERS SHOULD RECOGNIZE THAT
JUST PROVIDING A HOUSE AND EVEN A BETTER ENVIRONMENT
TO LIVE CANNOT SOLVE THE PROBLEM OF GROWTH OF SLUMS
WHICH HAS ITS ROOTS IN THE VERY DEMAND FOR LOW
VALUED INFORMAL OCCUPATIONS (RAO, 1991).
REASONS OF SLUMS








CHANGE IN AGRICULTURAL SCENARIO.
NO PROSPECTS IN RURAL AREAS.
BIGGER OPPORTUNITIES IN CITIES.
PREFERENCE ON LABOR MARKET THAN AGRICULTURE.
POVERTY.
UNEMPLOYMENT.
IMPROPER GOVERNMENT POLICIES.
IGNORANCE BY LOCAL BODIES.
PROBLEMS ASSOCIATED
I.
AMENITIES, WATER, SANITARY.
 LACK OF BASIC AMENITIES LIKE UNCLEAN DRINKING
WATER, PROPER HOUSING, DRAINAGE AND EXCRETA
DISPOSABLE SERVICES.
 POOR SANITARY CONDITIONS AND POOR QUALITY
WATER LEAD TO ILLNESS LIKE DIARRHOEA AND OTHER
WATER BORNE DISEASES AFFECTING LIFE OF SLUM
PEOPLE.
II.
EMPLOYMENT
 HIGH UNEMPLOYMENT.
 SMALL SCALE BUSINESS.
 DOMESTIC VIOLENCE.
III.
CHILDREN IN SLUMS
 CHILD LABOUR.
 CHILD MALNUTRITION.
 NO PROPER EDUCATION.
PEOPLE ACCEPT AND ADAPT TO THEIR
CIRCUMSTANCES WITHOUT (EXTERNAL)
TRIGGERS TO ENCOURAGE THEM TO DO
OTHERWISE … SLUMS ARE ADAPTIVE
ORGANISMS"
THEREFORE, ULTIMATELY, A COMPREHENSIVE AND LONG-TERM
SOLUTION TO THE PROBLEM OF INDIA'S SLUMS CANNOT BE
ABOUT THE SLUMS THEMSELVES. A VIABLE SOLUTION WOULD
HAVE TO TAKE A HOLISTIC VIEW DEALING WITH INDIA'S
LARGER MACRO CHALLENGES AND RECOGNISE THE CRITICAL
ROLE WHICH CITIES WILL HAVE TO PLAY IF INDIA IS TO
SUCCESSFULLY TRANSITION INTO A MIDDLE-INCOME
COUNTRY. SUCH A SOLUTION AND WOULD INCLUDE THE
FOLLOWING STRATEGIES:
 INDUSTRIAL REVOLUTION AND CONTINUED
DEVELOPMENT.
THE SOLUTION TO SLUMS IS NOT TO REVERSE
INDUSTRIALISATION OR TO TRY AND CONTAIN
URBANISATION, BUT INDEED TO PRESS FORWARD WITH IT
MORE AGGRESSIVELY SO THAT BUSINESSES CAN AFFORD
TO PROVIDE JOBS TO SLUM-DWELLERS AND PAY THEM A
PROPER WAGE.
 KNOWLEDGE AND FREEDOM ADVANTAGE.
INDIA NEEDS TO CREATE AN OPEN KNOWLEDGE
ECONOMY WHERE THE SLUM-DWELLERS ARE EMPOWERED
TO SOLVE THEIR OWN PROBLEMS AND HAVE THE ACCESS
TO FINANCING TO DO SO. THIS REQUIRES SCALED
CHARITIES AND NGOS THAT CAN APPLY GLOBAL BESTPRACTICES TO TACKLING INDIA'S URBAN ISSUES AND
ALSO RAISE THE NECESSARY FINANCING.
 SLUM ARCHITECTURE. IN ORDER TO ASSIMILATE
SLUM-DWELLERS INTO URBAN LIFE INSTEAD OF FURTHER
OSTRACIZING THEM, INDIA CANNOT JUST BULLDOZE THE
SLUMS AND PILE UP THE PEOPLE INTO APARTMENT
BLOCKS. A REAL SOLUTION WOULD INVOLVE BUILDING
HIGH-QUALITY, LOW-COST, MULTI-STOREY, DIVERSE
FORMATS IN THE CURRENT AREAS SUCH THAT THESE
BECOME INTEGRATED WITH THE REST OF THE CITY
 SUSTAINABLE CONTINUOUS DYNAMIC
INFRASTRUCTURE PROVISIONING. THE
GOVERNMENT NEEDS TO CREATE A FRAMEWORK FOR
GRADUAL AND CONTINUOUS UPGRADING OF SLUM
INFRASTRUCTURE THROUGH INNOVATIVE PUBLIC-PRIVATE
MODELS AND BY LEVERAGING THE MANY DYNAMIC
CHARITIES AND NGOS IN INDIA. SUCH A MODEL WOULD
SEE THE SLUM-DWELLERS BECOME THE DRIVING FORCE
OF, RATHER THAN BYSTANDERS TO, THE IMPROVEMENT OF
THEIR LIVING CONDITIONS BY EMPOWERING THEM TO
IDENTIFY THE SOLUTION AND THEN FINANCE AND
IMPLEMENT IT.
 RURAL RE-VISIONING AND
INVESTMENT. INDIA CANNOT SOLVE ITS SLUM
PROBLEM BY FOCUSING ON THE CITIES ALONE. ANY CITY
WHICH DEVELOPS THE SYSTEMS TO ACCOMMODATE
MORE PEOPLE AND CREATE ECONOMIC OPPORTUNITIES
WILL ATTRACT A DISPROPORTIONATE NUMBER OF
MIGRANTS PUTTING IT UNDER FURTHER STRAIN UNLESS
OPPORTUNITIES IN RURAL AREAS ARE SUFFICIENTLY
ATTRACTIVE RELATIVE TO THOSE IN THE CITY. THEREFORE
A COMPREHENSIVE SOLUTION WOULD NECESSARILY
HAVE TO INVOLVE IMPROVED INFRASTRUCTURE,
SCHOOLS, EMPLOYMENT OPPORTUNITIES AND THE
OVERALL QUALITY OF LIFE IN INDIA'S SMALL TOWNS AND
RURAL CENTRES.
SLUM REHABILITATION POLICY IN MUMBAI
SINCE INDEPENDENCE THERE HAVE BEEN SOME EFFORTS AT
REHABILITATING THE POPULATION OF SLUMS AND IMPROVING
THEIR CONDITIONS OF LIVING. IN 1985, THE GOVERNMENT
TRIED TO RECTIFY THE PROBLEM BY LAUNCHING THE SLUM
UPGRADATION PROJECT. IT OFFERED SECURE LONG-TERM
LEGAL PLOT TO SLUM HOUSEHOLDS ON THE BASIS THAT THEY
WOULD INVEST IN THEIR HOUSING. BY GENERATING AN
INTEREST IN THE HOUSING AND BY GUARANTEEING HOME
OWNERSHIP TO THE SLUM HOUSEHOLDS, IT IS HOPED TO
OBLITERATE SLUMS. UNFORTUNATELY THE PROGRAM TARGETED
ONLY 10-12% OF THE SLUM HOUSEHOLDS I.E., THOSE WHO
WERE CAPABLE OF UPGRADING THEIR HOMES. IT
DISREGARDED THOSE WHO DID NOT HAVE HOMES AT ALL.
SLUM REHABILITATION ACT 1995 WAS PASSED BY GOVT. OF
MAHARASHTRA TO PROTECT THE RIGHTS OF SLUM DWELLERS
AND PROMOTE THE DEVELOPMENT OF SLUM AREAS. THE ACT
PROTECTED FROM EVICTION ANYONE WHO COULD PRODUCE
A DOCUMENT PROVIDING THEY LIVED IN THE CITY BEFORE
JANUARY 1995, REGARDLESS IF THEY LIVED ON THE PAVEMENT
OR OTHER KINDS OF MUNICIPAL LAND. THE FREE HOUSING
SCHEME FOR SLUM-DWELLERS WAS SEVERELY CRITICIZED AS
THE SLUM POLICY RELIES ONLY ON THE PARTICIPATION OF
BUILDERS.
HOWEVER, THE SCHEME IS GOOD BECAUSE IT ENVISAGES THAT
INSTEAD OF RESETTLEMENT OF SLUM DWELLERS TO ANOTHER
PLACE IT IS BETTER TO UPGRADE THESE SLUMS BY PROVIDING
EMPLOYMENTS, DRINKING WATER FACILITY, ELECTRICITY,
TOILET FACILITY AND PROPER DRAINAGE SYSTEMS AT THEIR
OWN LOCATIONS.
EXAMPLES OF SPECIFIC POLICY
APPROACHES
 THE MAHARASHTRA VACANT LANDS (PROHIBITION OF
UNAUTHORISED STRUCTURES AND SUMMARY
EVICTION) ACT 1975
 THE SLUM AREAS (IMPROVEMENT, CLEARANCE AND
REDEVELOPMENT) ACT.
 CENTRALLY FUNDED ENVIRONMENTAL IMPROVEMENT
OF URBAN SLUMS (EIUS).
 MUMBAI REPAIRS AND RECONSTRUCTION
PROGRAMME.
 SLUM UPGRADING PROGRAMME (SUP) FUNDED BY THE
WORLD BANK.
 THE PRIME MINISTER'S GRANT PROJECT (PMGP).
 PUBLIC-PRIVATE PARTNERSHIPS IN THE SLUM
REDEVELOPMENT SCHEME (SRD).
 PUBLIC-PRIVATE PARTNERSHIPS IN THE SLUM
REHABILITATION SCHEME (SRS).
 THE GOVERNMENT–NGO-CBO PARTNERSHIP IN THE
MUMBAI SLUM SANITATION PROJECT.
 GOVT-NGO PARTNERSHIP IN SLUM RESETTLEMENT.
CONCLUDING REMARK
A LARGE NUMBER OF SLUM PEOPLE ARE MIGRANTS; MOST OF
THEM BELONG TO THE LOWER SOCIO ECONOMIC GROUP AND
COME FROM DIFFERENT PARTS OF THE COUNTRY. THE
MAJORITY OF THE SLUM POPULATION IS CONCENTRATED IN
CORE AREAS OF THE CITY BECAUSE THEY WANT TO LIVE
NEARER TO THEIR WORKING PLACES AND CONTRIBUTE
SIGNIFICANTLY TO THE ECONOMIC ACTIVITY OF THE CITY.
MOST OF PLACES WHERE SLUM DWELLERS LIVE ARE
UNHYGIENIC TO THE LIVES. IN RAINY SEASON THEY ARE MORE
VULNERABLE TO THE DISEASES BECAUSE MOST OF THE SLUMS
ARE IN THE LOW LYING AREAS ESPECIALLY IN THE COASTAL
CITIES LIKE MUMBAI. THESE SLUMS ARE ONLY ONLY
CONGESTED PLACES, BUT ALSO HAVE OPEN SEWERAGE AND
LACK TO HAVE PRIVATE TOILETS. WHEREVER, COMMUNITY
TOILETS ARE AVAILABLE THEY ARE NOT PROPERLY MAINTAINED
AND AS A RESULT PEOPLE RESORT TO OPEN DEFECATION. THIS
IS A BIG PROBLEM IN MUMBAI WHICH WARRANTS IMMEDIATE
ATTENTION.