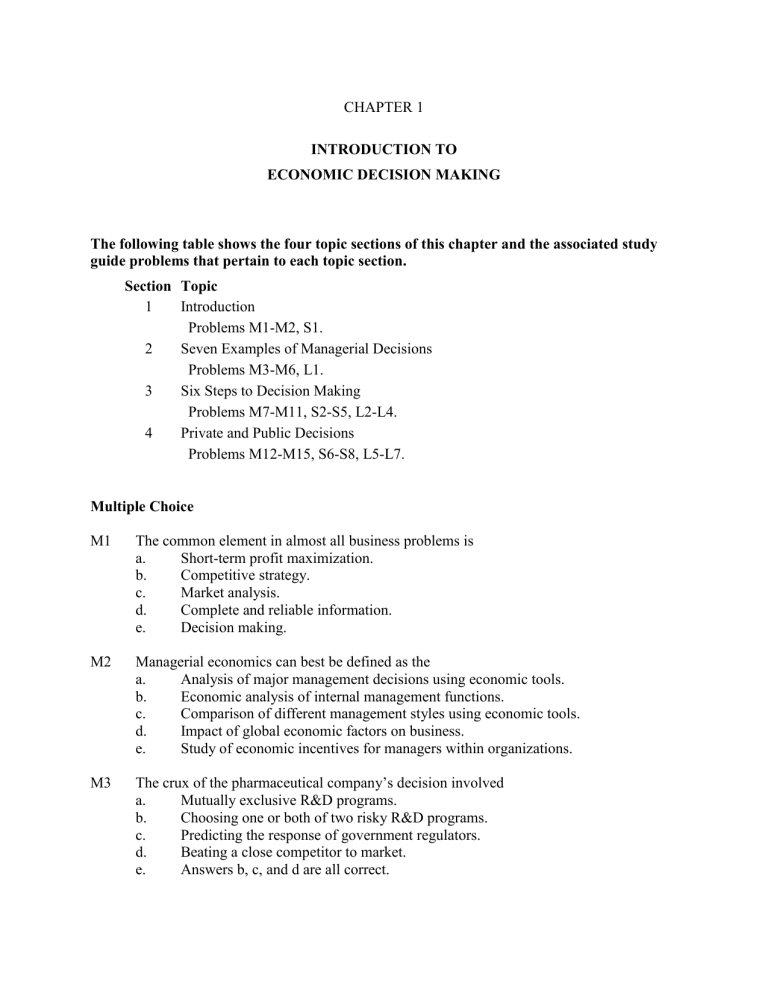 CHAPTER 1
INTRODUCTION TO
ECONOMIC DECISION MAKING
The following table shows the four topic sections of this chapter and the associated study
guide problems that pertain to each topic section.
Section Topic
1
Introduction
Problems M1-M2, S1.
2
Seven Examples of Managerial Decisions
Problems M3-M6, L1.
3
Six Steps to Decision Making
Problems M7-M11, S2-S5, L2-L4.
4
Private and Public Decisions
Problems M12-M15, S6-S8, L5-L7.
Multiple Choice
M1
The common element in almost all business problems is
a.
Short-term profit maximization.
b.
Competitive strategy.
c.
Market analysis.
d.
Complete and reliable information.
e.
Decision making.
M2
Managerial economics can best be defined as the
a.
Analysis of major management decisions using economic tools.
b.
Economic analysis of internal management functions.
c.
Comparison of different management styles using economic tools.
d.
Impact of global economic factors on business.
e.
Study of economic incentives for managers within organizations.
M3
The crux of the pharmaceutical company's decision involved
a.
Mutually exclusive R&D programs.
b.
Choosing one or both of two risky R&D programs.
c.
Predicting the response of government regulators.
d.
Beating a close competitor to market.
e.
Answers b, c, and d are all correct.
Managerial Economics Study Guide
M4
The decision to build a new bridge illustrates a
a.
Purely private profit-maximizing decision.
b.
Setting in which benefit-cost analysis is appropriate.
c.
Public-sector decision involving little or no uncertainty.
d.
Public-sector decision involving multiple benefits and costs.
e.
Answers b and d are both correct.
M5
The decision of utilities to convert from oil to coal
a.
Was nearly impossible due to so many conflicting objectives.
b.
Was expensive but involved relatively few side effects.
c.
Involved hard tradeoffs between energy conservation and environmental
concerns.
d.
Was properly left to the utilities themselves.
e.
Showed that the costs of government regulation can often be greater than the
benefits.
M6
BP's oil exploration decisions
a.
Were largely unsuccessful because new discoveries are few and far between.
b.
Acknowledged the sizeable underlying risks and put safety first.
c.
Came under close government scrutiny and regulation.
d.
Were motivated to increase the firm's value by expanding its oil reserves.
e.
Answers c and d are both correct..
M7
Which of the following is not one of the suggested steps in decision making?
a.
Predicting the consequences.
b.
Exploring the alternatives.
c.
Implementing the decision.
d.
Determining the objective.
e.
Defining the problem.
M8
In public-sector decisions, a government program should be undertaken
a.
Provided it generates a positive profit.
b.
Provided its return is worth the risk.
c.
If both its profit is positive and if total benefits exceed total costs.
d.
If total benefits exceed total costs, even if the government earns no profit.
e.
If it provides broad public and social benefits.
M9
A sound approach for dealing with risk and uncertainty is to
a.
Always choose the less risky course of action.
b.
Envision the possible outcomes and assess their likelihoods.
c.
Simplify the problem by ruling out very low probability events.
d.
Postpone decisions until the risks are resolved.
e.
Insure against most risks
Introduction to Economic Decision Making
Chapter 1
M10
Sensitivity analysis can best be defined as
a.
Examining how a decision would change if key facts were altered.
b.
Being sensitive to the impact of decisions on other variables.
c.
Measuring results against objectives.
d.
Judging the margin of error for key data used to make a decision.
e.
Analyzing tradeoffs among multiple objectives.
M11
The findings of behavioral economics indicate that decisions are
a.
Predominantly ultra-rational.
b.
Often cooperative...
c.
Marked by biases and mistakes
d.
Are mainly governed by monetary considerations.
e.
Answers b and c are both correct.
M12
According to the theory of the firm, the objective of top management
a.
Is managing the firm's earnings growth.
b.
Sometimes involves tradeoffs between profit and other social goals.
c.
Is primarily maximizing the value of the firm.
d.
Is maximizing the firm's long-run sales revenues.
e.
Answers b and c are both correct.
M13
Which of the following is a leading alternative model of managerial behavior?
a.
Managing the firm's short-term stock price.
b.
Maximizing total sales and market share.
c.
Increasing top management's compensation.
d.
Maximizing firm growth organically and by acquisitions.
e.
Answers b and d are both correct.
M14
The example of AIDS drugs in Africa shows that
a.
Private firms can fashion an effective response to a global problem.
b.
AIDS deaths stem from poverty and poor medical care.
c.
Fighting AIDS require both low-cost medicines from drug producers and health
resources from government.
d.
A combination of "carrots and sticks" is necessary to induce drug producers to
offer low-priced AIDS drugs.
e.
Answers b, c, and d are all correct.
M15
Making decisions based on experience and intuition
a.
Offers a sound alternative to analytical decision making.
b.
Is mainly suitable for devising long-term corporate strategy.
c.
Is the overwhelming norm for most top executives.
d.
Is problematic because the "logic" of one's intuition is largely uncheckable.
e.
Answers a and b are both correct.
Short Problems and Questions
S1
Define managerial economics and explain how it is useful in decision making.
Managerial Economics Study Guide
S2
Carefully define sensitivity analysis and explain why it is important in decision making.
S3
What are the two main difficulties that may make profit maximization an ambiguous
guide to decision making? Explain why they complicate the analysis.
S4
"Most managerial decisions involve more than a once-and-for-all choice from among a set
of options." What does this mean, and how does it affect managerial decision-making?
S5
What are the main types of models used in managerial economics? How do they differ?
How does management use them in decision making?
S6
Briefly explain why the profit maximization goal might be at odds with public sector
goals.
S7
Compare and contrast the objectives of decision-makers in the private sector and the
public sector.
S8
Current environmental legislation relating to endangered species is phrased so as to
emphasize preserving a species regardless of economic impact or cost. Is this approach
likely to result in optimal policy decisions? Explain.
Longer Problems and Discussion Questions
L1
Put yourself in David Letterman's shoes. How would you decide whether to stay with
NBC or switch to CBS? Is it simply a question of dollars and cents?
L2
Although rules of thumb and maxims do not constitute systematic guides to decision
making, they can provide some wisdom and advice. Explain how each of the following
might contribute to making a decision.
a.
If you don't know where you're going, chances are you won't get there.
b.
Look before you leap.
c.
Don't count your chickens before they hatch.
d.
Always get a second opinion.
e.
Don't put all your eggs in one basket.
f.
If it ain't broke, don't fix it.
L3
As the president of Cmart (a Canadian chain of stores), you are facing entry into your
markets by an American competitor. You anticipate that your competitor can produce its
wares at somewhat lower cost than you can and will maintain its warehouses in the
United States. Assess Cmart's possible reactions to this new rival. Would you
recommend trying to deter entry by reducing your prices? Should you do nothing?
Outline various alternative courses of actions, considering their strengths and
weaknesses. What is your recommendation and why?
L4
A company is considering an "expansion" decision such as enlarging an existing plant,
increasing advertising expenditures, or launching a new product line. What factors would
it consider in making such a decision? What might be useful sources of information for
determining the net profit of the expansion plan?
Introduction to Economic Decision Making
Chapter 1
L5
A public project should be undertaken if and only if its total benefits (to all affected
parties) exceed its total costs. What are some possible sources of data for a public agency
to use to develop measures of benefits and costs?
L6
You are the chairperson of an agency responsible for deciding whether to build a new
airport for your city. Though conveniently located, the existing airport is too small to
accommodate larger jets. The city could use its power of eminent domain to acquire land
for airport expansion but this would be very expensive. In the last decade, there has been
strong growth in suburban areas, and this seems likely to continue. Business interests
have indicated a desire to see a new airport to "showcase" the city. Land is cheapest in a
rural area 25 miles outside the city.
What airport options should your agency consider? Outline the major advantages and
disadvantages of each.
L7
A state economic development agency is concerned that a major employer within the
state might close down. The company, a meatpacker, has had several years in which
profits have been low and now faces some stiff environmental regulations. Cleaning up
production to meet the regulations is expensive.
The plant buys animals for slaughter from a wide region of the state. Some of its
employees live in outlying communities and in adjacent counties. The city in which the
plant is located has experienced rapid economic growth in the service sector, but
manufacturing job growth has been slow. In addition, the city has increased taxes to fund
improved schools.
Outline the major options facing the state, including a list of the affected parties. How
would each party be affected by a possible choice? List some major data sources that
could be used to weigh these benefits and costs.
SOLUTIONS
Multiple Choice
M1
e
M2
a
See the second paragraph of the text.
M3
b
M4
e
M5
c
Conflicting goals make decisions difficult, but not impossible.
M6
d
M7
c
M8
d
The public program need not make a profit. Tax revenues can pay for it.
M9
b
M10 a
M11 e
M12 e
Value maximization is the primary goal but sometimes tradeoffs are made.
M13 b
M14 e
M15 d
Managerial Economics Study Guide
Short Problems and Questions
S1
Managerial economics is the analysis of major management decisions using the tools of
economics. It applies familiar concepts such as demand, cost, monopoly, resource
allocation, and so on. By emphasizing the theory of the firm, managerial economics seeks
to identify decisions that maximize the firm's value. This approach uses a variety of
models to quantify important economic relationships.
S2
Sensitivity analysis considers how an optimal decision would change if key economic
facts or conditions were altered. Sensitivity analysis is important because any decision is
based on a set of assumptions about uncertain future conditions. Different conditions will,
obviously, affect the outcome of a decision. Sensitivity analysis can help management
anticipate different outcomes and identify appropriate courses of action.
S3
The two difficulties are: (1) the timing of benefits and costs, and (2) uncertainty.
Generally speaking, a decision-maker must pay a cost "up front" when making an
investment in order to obtain benefits or profits in the future. This requires the decisionmaker to develop comparable measures of present and future monetary values.
Uncertainty reminds us that some outcomes are not known with complete confidence.
Costs may prove to be far larger than expected, benefits far smaller, and delays in
completing initiatives may erode profits.
S4
Management strategies typically require considering a series of decisions (not simply
making a single decision). For instance, whether a firm should attempt to develop and
ultimately launch a new product depends on subsequent decisions concerning pricing and
advertising. As decisions are made and the future unfolds, choices should be reassessed.
For instance, the firm might decide to drop a once-promising research and development
plan after spending $50 million on it.
S5
Models are used to simplify analysis and to focus on a small number of most important
variables. (Models do not purport to describe all aspects of a decision, but are aids in
helping managers focus on the most important issues.) There are two main types of
models: deterministic and probabilistic. In a deterministic model, the outcome of a
decision is certain (or close enough that it doesn't matter). For instance, a production
manager might be able to estimate with near certainty the total cost of producing different
quantities of output. By contrast, probabilistic models list a range of possible outcomes
with a probability attached to each.
S6
The public sector is different than the private sector. The private firm's goal is profit and
value maximization. The role of the government is to maximize social welfare.
Sometimes, these private and public goals are in conflict. For instance, a firm might
maximize profit by producing pollution, thus harming the environment. Conversely, the
government might undertake a worthy public investment even though its revenues are
insufficient to cover its costs. (General tax revenues finance the difference.)
Introduction to Economic Decision Making
Chapter 1
S7
In the private sector, management seeks maximum profit and value for the firm. (Recall,
however, this is not always an accurate description of actual decision making.) With an
eye to profit, managers will not generally take into account the impacts (benefits and
costs) on other parties. In making a public-sector decision, the responsible manager
considers the resulting benefits and costs to all affected parties. Thus, the manager is
concerned with all benefits and costs, not just the program's own revenues and expenses.
Benefit-cost analysis is the main tool for guiding public sector decisions. Of course,
many parties might be involved in public-sector decisions – often with different goals.
These conflicting interests lead to more difficult (and sometimes inefficient) decisions.
S8
Preserving endangered species regardless of economic costs is unlikely to lead to sound
public decisions. An analysis of actions to preserve endangered species should weigh the
benefits against the costs (ignoring neither one). Such a policy should preserve particular
species where the benefits are great and the costs (to industry) are small. It would also
look for the most cost-effective ways of doing so.
Longer Problems and Discussion Questions
L1
Concepts raised in Chapter 1 suggest a number of criterion by which Dave might decide.
(1) He could regard it purely as a financial decision. Which network offer delivers the
greater monetary value? (Of course, this might require quantifying future cash payments.)
(2) However, it's likely that money is not the only thing. Presumably, Dave puts a very
high value on getting the chance to perform for a broader 11:30 PM audience, rather than
staying at 12:30 AM. So, even if NBC offered him the most money to stay in his current
time slot, he might well leave for CBS. (3) Dave might feel loyal to other stakeholders.
On the one hand, he might feel loyal to NBC who originally gave him his big break. On
the other, he might feel that he should pursue the best interests of his production company
on behalf of the large staff that depend on him. In short, multiple objectives might inform
his ultimate decision.
L2
a.
b.
c.
d.
e
f.
L3
This advice emphasizes the importance of clearly defining objectives and goals
before charting a course of action.
This adage underscores the importance of predicting and anticipating outcomes
before committing to a risky all-or-nothing decision.
This saying emphasizes the uncertainty of outcomes and the fact that plans may
not turn out as hoped.
In any decision under uncertainty, the manager should seek to acquire additional
information about the relevant risks before committing to a course of action.
Getting a second opinion (or a third or fourth) is a valuable source of information.
Diversification – in the form of a financial portfolio, use of multiple input
suppliers, or in ensuring that "back up" options are available – is a prudent
response to risk and uncertainty.
This maxim suggests the importance of knowing when not to take an unnecessary
action.
Your competitor will face transportation costs as well as taxes on imports to Canada. This
is likely to counter-balance its cost advantage. However, you definitely need more
information (data) in order to know if you should reduce your prices to try to preclude
Managerial Economics Study Guide
entry by the American rival. On the other hand, doing nothing means that you have total
confidence in your customers and their attachment to your stores. This might be a
mistake if you have underestimated the new chain's power of attraction. Also, you should
not underestimate your rival's ability to market its stores.
Besides price cuts, you could try a campaign of advertising emphasizing the pride of
Cmart as a Canadian chain. This last option could be promising, but you still need more
information (quantitative and qualitative) in order to take such an important decision.
L4
The most important variables are the initial investment cost, increased sales revenues, and
profits over time, and the interest rate applicable for discounting future profits.
Information on sales revenue would include current price and quantity data and the past
growth rate of sales. Information on costs would include the current cost of production,
the cost of new facilities and equipment, and potential cost decreases due to new
technology.
L5
A public agency might use many different sources of data on benefits and costs. These
include: market data (for instance, to measure business profits or property values), survey
data (to measure public interest and willingness to pay), demographic data (to measure
population growth), scientific and engineering data (to measure safety and environmental
risks and costs), and so on.
L6
There are at least three main options to consider:
1.
Expand the existing airport. This would allow use of existing facilities. The
airport would remain near the city's current population and business centers. But,
expansion would probably be the most expensive in terms of land acquisition and
could be of limited appeal to business leaders who want a new airport.
2.
Build a new airport in a suburban area. This would be near the population and
business centers (though not as near as the existing airport) and land would be
cheaper. However, a significant "cost" of this option would be the noise
experienced by local residents.
3.
Build a new airport in a rural area. Here, the land cost is lowest, and there is the
least problem with noise. However, this location increases the cost (in terms of
time, money, and convenience) of travel to the airport, and may be inconvenient
for the business community and residents.
L7
This public sector problem illustrates the complexity of decisions when there are
competing goals. The major options include: allowing the plant to close, assistance in the
form of tax relief, assistance in direct subsidies for environmental cleanup, subsidies for
job creation, and assistance in finding a buyer to operate the plant.
The major affected parties include the state, and adjacent states; local city and/or
county; neighboring cities; employees of the plant; stockholders of the corporation; and
animal breeders in the area. Allowing the plant to close adversely affects every party,
although it does limit the out-of-pocket expenses of government. Tax relief may strain
local budgets, so that the city may be reluctant to make the concession. Similarly, the
state may be unable to reduce taxes in a time of tight budgets. Subsidies for
environmental cleanup may allow the plant to continue in operation, though the firm may
not choose a cost-efficient form of cleanup. Subsidies for job creation may generate some
jobs, but the jobs may be low paying and the cost per job high.