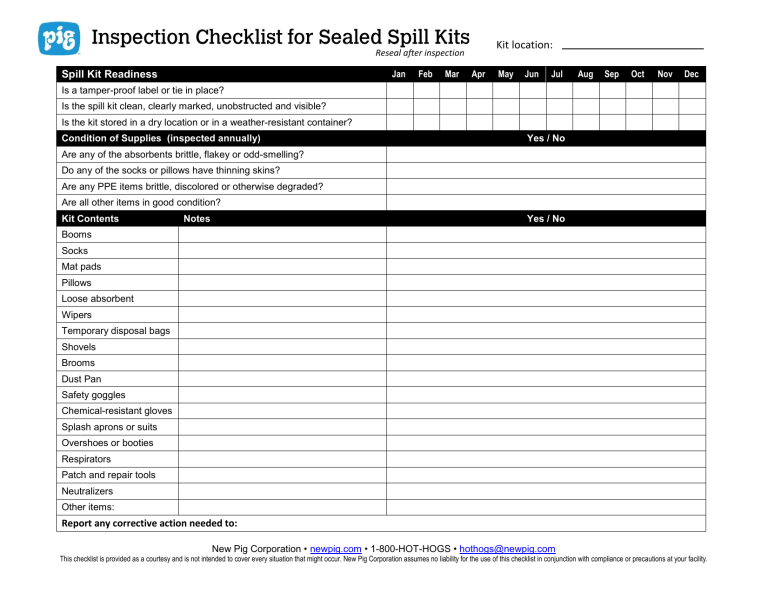 Kit location:
Reseal after inspection
Jan
Spill Kit Readiness
Feb
Mar
Apr
May
Jun
Jul
Aug
Sep
Oct
Nov
Dec
Is a tamper-proof label or tie in place?
Is the spill kit clean, clearly marked, unobstructed and visible?
Is the kit stored in a dry location or in a weather-resistant container?
Condition of Supplies (inspected annually)
Yes / No
Are any of the absorbents brittle, flakey or odd-smelling?
Do any of the socks or pillows have thinning skins?
Are any PPE items brittle, discolored or otherwise degraded?
Are all other items in good condition?
Kit Contents
Notes
Yes / No
Booms
Socks
Mat pads
Pillows
Loose absorbent
Wipers
Temporary disposal bags
Shovels
Brooms
Dust Pan
Safety goggles
Chemical-resistant gloves
Splash aprons or suits
Overshoes or booties
Respirators
Patch and repair tools
Neutralizers
Other items:
Report any corrective action needed to:
New Pig Corporation • newpig.com • 1-800-HOT-HOGS • [email protected]
This checklist is provided as a courtesy and is not intended to cover every situation that might occur. New Pig Corporation assumes no liability for the use of this checklist in conjunction with compliance or precautions at your facility.