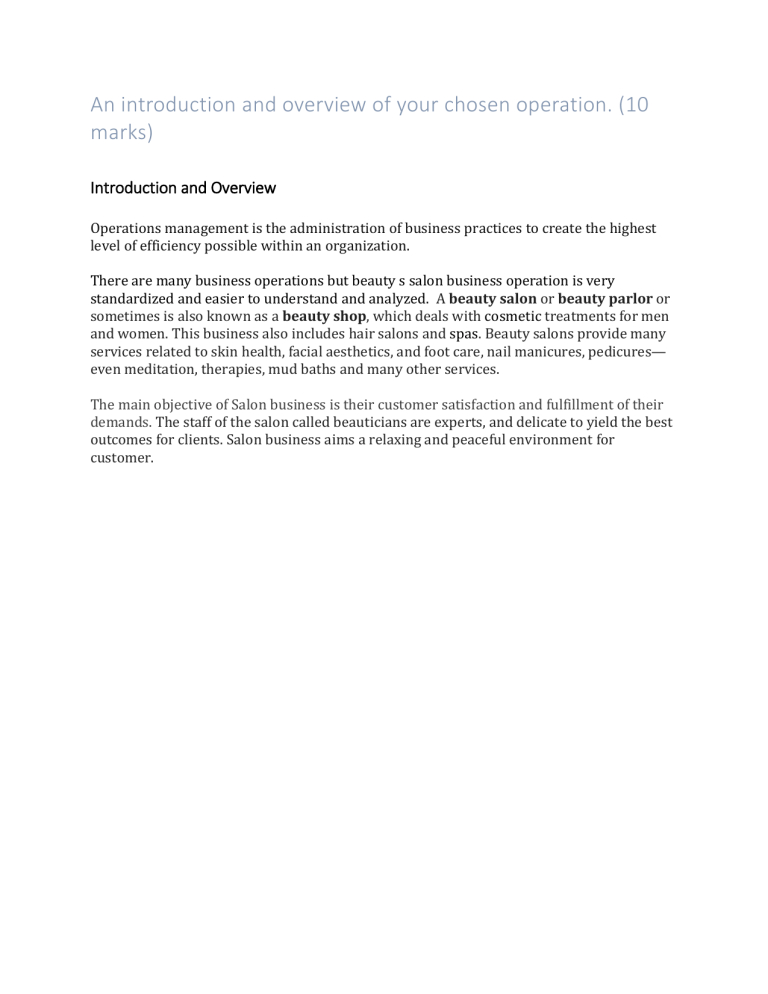 An introduction and overview of your chosen operation. (10
marks)
Introduction and Overview
Operations management is the administration of business practices to create the highest
level of efficiency possible within an organization.
There are many business operations but beauty s salon business operation is very
standardized and easier to understand and analyzed. A beauty salon or beauty parlor or
sometimes is also known as a beauty shop, which deals with cosmetic treatments for men
and women. This business also includes hair salons and spas. Beauty salons provide many
services related to skin health, facial aesthetics, and foot care, nail manicures, pedicures—
even meditation, therapies, mud baths and many other services.
The main objective of Salon business is their customer satisfaction and fulfillment of their
demands. The staff of the salon called beauticians are experts, and delicate to yield the best
outcomes for clients. Salon business aims a relaxing and peaceful environment for
customer.
How to Improve Your Salon Operations
You and your team spend too much effort doing small tasks, taking valuable time away from your
customer service
There are many ways to make your operation more effective (and profitable).
Create a front desk – In addition to acting as the salon concierge, train your reception staff how
to up-sell, cross-promote. No client should leave without at least proper recommendations and
pre-booking their next appointment.
Be transparent & competitive If your prices are too low, you'll lose money, but if they're too
high, you risk losing clients. Be realistic but confident with your pricing, displaying them on your
website for easy access.
online booking – Offer online booking, so your clients can book their own appointments based on
when it's convenient for them.
Use automated confirmations – Look for salon or spa software that offers automatic email and
text confirmations, so your receptionist won't have to make the calls each day. This feature will
save hours of time and aggravation every day.
Do shifts on each station – Try to pair up part-timers or to balance two service operators who
have opposite schedules in order to maximize the effectiveness of the space available.
Offer interesting retail offerings – A great way to set your salon apart from your competition is to
carry a decent range of professional and even unique retail products. Also, create an online retail
store to give your clients the convenience of shopping online from a trusted source.
Offer add-on services – Make it part of your salon's consultation to offer add-on services
whenever possible. Adding a deep treatment, eyebrow tint or other massage, facial or waxing
service can add up by the end of a year.
Automate correspondences – Set up your salon software to automatically send out thank you
emails, wish clients a happy birthday or anniversary, and remind clients that they are due back in
the salon but have not booked an appointment yet.
Send out a survey – With every business, there is always room for improvement. Send out a
survey request to your clientele to see how your salon is stacking up.
Get help – Find a mentor, business advisor or follow successful industry leaders to see what they
are doing right. That way you can put some of the same practices to use at your salon.