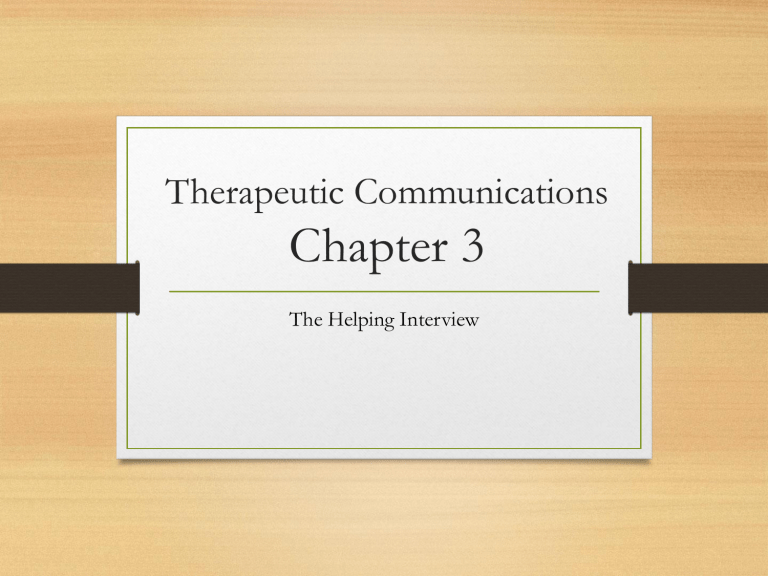 Therapeutic Communications
Chapter 3
The Helping Interview
Changes in Healthcare Climate
•
•
•
•
•
More medical information available
Media influences, advertisements
Internet
Second opinions
Choices in healthcare plans
Control Factor
• In the following slide:
• How is control an issue in the Helping Interview?
• Who has greater affect on control?
• Explain actions for health professionals to
empower clients.
Control Factor in the
Helping Interview
Giving Help Feels
Needing Help Feels
Important
Unimportant or inadequate
Useful
Useless or depressed
Powerful
Powerless
Gratified
Frightened or embarrassed
Happy
Sad or angry
Orientation in the
Helping Interview
•
•
•
•
Personal appearance and grooming
Medical clinic appearance
Meeting, greeting client
Privacy of client
Orientation
•
•
•
•
•
Risk and trust
Warmth and caring
Genuineness
Sympathy and empathy
Sincerity
Problem Identification in
the Helping Interview
•
•
•
•
•
Sharing observations
Acknowledging feelings
Clarifying, validating
Reflecting, paraphrasing
Levels of need
Problem Identification: Questioning
• Give examples of questioning techniques
• Closed questions
• Open-ended questions
• Indirect questions
Problem Identification: Roadblocks
• Give examples of the roadblocks
•
•
•
•
•
•
•
•
Reassuring clichés
Giving advice, approval
Requiring explanations
Belittling, contradicting, criticizing
Defending
Changing, shifting the subject
Moralizing, lecturing
Shaming, threatening, ridiculing
Resolution in the
Helping Interview
• A client wants to know
• How will resolution affect my life?
• How long will resolution take?
• How will resolution impact my future?
• Role of health professional
• Written material, instructions
Role of the
Health Professional
•
•
•
•
In orientation phase of Helping Interview?
In identification of problem phase?
In resolution phase?
In what phase would you be most comfortable? Least
comfortable?
• How are your listening skills?