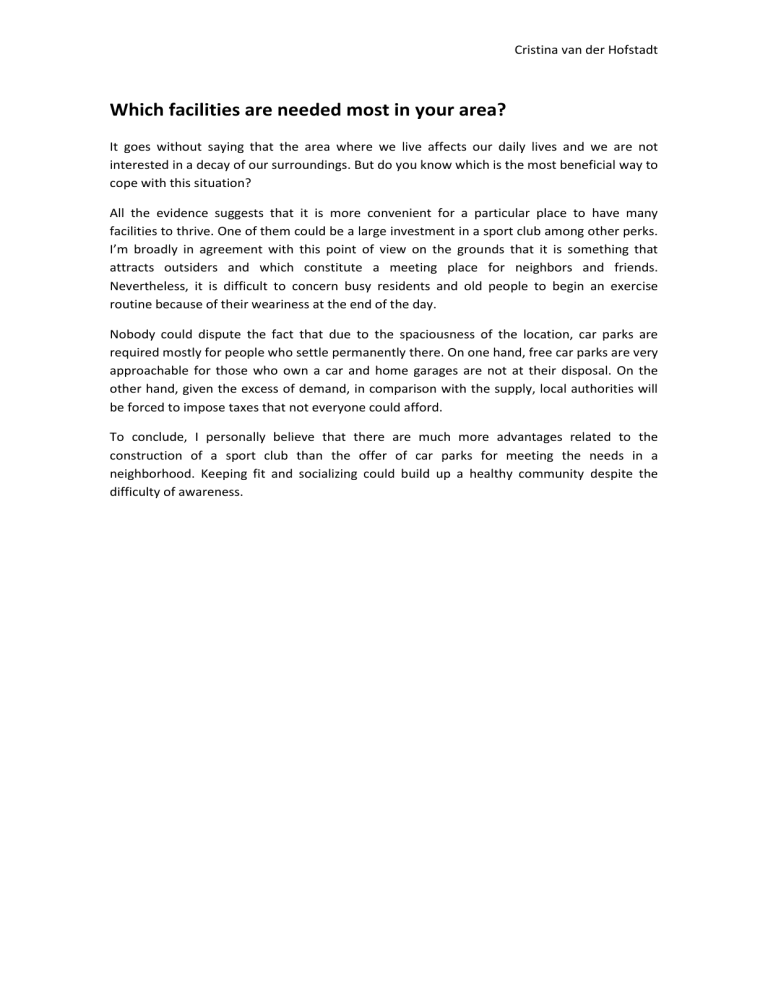 Cristina van der Hofstadt
Which facilities are needed most in your area?
It goes without saying that the area where we live affects our daily lives and we are not
interested in a decay of our surroundings. But do you know which is the most beneficial way to
cope with this situation?
All the evidence suggests that it is more convenient for a particular place to have many
facilities to thrive. One of them could be a large investment in a sport club among other perks.
I'm broadly in agreement with this point of view on the grounds that it is something that
attracts outsiders and which constitute a meeting place for neighbors and friends.
Nevertheless, it is difficult to concern busy residents and old people to begin an exercise
routine because of their weariness at the end of the day.
Nobody could dispute the fact that due to the spaciousness of the location, car parks are
required mostly for people who settle permanently there. On one hand, free car parks are very
approachable for those who own a car and home garages are not at their disposal. On the
other hand, given the excess of demand, in comparison with the supply, local authorities will
be forced to impose taxes that not everyone could afford.
To conclude, I personally believe that there are much more advantages related to the
construction of a sport club than the offer of car parks for meeting the needs in a
neighborhood. Keeping fit and socializing could build up a healthy community despite the
difficulty of awareness.