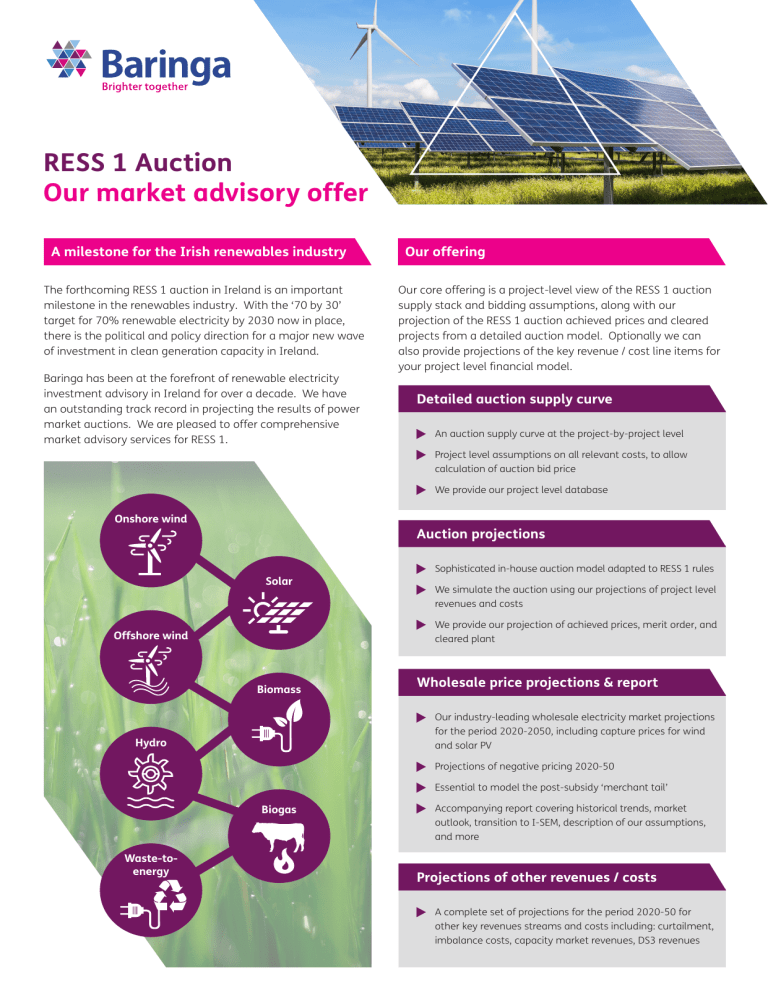 RESS 1 Auction
Our market advisory offer
A milestone for the Irish renewables industry
The forthcoming RESS 1 auction in Ireland is an important
milestone in the renewables industry. With the '70 by 30'
target for 70% renewable electricity by 2030 now in place,
there is the political and policy direction for a major new wave
of investment in clean generation capacity in Ireland.
Baringa has been at the forefront of renewable electricity
investment advisory in Ireland for over a decade. We have
an outstanding track record in projecting the results of power
market auctions. We are pleased to offer comprehensive
market advisory services for RESS 1.
Our offering
Our core offering is a project-level view of the RESS 1 auction
supply stack and bidding assumptions, along with our
projection of the RESS 1 auction achieved prices and cleared
projects from a detailed auction model. Optionally we can
also provide projections of the key revenue / cost line items for
your project level financial model.
Detailed auction supply curve
An auction supply curve at the project-by-project level
Project level assumptions on all relevant costs, to allow
calculation of auction bid price
We provide our project level database
Onshore wind
Auction projections
Solar
Sophisticated in-house auction model adapted to RESS 1 rules
We simulate the auction using our projections of project level
revenues and costs
We provide our projection of achieved prices, merit order, and
cleared plant
Offshore wind
Biomass
Wholesale price projections & report
Our industry-leading wholesale electricity market projections
for the period 2020-2050, including capture prices for wind
and solar PV
Hydro
Projections of negative pricing 2020-50
Essential to model the post-subsidy 'merchant tail'
Biogas
Waste-toenergy
Accompanying report covering historical trends, market
outlook, transition to I-SEM, description of our assumptions,
and more
Projections of other revenues / costs
A complete set of projections for the period 2020-50 for
other key revenues streams and costs including: curtailment,
imbalance costs, capacity market revenues, DS3 revenues
Our approach
Our proven approach builds on our extensive previous experience with competitive auctions in GB, Germany, France and Eastern Europe.
Overview of our modelling approach
1
2
Build database of all
renewable projects
and determine timing
Key Inputs
Produce detailed
project-level bid price
using granular cost /
revenue assumptions
Key Inputs
3
4
Run auction
simulation
Key Inputs
Derive and report auction
outcomes
Key Outputs
Project name
Technology costs
Auction rules
Auction prices
Developer name
Location specific load factors
and costs
Auction volume
Cleared capacity
Preference
categories
Successful projects:
Capacity
Economy of scale
assumptions
Location
Planning status
Financing assumptions
Connection status
– by developer type
– by technology type
Competition
ratio
Optimal bidding strategy by
developer type
Curtailment projections
Merchant tail projections
Bid price 'headroom'
Our RESS 1 pricing model takes account of key financing constraints:
Cashflow: Lifetime project return must
Debt cover: Assumed minimum debt service cover ratio,
Equity return: Assumed minimum
be greater than WACC
at both annual level and over economic lifetime
rate of return over economic lifetime
Why Baringa?
High impact Team
We have mobilised our
team of industry-leading
experts to provide the
right combination of deep
Irish market expertise,
commercial experience,
auction design and strategy
know-how.
Auction experience
Baringa has an outstanding
track record of successfully
modelling and projecting
the results of power market
auctions – from renewable
support through to grid
capacity, system services
and capacity markets.
We have been voted No.1 management
consultancy in the UK's 'Energy, Utilities
and Environment' sector by clients and
peers in the Financial Times poll for
2018. 2019 and 2020.
Independence
Track Record
We have an entirely
independent view of the
RESS 1 auction, providing a
crucial market benchmark
without favouring any
particular technology type
of asset class.
Our clients use our analysis
and reports to inform
investment decisions and
have confidence in the
analysis we provide. Lenders
frequently rely upon our
analysis to make debt
financing decisions.
We were awarded Best Workplace 2018 (Large category) by Great Places to
Work™ and have featured in the top ten for 12 years. We're also proud of
being a Times Top 50 Employer for Women 2019, and being a Race at Work
signatory, as well as for having an 'outstanding' Net Promoter Score (NPS)
customer loyalty rating.
Interested? Contact us
If our RESS 1 offering is of interest, please do reach out to discuss how we might support.
We welcome the chance to discuss a bespoke service.
Mark Turner
Director, Baringa Partners LLP
Luke Humphry
Senior Manager, Baringa Partners LLP
mark.turner@baringa.com
luke.humphry@baringa.com
+44 7584 290310
+44 7739 966 691
Copyright © Baringa Partners LLP 2020.