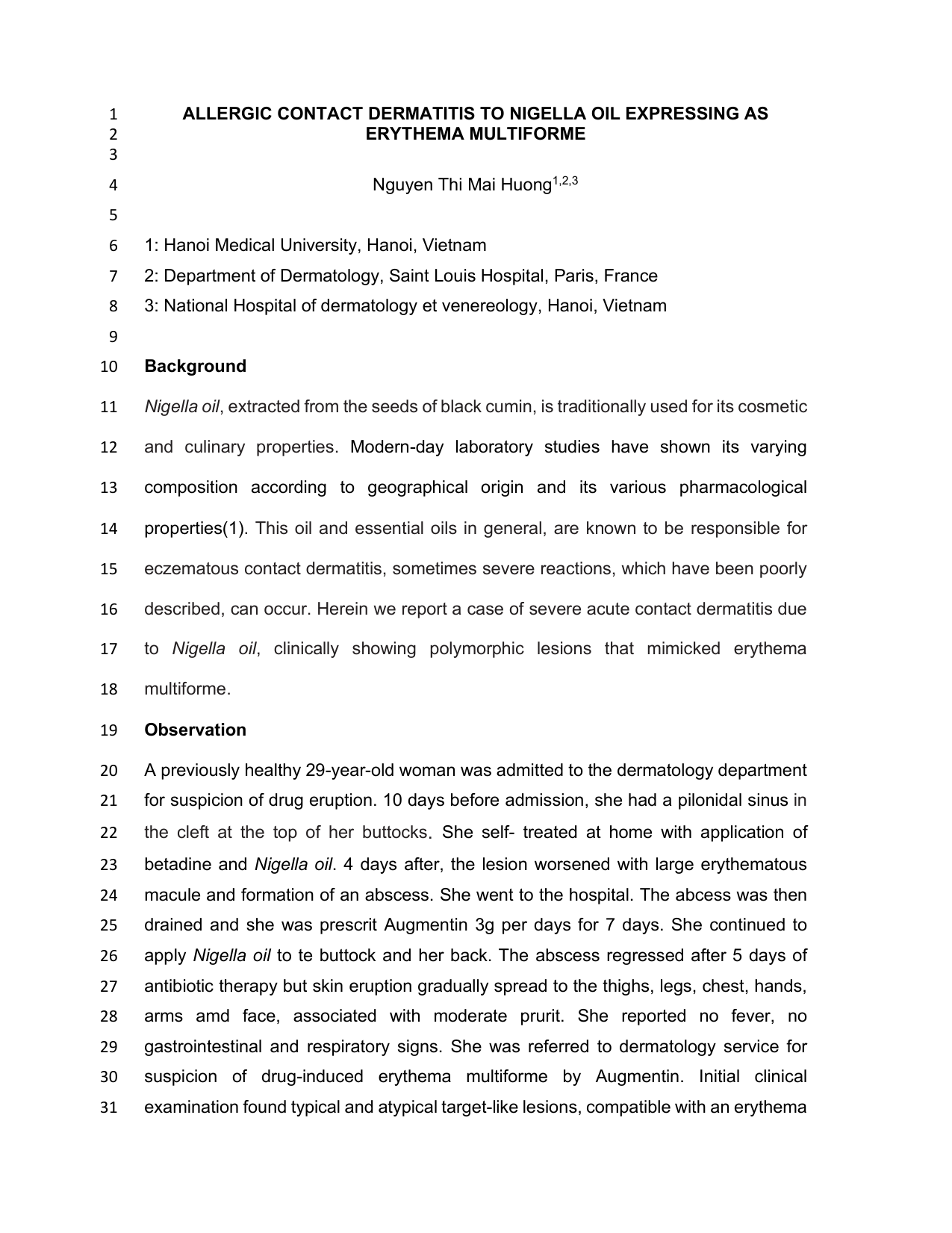 1
2
3
ALLERGIC CONTACT DERMATITIS TO NIGELLA OIL EXPRESSING AS
ERYTHEMA MULTIFORME
4
Nguyen Thi Mai Huong1,2,3
5
6
1: Hanoi Medical University, Hanoi, Vietnam
7
2: Department of Dermatology, Saint Louis Hospital, Paris, France
8
3: National Hospital of dermatology et venereology, Hanoi, Vietnam
9
10
Background
11
Nigella oil, extracted from the seeds of black cumin, is traditionally used for its cosmetic
12
and culinary properties. Modern-day laboratory studies have shown its varying
13
composition according to geographical origin and its various pharmacological
14
properties(1). This oil and essential oils in general, are known to be responsible for
15
eczematous contact dermatitis, sometimes severe reactions, which have been poorly
16
described, can occur. Herein we report a case of severe acute contact dermatitis due
17
to Nigella oil, clinically showing polymorphic lesions that mimicked erythema
18
multiforme.
19
Observation
20
A previously healthy 29-year-old woman was admitted to the dermatology department
21
for suspicion of drug eruption. 10 days before admission, she had a pilonidal sinus in
22
the cleft at the top of her buttocks. She self- treated at home with application of
23
betadine and Nigella oil. 4 days after, the lesion worsened with large erythematous
24
macule and formation of an abscess. She went to the hospital. The abcess was then
25
drained and she was prescrit Augmentin 3g per days for 7 days. She continued to
26
apply Nigella oil to te buttock and her back. The abscess regressed after 5 days of
27
antibiotic therapy but skin eruption gradually spread to the thighs, legs, chest, hands,
28
arms amd face, associated with moderate prurit. She reported no fever, no
29
gastrointestinal and respiratory signs. She was referred to dermatology service for
30
suspicion of drug-induced erythema multiforme by Augmentin. Initial clinical
31
examination found typical and atypical target-like lesions, compatible with an erythema
32
multiforme, without Nikolski's sign, nor mucosal involvement. Detailed health history
33
found repetation use of Augmentin before without any reaction.
34
Biology examinations (blood count, plasma urea, creatinine and ionogram, liver test)
35
were also normal. The EBV, CMV, HIV, HHV6 and HHV8 serologies were negative.
36
A diagnosis of severe acute contact dermatitis showing severe polymorphic lesion that
37
mimicked erythema multiforme due to Nigella oil was made. With cessation of Nigella
38
sativa oil and topical corticosteroid, lesions healed within 1 month, but her skin
39
exhibited post-inflammatory hyperpigmentation. Patch tests, performed 2 months after
40
resolution, revealed positivity at 72 hours with Nigella oil and stayed negative with
41
betadine. Allergy testing with an oral amoxicillin 250mg challenge was negative.
42
Discussion
43
Nigella sativa oil extracted from the seeds of N. sativa or black cumin, found in
44
Southern Europe, North Africa, Mideast, Bangladesh, India is traditionally used for its
45
cosmetic and culinary properties. Its main active components are thymoquinone and
46
terpenes, but the exact composition of commercial oil and the proportion of its
47
constituents are highly variable(1). Many studies have shown the positive effects of
48
Nigella oil for the treatment and prevention of a variety of diseases and conditions that
49
include eczema, asthma, hypertension, diabetes, inflammation disorders(1) and more
50
recently for neurology(2) and oncology diseases(3).
51
However, skin reactions after topical use of Nigella oil have been reported in medical
52
literature, with a variaty of clinical magnifestation, from eczema(4,5), erythema
53
multiforme(6) to Stevens Johnson-like syndrome(7). In our case, the diagnosis of
54
erythema multiforme due to Nigella oil was made before the erythemas present mostly
55
on the contact areas with the present of typical and atypical target lesions. It was then
56
confirmed by the positivity of patch test. Otherwise, the extension of the lesions away
57
from the area of application, even after topical use alone suggests a systemic effect of
58
Nigella oil, this phenomenon was observed in other case reports(6,7). In our patient,
59
the onset of skin lesions is difficult to determined exactly because she had an erythema
60
of the pilonidal sinus before application of Nigella oil. In other reports, the time between
61
application of oil and the onset of disease varied from 1 day to 4 months (4–8). All the
62
cases reported had a complete regression after treatment of topical or short-term
63
systemic corticoid. Our patient was succesfully treated with the use of very strong
64
topical corticosteroids (clobetasol propionate).
65
The pathogenesis of acute contact dermatitis by Nigella oil is not well understood.
66
Thymoquinone and terpenes are the main pharmacologically active compounds(1)
67
Thymoquinone is shown to induce apoptosis, regulates the levels of pro- and anti-
68
apoptotic in several cancers (9), but its role in epidermal apotosis is unclear. p-cymene
69
is a monoterpene contained in Nigella oil that acts as a penetration enhancer by
70
disrupting the stratum corneum lipid structure, thus facilitating the transport of drugs
71
through the skin(10). These elements may promote epidermal apoptosis by topical
72
toxic and/or a hypersensitivity.
73
Finally, it is interesting to note the great number of non-scientist websites and tutorial
74
talking in Vietnamese about Nigella oil and how to use it. While the black cumin is not
75
cultivated in Vietnam, the key word black cumin oil in Vietnamese ("dầu hạt thì là đen")
76
find 7 320 000 results on Google search. These sources demonstrate the great interest
77
of non-medical population in Vietnam about this product. Conversely, to our
78
knowledge, there isn't any scientist article in Vietnam talking about skin reaction after
79
application of this oil.
80
Conclusion
81
In conclusion, Nigella oil can be a cause of erythema multiforme. A careful interrogation
82
and patch test should be done before cases of erythema multiforme with undetermined
83
causes. In term of treatment, the use of systemic corticoid is not obligatory because in
84
certain cases, topical corticosteroids are sufficient.
a
b
c
Figure 1. Erythematous macules in the zone of application of Nigella oil ( a and b)
Typical and atypical target lesions away from the area of application (c)
Figure 2: Patch test positive with
Nigella oil
85
86
Referrences
87
88
1. Ali BH, Blunden G. Pharmacological and toxicological properties of Nigella
sativa. Phytother Res. 2003;17(4):299–305.
89
90
91
2. Isaev NK, Chetverikov NS, Stelmashook EV, Genrikhs EE, Khaspekov LG,
Illarioshkin SN. Thymoquinone as a Potential Neuroprotector in Acute and Chronic
Forms of Cerebral Pathology. Biochem Biokhimiia. 2020 Feb;85(2):167–76.
92
93
94
3. Majdalawieh AF, Fayyad MW, Nasrallah GK. Anti-cancer properties and
mechanisms of action of thymoquinone, the major active ingredient of Nigella
sativa. Crit Rev Food Sci Nutr. 2017 Dec 12;57(18):3911–28.
95
96
4. Zedlitz S, Kaufmann R, Boehncke WH. Allergic contact dermatitis from black cumin
(Nigella sativa) oil-containing ointment. Contact Dermatitis. 2002;46(3):188
97
98
99
5. Steinmann A, Schätzle M, Agathos M, Breit R. Allergic contact dermatitis from
black cumin (Nigella sativa) oil after topical use. Contact Dermatitis.
1997;36(5):268–269.
100
101
102
6. Gelot P, Bara-Passot C, Gimenez-Arnau E, Beneton N, Maillard H, Celerier P.
Éruption bulleuse à l'huile de nigelle [Bullous drug eruption with Nigella sativa
oil]. Ann Dermatol Venereol. 2012;139(4):287–291
103
104
105
7. Gaudin O, Toukal F, Hua C, et al. Association Between Severe Acute Contact
Dermatitis Due to Nigella sativa Oil and Epidermal Apoptosis. JAMA Dermatol.
2018;154(9):1062–1065.
106
107
108
8. Dehavay F, Kolivras A, Scheers C. Local and systemic adverse skin reactions
following the use of herbal products believed to contain Nigella sativa seeds and
oil. Contact Dermatitis. 2019;80(3):176–177
109
110
111
9. Imran M, Rauf A, Khan IA, Shahbaz M, Qaisrani TB, Fatmawati S, et al.
Thymoquinone: A novel strategy to combat cancer: A review. Biomed
Pharmacother Biomedecine Pharmacother. 2018 Oct;106:390–402.
112
113
10.
114
Ramadan MF, Mörsel J-T. Characterization of phospholipid composition of
black cumin (Nigella sativa L.) seed oil. Nahr. 2002 Aug;46(4):240–4.