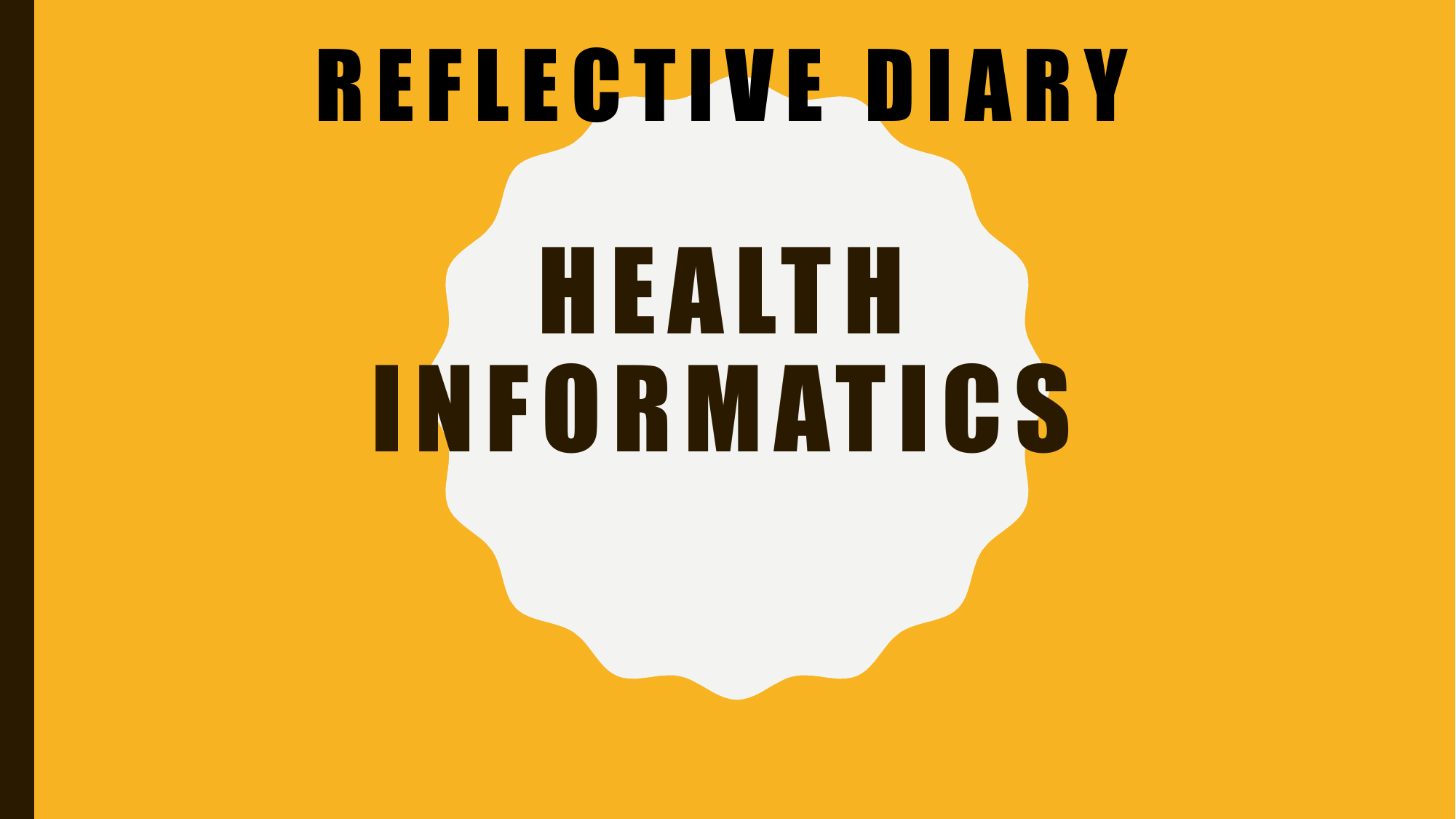 REFLECTIVE DIARY
H E A LT H
I N F O R M AT I C S
I N T R O D U C T I O N T O H E A LT H
I N F O R M AT I C S
• Health Informatics an umbrella term referring to the application of the methodologies and
techniques of information science, computing, networking and communications to support health
and health related disciplines such as medicine, nursing, pharmacy, dentistry etc.
• Health informatics tools include not only computers but also clinical guidelines, formal medical
terminologies, and information and communication systems.
• eHealth is a broad term for healthcare practice which is supported by electronic processes and
communication.
• Also Health Informatics deals with the resources, devices and methods required to optimize the
acquisition, storage, retrieval and use of information in health.
• Key Elements of Informatics are Acquisition, Storage, Communication, Manipulation
and Display.
• Applications of Health Informatics are - For recording accurate data to have data
available in a timely manner, Support and inform managers to make better
decisions ,Resource allocation and planning ,Email therapy ,Risk management and
Training etc.
• Telehealth is the delivery of health-related services and information via
telecommunications technologies.
• Medical informatics is a scientific/systematic field of study that deals with the acquiring,
storage, and processing of medical, biological and associated data, information and
knowledge for the purpose of problem solving and decision making
• Medical Informatics Solutions are Databases ,Information Retrieval Internet and
Computer programs
H E A LT H I N F O R M AT I O N
SYSTEM
• Health Information System is a system that provides specific information support to the decisionmaking process at each level of the health system
• The Health Information System Supports Decision Making at All Levels i.e.
At patient/client management level, At health-unit management level and At system management level
(district/regional/national)
• Six Functions of health System are Service delivery, Information, human resources, commodities
infrastructure, Financing and Stewardship.
• The Different Health Challenges are-Aging population, urbanization, unhealthy lifestyles, chronic
diseases brings on heavy healthcare costs, Shortage of healthcare workers and specialized
caregivers and Financial crisis
• A routine health information system produces information through routine data collection.
• Sources of Health Information are Hospitals, health centers, community-based institutions/service
delivery mechanisms
• Types of Routine Data Collection Methods are Health unit data collection and Community data
collection.
• Community data collection is to monitor activities performed in the community by health unit
staff or by community health workers.
• Different Issues with Routine Data Collection Instruments are Content (comprehensive)
,Record filing, Layout ,Production form and Electronic patient record.
• The Universe of Routine Health Information Systems are Individual record systems , Service record systems,
Resource record systems and Health facility surveys
CLINICAL DECISION
SUPPORT
• A clinical decision support system (CDSS) is a health information technology system that is
designed to provide physicians and other health professionals with clinical decision support (CDS),
that is, assistance with clinical decision-making tasks.
• Main purpose of CDSS is to assist in problem solving with semi structured problems improve the
effectiveness of the decision making process.
• Various Clinical decision support drivers are Demand Pull ,Technology Push and Regulatory Push.
• Technology Drivers is used to Reduced barriers to facilitated and customized information access
• Approach used In CDSS System are Provide background data ,Support analytic work ,structure
repetitive decisions ,automate , planning processes and structure control processes.
• Benefits of CDSS is to Reduce the risk of medication errors ,Reduce misdiagnoses ,Provide the
entire care team with consistent' reliable information and Improve efficiency and patient
throughput.
• Various Challenges in CDSS System are Understanding human decision making ,Understanding the
technology environment.
• Common errors in healthcare are medical errors ,missing abnormal lab findings, clinical practice
guidelines and Bias in Judgement and Decision Making.
7 THINGS ABOUT INDIA HI
SECTOR
• Fragmented health information systems
• Irrational use and spiralling cost of drugs
• A weak primary healthcare sector
• Unequally distributed skilled human resources sector
• Large unregulated private sector
• Low public spending on health
• Weak governance and accountability
ELECTRONIC HEALTH RECORDS
• BioMedical Informatics
 Seeks knowledge from computer analysis of data, results, stats
 This includes the development of storage, retrieval, and data analysis
methods, cellular / molecular system modeling and simulation.
• Health Informatics
 At the point of treatment, specific focus is placed on programs and
growing importance is placed on informatics for patients and carers
as well as for professionals.
• Paper Records:
 Pros: Portable, Familiar, Natural
 Cons: Can only be used for one task at a time, Records can get lost , Consume
space, Large individual records are hard to use, Fragile and susceptible to
damage, Environmental cost
• Electronic Records
 .Pros: Compact, Concurrent use, Easily copied/archived, Portable (handheld and
wireless devices), Secure, Supports many other services
 Cons: High capital investment, Training requirements, Continuing security
debate, Power outs – the whole system goes down.
• Traditional Perspective
 This includes Electronic medical records technologies and other health information
systems used for billing, scheduling and analysis
 Standards (e.g. DICOM, HL7)
 Controlled vocabularies
 Software for specialist services and devices
Contemporary multidisciplinary view
 Traditional "engineering" topics
 Human and organisational factors in quality and safety
 Formal representation of data and knowledge
HIS
GOVERNANCE
• Health information system always refers to as the system which provide information support in
decision making at each level in organization.
• Good management is required to increase the efficiency which requires all policymaker, health
care and community health worker to make decision as center.
• RHIS is the inclusion of statistical approach of data collection, administration data, drugs
prescription to patients, surveillance data and all community-based health actions.
• RHIS worked on some guiding principles like requirement of data for the decision making,,
collecting data for analysis and utilize it for health worker, processing and collection starts from
very beginning, integrate all routine information along with simplicity to operate and maintain
• Coordination and partnership should be exercised together for maintaining sustainability in
health care system with some leadership quality.
• Current RHIS has problems like insignificance of gathered information, poor quality data, lack of
feedback and reporting time, duplication of data and difference in culture of data people and
decision makers.
• HIS involved components into three categories: Inputs, Processes & Outputs
• In input we focus on resources, in processes we focus on indicators, data sources, data
management and in output we set on information products and distribution & use
H I D ATA C O L L E C T I O N
• An indicator is objectively calculating the changing value for program and services
• It involved indicator as input and processes as broad deal, focusing on specific sector in output
components and under the impact, it shows slower respond to program and practice change.
• Outcomes and impacts are calculated using individual and house-hold level data whereas certain
inputs & processes are suitable for national level calculation.
• Indicators have the domain of health status, risk factors, service coverage and health system
• Rationale data helps to identify problems and assess trends using performance index,
accountability and achievement for success completion
• Characteristics of good indicators are specific, measurable, relevant and time bounded
• Indicators are insensitive to change, restricted measuring on outcomes and not collected
realistically as these are common pitfall for indicators.
• Good indicators should have information for decision making, independent, use of definite terms,
shows consistency with international standards and have values to explain.
• RHIS data are collected for Management level, Health system and Health determinants
• Routine data collection are done continuously and have facility and community-based
subsystems whereas nonroutine data collections are done periodically.
• They discuss the content and common data elements using tally sheet, register and patient/client
record charts.
• It runs through channel of paper-based records and electronic medical record
• We even focus on data aggregation and it's reporting since it is performed manually or
electronically using software
• Data aggregation is a process in which data from clinical or individuals gathered and summarized.
HIS_DW_
E H E A LT H
• It is difficult to automate human decision on nature of business they run and their standard of
care
• These are poorly-coordinated system and have high volume with less resources.
• To treat patient with complete care, one must have ability to give time & resources
• Safe, timely, effective, patient-centered , efficiency and equitable are considered as High-quality
care
• Governance, information, financing, service delivery, human resources, medicines& technologies
are the components of health system
• Drug allergies inappropriate treatment , redundant order are the common errors
• Needs of ICT in Healthcare: Availability of information everywhere, it is error-prone area and
technology can help into it, access to high quality patient information and it demands process
improvement at all levels in healthcare.
C A R E E R I N H E A LT H
I N F O R M AT I C S
• Way back before HI, medical records were hand- written consisting of X-ray & laboratory
report. When all documented files put together, they became big mess of files and creates
difficulties to manage when required.
• To resolve this, US introduced Electronic medical record system with proper Healthcare
Training
SPECIFICALLY WHAT IS HI?
It is the application of information processing involving
• Computer hardware & software
• Storage, Retrieval, Sharing & use
• Healthcare information, data and knowledge
• Information communication
• Decision-making
For instance, when we visit doctor, they usually take down our height, weight and blood pressure
which helps in diagnostic of patient.
• EHR( Electronic Health Record) is the real-time patient health record chart used n decision making
as per available current knowledge.
WHAT KIND OF ROLE DO HI WORKERS
FILL?
Basic entry level
Intermediate level
Advanced level
Data clerk
Department manager
Quality director
Data coordinator
Office manager
EHR auditor
HIM clerk
Data analyst
Chief information officer
Medical record specialist
EHR trainer
Chief Medical information officer
Unit clerk
Patient advocate
Chief medical officer
Medical assistant
Clinical quality specialist
Chief Technology officer
CAREER STARTS WITH QUESTIONING
• What is Health Informatic?
• Where do HI employees work?
• What kind of roles do HI workers fill?
• What skills do you need?
• How is HI improving the job market?
WHAT DO HI EMPLOYEES WORK?
They work in variety of places such as
• Hospital
• Ambulatory care clinics
• Private physician practices
• Skilled nurses' facilities
• Military & veteran affairs
• EHR vendors
• Higher education as researcher or innovator
WHAT SKILLS NEEDED?
Technical
Workplace
Academic
Personal effectiveness
skill
Medical terminology
Collaboration
Reading comprehension
Teamwork
Ability to use the EHR
Planning & organizing
Critical & Analytical
thinking
Communication
Computer skills
Innovative thinking
Healthcare knowledge
Integrity
Information management
Knowledge of HI products
Basic IT terminology
Dependability
Software development
Data management
Writing, mathematics
Adaptability
Privacy & Confidentiality
of HI
Problem solving &
decision-making
Privacy, Security & Safety
skills
Reliability
• ICT includes treating patients, conducting researches, allocating & tracking diseases and
monitoring of public health
• eHealth is equivalent to Health IT
• eHealth have leadership & governance, strategy & investment, services & applications,
infrastructure, policy & compliance and workforce as the components according to WHO-ITU
model
• Requirement of Data repository system with common search engines
• Expert system based on AI, Machine learning and statistics like CDSS
• Data warehouse is the subject-oriented, integrated, non-volatile and time variant.
• Data staging involves extraction, transformation and loading the data into the warehouse.
MY VIEW POINT
• I find ppt discussed about every topic in very detailed way and also uses lots of images to
understand the topic so, overall all the ppts are very good . It covers all the topic in very
detailed way.
• So I do not recommend any improvement. I go through all the ppts and it is above my
expectation level. After reading this I understand all the topic in simple way. I have some of my
own doubts, I recommend no improvement in any topic.