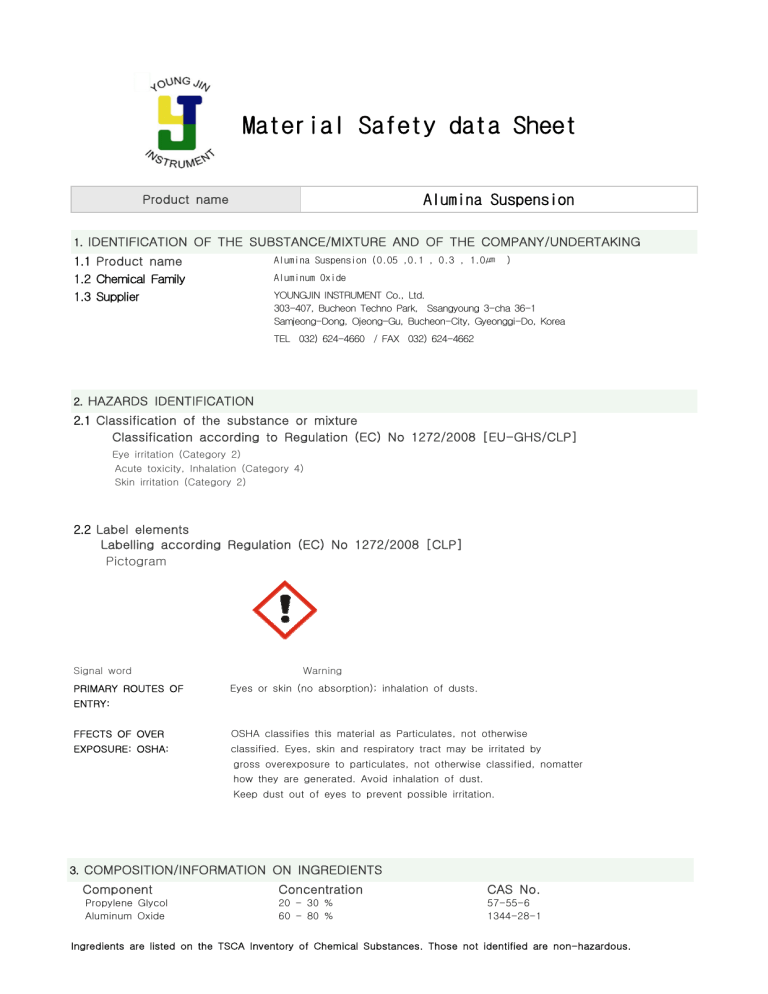 Material Safety data Sheet
Alumina Suspension
Product name
1. IDENTIFICATION OF THE SUBSTANCE/MIXTURE AND OF THE COMPANY/UNDERTAKING
1.1 Product name
1.2 Chemical Family
1.3 Supplier
Alumina Suspension (0.05 ,0.1 , 0.3 , 1.0㎛
)
Aluminum Oxide
YOUNGJIN INSTRUMENT Co., Ltd.
303-407, Bucheon Techno Park, Ssangyoung 3-cha 36-1
Samjeong-Dong, Ojeong-Gu, Bucheon-City, Gyeonggi-Do, Korea
TEL 032) 624-4660 / FAX 032) 624-4662
2. HAZARDS IDENTIFICATION
2.1 Classification of the substance or mixture
Classification according to Regulation (EC) No 1272/2008 [EU-GHS/CLP]
Eye irritation (Category 2)
Acute toxicity, Inhalation (Category 4)
Skin irritation (Category 2)
2.2 Label elements
Labelling according Regulation (EC) No 1272/2008 [CLP]
Pictogram
Signal word
PRIMARY ROUTES OF
Warning
Eyes or skin (no absorption); inhalation of dusts.
ENTRY:
FFECTS OF OVER
OSHA classifies this material as Particulates, not otherwise
EXPOSURE: OSHA:
classified. Eyes, skin and respiratory tract may be irritated by
gross overexposure to particulates, not otherwise classified, nomatter
how they are generated. Avoid inhalation of dust.
Keep dust out of eyes to prevent possible irritation.
3. COMPOSITION/INFORMATION ON INGREDIENTS
Component
Concentration
CAS No.
Propylene Glycol
Aluminum Oxide
20 - 30 %
60 - 80 %
57-55-6
1344-28-1
Ingredients are listed on the TSCA Inventory of Chemical Substances. Those not identified are non-hazardous.
4. FIRST AID MEASURES
EYES : Any material that contacts the eye should be washed out immediately with water. If easy to do,
remove contact lenses. Get medical attention if symptoms persist
SKIN: Wash with soap and water. If skin irritation or an allergic skin reaction develops, get medical attention.
INHALATION: If symptomatic, move to fresh air. Get medical attention if symptoms persist.
INGESTION: Material is of sufficiently low toxicity that inducting vomiting should not be necessary
5. FIRE FIGHTING MEASURES
EXTINGUISHING MEDIA : Water spray, Dry chemical, CO2, alcohol foam.
SPECIAL FIRE FIGHTING PROCEDURES : Wear self-contained breathing apparatus and
protective clothing.
HAZARDOUS COMBUSTION PRODUCTS: Carbon dioxide, carbon monoxide
UNUSUAL FIRE AND EXPLOSION
None
HAZARDS
6. ACCIDENTAL RELEASE MEASURES
STEPS TO TAKE IF MATERIAL IS
Absorb spill with vermiculite or other inert material, then
place in a container for chemical waste
SPILLED OR RELEASED :
For Large Spills: Flush spill area with water spray. Prevent
runoff from entering drains, sewers, or streams.
7. HANDLING AND STORAGE
PERSONAL PRECAUTIONARY
No special precautionary measures should be needed
MEASURES :
under anticipated conditions of use.
PREVENTION OF FIRE AND
Keep from contact with oxidizing materials.
EXPLOSION :
STORAGE
Keep container closed.
8. EXPOSURE CONTROLS/PERSONAL PROTECTION
EXPOSURE LIMITS :
ACGIH threshold Limit Value (TLV): not established
VENTILATION:
Good general ventilation (typically 10 air changes per hour) should be used.
Ventilation rates should be matched to conditions. Use process enclosures,
local exhaust ventilation, or other engineering controls to maintain airborne
levels below recommended exposure limits.
RESPIRATORY
If engineering controls do not maintain airborne concentrations below
PROTECTION:
recommended exposure limits, an approved respirator must be worn.
Respirator type: mist; organic vapor.
EYE PROTECTION:
It is a good industrial hygiene practice to minimize eye contact.
SKIN PROTECTION:
It is a good industrial hygiene practice to minimize skin contact.
RECOMMENDED
Eye bath, washing facilities
DECONTAMINATION
FACILITIES:
9. PHYSICAL AND CHEMICAL PROPERTIES
9.1 Information on basic physical and chemical properties
a) Appearance
b) Odour
Form: Suspension
Colour: White
no data available
c) Odour Threshold
no data available
d) pH
7
e) Melting point/freezing point
Melting point/range: -60 °C
f) Initial boiling point and boiling range
100 °C
g) Flash point
98.9 °C - closed cup
h) Evaporation rate
no data available
i) Flammability (solid, gas)
no data available
j) Upper/lower
flammability or
explosive limits
k) Vapour pressure
Upper explosion limit: 12.5 %(V)
Lower explosion limit: 2.6 %(V)
10.129 mmHg at 25 °C
l) Vapour density
no data available
m) Relative density
1.20
n) Water solubility
1000g/l
o) Partition coefficient: noctanol/water
no data available
p) Autoignition temperature
400 °C
q) Decomposition temperature
450 °C
r) Viscosity
25.2 cps
s) Explosive properties
no data available
t) Oxidizing properties
no data available
10. STABILITY AND REACTIVITY
STABILITY :
Stable.
INCOMPATIBLE MATERIALS :
Material can react with strong oxidizing
agents.
HAZARDOUS POLYMERIZATION
Will not occur.
11. TOXICOLOGICAL INFORMATION
EFFECTS OF EXPOSURE:
INHALATION:
Low hazard for usual industrial handling or commercial handling
by trained personnel.
EYES:
Low hazard for usual industrial handling or commercial handling
by trained personnel.
SKIN:
This material has a low potential to cause allergic skin reactions;
however, cases of human skin sensitization have been reported.
INGESTION:
Expected to be a low ingestion hazard.
12. ECOLOGICAL INFORMATION
Ecotoxicity :
Not expected to be hazardous to the environment.
13. DISPOSAL CONSIDERATIONS
WASTE DISPOSAL METHODS
May be disposed of in landfill or incinerated. Follow federal, state and local
regulations for disposal.
14. TRANSPORT INFORMATION
14.1 UN number
: Not regulated.
14.2 UN proper shipping name
: Not regulated.
14.3 Transport hazard class(es)
: Not regulated.
14.4 Packaging group,IF applicable :Not regulated.
14.5 Environmental hazards : Not regulate
14.6 Special precautions for user :
No data available.
15. REGULATORY INFORMATION
• This document has been prepared in accordance with the MSDS requirements of the OSHA Hazard
• OSHA Classification: nonhazardous
16. OTHER INFORMATION
-Version number (GHS) : 1.1
-Data issued : 15 March 2014
The above information is believed to be correct but does not purport to be all inclusive and shall be used only as a
guide. The information this document is based on the resent state of our knowledge and is applicable to the product
with regard to appropriate safety precautions. It does not represent any guarantee of the properties of the product.
guidechem shall not be held liable for any damage resulting from handling or from contact with the above product.
See reverse side of invoice or packing slip for additional terms and conditions of sale.