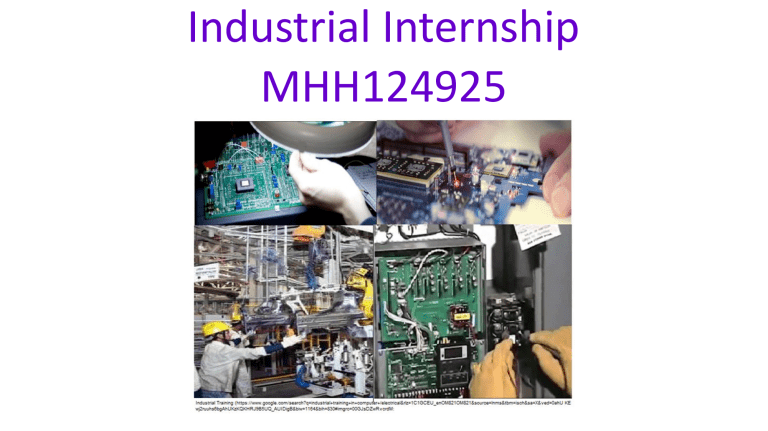 Industrial Internship
MHH124925
MODULE DETAILS
Programme
Name
Module
Code
BEng
MHH124925
(COE/TEL/EIE/EPE)
Module Title
Industrial
Internship
Level and
Credits
Semester
Pre Requisite
Knowledge
Level 4
Semester
A
Standard Entry
Requirements
10
Who has to undertake training
• All Level 3 Semester 2 students(FT/PT/SPT) as well as Level 4 students who
• have not undergone the module.
Minimum Period of Internship
• Minimum 4 weeks in any relevant industry/company
Aims and Objectives
• The module aims to provide students with the opportunity to relate their academic
learning in the course of study to a relevant work environment and by enabling interns
to apply technical theory to practice.
• This will basically widen the student's perspective by providing an exposure to real use
of technologies as expert.
• Focus on strengthening the application of technical knowledge as well as transferable
skills needed to be successful in one's career.
• Facilitate the ability of the students to adapt when joining the workforce in the future.
During the internship, the students will have the opportunity to participate in the
dynamic technical environment.
• Integration of site and industrial visits which will give the students opportunity to get
trained under an industry supervisor and identify Industry based projects which can
then be worked out as a specialization in their Technical Project.
• Internships offer students a period of practical experience in the industry relating to
their field of study.
Learning Outcomes
• On successful completion of this module the student should be able to:
1.Demonstrate various activities, related to design and operations, currently
going on in electrical/computer/telecom/instrumentation industries;
2.Demonstrate knowledge relevant to machinery and equipment used in
industries, specific to specialisation, and HSE issues;
3.Demonstrate the ability to work in teams, punctuality, time management,
work ethics, critical thinking and technical problems solving;
4.Produce a technical report, stating the major areas of operations,
production, technical problems identified and solutions proposed;
5.Illustrate the learning experience, findings and training outcomes through
an oral presentation to possibly convert the internship work into honours
project.
Learning and Teaching Strategy
• The emphasis is on exposure to work environment and culture through
training in industries.
• A supervisor from the industry provides a formal report on the student's
performance during training.
• Module leader/Tutor interact with the training supervisor and students for
any action required for the improvement of the training.
• Course Works are based on industry internship for 4-6 weeks training.
Assessment Strategy
Sl. No.
Description
Mode
Marks
Weightage (%)
100
40
1
CW1
Log book(Daily and weekly Report )+
Industrial Supervisor Feedback
2
CW2
Technical Report on Internship
100
40
3
CW3
Presentation on Internship
100
20
Total CW
100
Total
100
Pass requirement: For a pass in this module the student should achieve minimum 50%
marks overall
This module is assessed by Continuous Assessments.
Where to undergo training?
• All the PT and SPT students may undergo training in their company itself.
• Industry for Industrial Internship training will be allotted by CUTPD Department.
• For further queries related to the industry allocation, please contact Asst.
Manager Mr. Mohammed Rashid Khamis Al Abri (mohammedalabri@nu.edu. om)
or Mr. Selva Pandian (selvapandian@nu.edu.om) of our CUTPD Department.
• However, if any FT student is interested in pursuing training(minimum 4 weeks)in
any specific industry related to their Programme by your own, please inform to
the Module Coordinator.
• For any further queries related to the module ,please contact the module
coordinator Dr. Geetha Achuthan(geethaachuthan@nu.edu.om ).
Please find attached the following documents attached with this mail:
• Module Details(PPT)
• Log book for CW1 (Daily and weekly report, Industry supervisor feedback)
• Student list-Programmewise
All are requested to download the logbook prepare :
Day wise as well as weekly report(print the required number of sheets)
Please don't miss to get comments and Signature of the Industrial supervisor
with company seal and date.