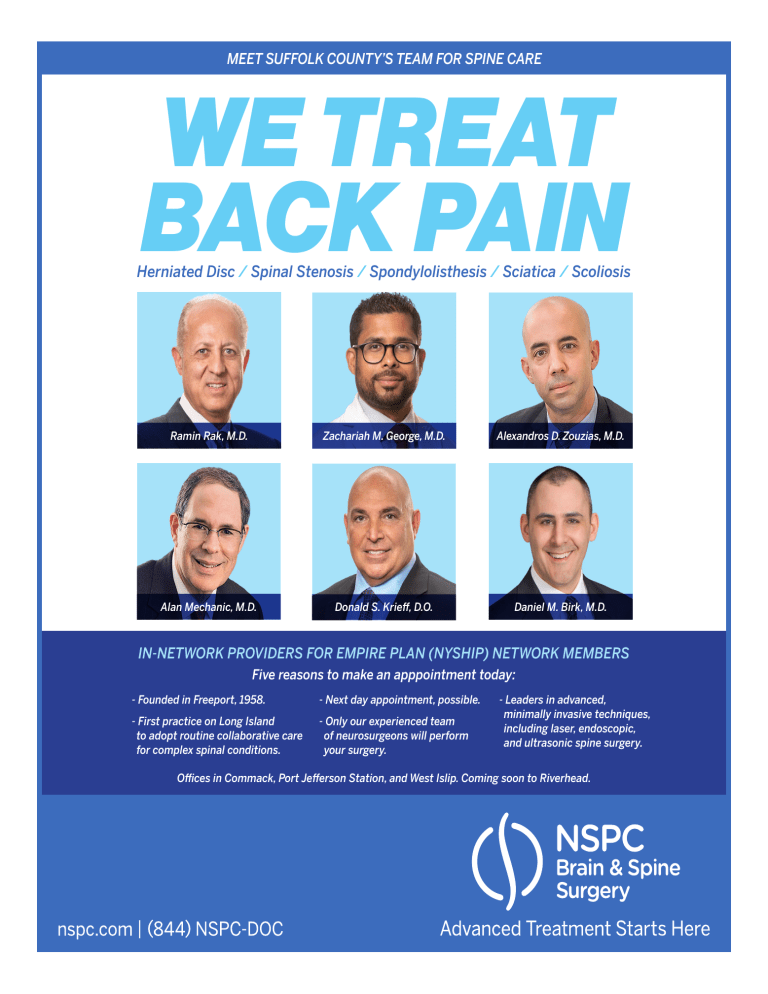 MEET SUFFOLK COUNTY'S TEAM FOR SPINE CARE
WE TREAT
BACK PAIN
Herniated Disc / Spinal Stenosis / Spondylolisthesis / Sciatica / Scoliosis
Ramin Rak, M.D.
Zachariah M. George, M.D.
Alexandros D. Zouzias, M.D.
Alan Mechanic, M.D.
Donald S. Krieff, D.O.
Daniel M. Birk, M.D.
IN-NETWORK PROVIDERS FOR EMPIRE PLAN (NYSHIP) NETWORK MEMBERS
Five reasons to make an apppointment today:
- Founded in Freeport, 1958.
- Next day appointment, possible.
- First practice on Long Island
to adopt routine collaborative care
for complex spinal conditions.
- Only our experienced team
of neurosurgeons will perform
your surgery.
- Leaders in advanced,
minimally invasive techniques,
including laser, endoscopic,
and ultrasonic spine surgery.
Offices in Commack, Port Jefferson Station, and West Islip. Coming soon to Riverhead.