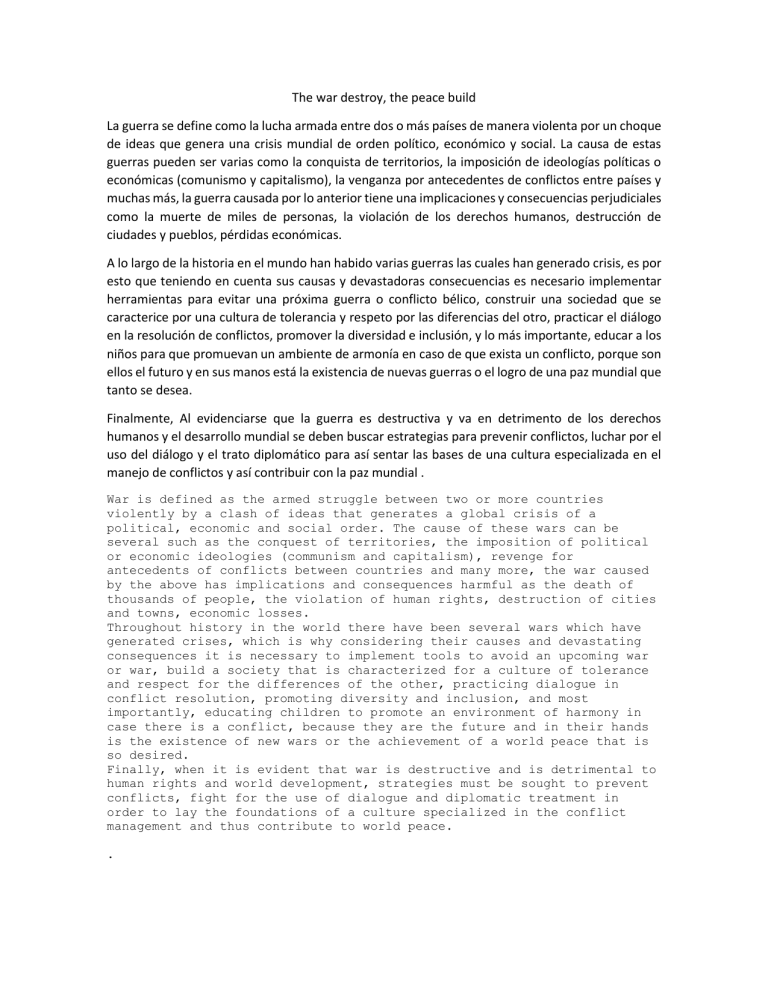 The war destroy, the peace build
La guerra se define como la lucha armada entre dos o más países de manera violenta por un choque
de ideas que genera una crisis mundial de orden político, económico y social. La causa de estas
guerras pueden ser varias como la conquista de territorios, la imposición de ideologías políticas o
económicas (comunismo y capitalismo), la venganza por antecedentes de conflictos entre países y
muchas más, la guerra causada por lo anterior tiene una implicaciones y consecuencias perjudiciales
como la muerte de miles de personas, la violación de los derechos humanos, destrucción de
ciudades y pueblos, pérdidas económicas.
A lo largo de la historia en el mundo han habido varias guerras las cuales han generado crisis, es por
esto que teniendo en cuenta sus causas y devastadoras consecuencias es necesario implementar
herramientas para evitar una próxima guerra o conflicto bélico, construir una sociedad que se
caracterice por una cultura de tolerancia y respeto por las diferencias del otro, practicar el diálogo
en la resolución de conflictos, promover la diversidad e inclusión, y lo más importante, educar a los
niños para que promuevan un ambiente de armonía en caso de que exista un conflicto, porque son
ellos el futuro y en sus manos está la existencia de nuevas guerras o el logro de una paz mundial que
tanto se desea.
Finalmente, Al evidenciarse que la guerra es destructiva y va en detrimento de los derechos
humanos y el desarrollo mundial se deben buscar estrategias para prevenir conflictos, luchar por el
uso del diálogo y el trato diplomático para así sentar las bases de una cultura especializada en el
manejo de conflictos y así contribuir con la paz mundial .
War is defined as the armed struggle between two or more countries
violently by a clash of ideas that generates a global crisis of a
political, economic and social order. The cause of these wars can be
several such as the conquest of territories, the imposition of political
or economic ideologies (communism and capitalism), revenge for
antecedents of conflicts between countries and many more, the war caused
by the above has implications and consequences harmful as the death of
thousands of people, the violation of human rights, destruction of cities
and towns, economic losses.
Throughout history in the world there have been several wars which have
generated crises, which is why considering their causes and devastating
consequences it is necessary to implement tools to avoid an upcoming war
or war, build a society that is characterized for a culture of tolerance
and respect for the differences of the other, practicing dialogue in
conflict resolution, promoting diversity and inclusion, and most
importantly, educating children to promote an environment of harmony in
case there is a conflict, because they are the future and in their hands
is the existence of new wars or the achievement of a world peace that is
so desired.
Finally, when it is evident that war is destructive and is detrimental to
human rights and world development, strategies must be sought to prevent
conflicts, fight for the use of dialogue and diplomatic treatment in
order to lay the foundations of a culture specialized in the conflict
management and thus contribute to world peace.
.