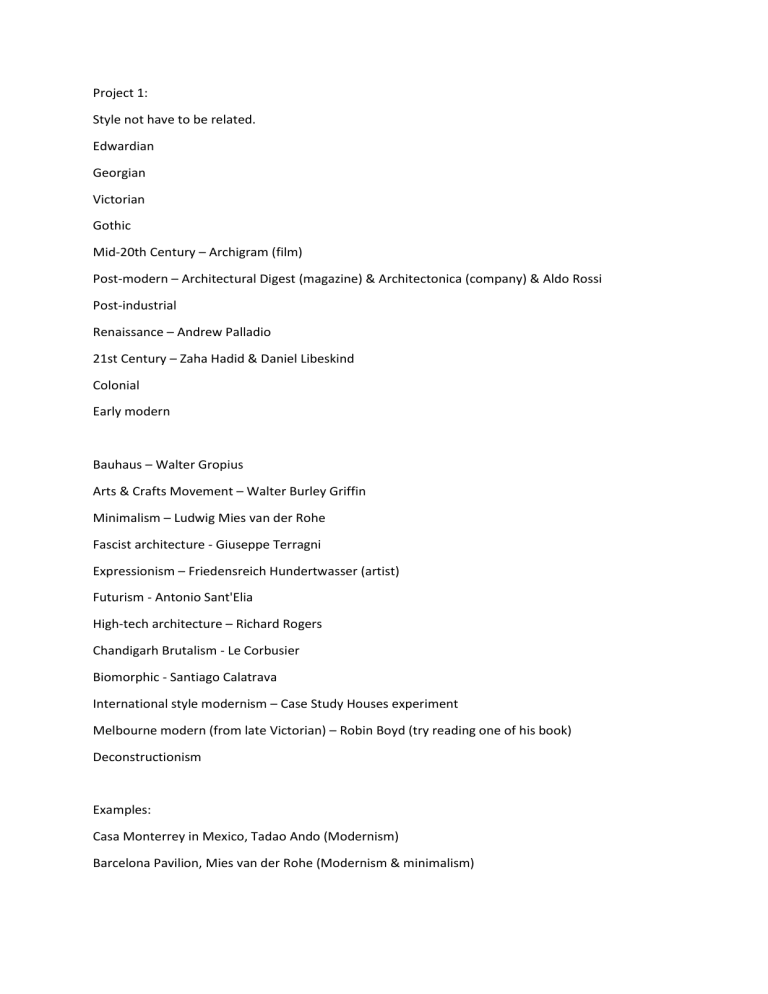 Project 1:
Style not have to be related.
Edwardian
Georgian
Victorian
Gothic
Mid-20th Century – Archigram (film)
Post-modern – Architectural Digest (magazine) & Architectonica (company) & Aldo Rossi
Post-industrial
Renaissance – Andrew Palladio
21st Century – Zaha Hadid & Daniel Libeskind
Colonial
Early modern
Bauhaus – Walter Gropius
Arts & Crafts Movement – Walter Burley Griffin
Minimalism – Ludwig Mies van der Rohe
Fascist architecture - Giuseppe Terragni
Expressionism – Friedensreich Hundertwasser (artist)
Futurism - Antonio Sant'Elia
High-tech architecture – Richard Rogers
Chandigarh Brutalism - Le Corbusier
Biomorphic - Santiago Calatrava
International style modernism – Case Study Houses experiment
Melbourne modern (from late Victorian) – Robin Boyd (try reading one of his book)
Deconstructionism
Examples:
Casa Monterrey in Mexico, Tadao Ando (Modernism)
Barcelona Pavilion, Mies van der Rohe (Modernism & minimalism)
Project 2:
Site visit:
'Dights Fall' in Collingwood, arrive to the site at 10a.m. directly on 20th Feb.
Use lassi map tool for data collecting.
Record vegetations around the site.
Sketch elevation for analyse.
Mark down existing elements.
Site data analyse:
Known information of the 'Dights Fall' site mentioned by Andrew:
Hwy-1 at north – one direction 100km/h
Hwy-2 at north – two directions 60km/h
Bicycle movement on weekends (vending machines/cafe for people can be considered, design can
always expand out of the brief)
Old cause way for water to flow back years ago, monument can be considered around the old
entrance corner.
Design:
Architecture involves philosophy, analyse architecture as a visual language. Use existing elements as
concepts or bases, broke things apart and re-arrange like art, merging new building into the old.
Take existing fabric and re-merge it. The design should be special to the site and shouldn't work for
most other sites. Space consideration (site) is more important than the building itself.
Scale might vary, not fix as brief. Not autographic layout like working drawing (working drawing
plans mostly are one plan per page and align without design beauty), always include landscape
around floorplan in design.
Sketch/concept Design:
Bubble Diagrams/ Planning - elements drawn form site data and information collected
Composition/ Massing Studies - re-merging concepts
Material/ technology investigations - how the look/touch/feel (colour, temperature, rough or silky?)
Conceptual philosophy design example:
Fall voice – waveforms – Building
Video – Flow – Building
Rem Koolhaas use philosophy of freeways around the site into one of his work in Los Angle, merging
the elements of freeway into his elevations.
Trace lines of waterways, highways, pathway etc…, overlap and use all of the angles to make a
building outline. The lines are then parallel to surrounding environment and suits the site.
Try to use more than one software:
Physical model made by tapes and boards & photoshop: flexible
Rhino & Grasshopper: organic multicurve model
SketchUp: Angular straight post-modern model
Presentation:
The presentation will be A1 pin up presentation, print before come to presentation class.
Audience is classmate and teacher (designers), focus on image explaining design idea/method
mentally with landscape background instead of floor plan with dimension. Floor plan becomes a part
merge into the site, dimensions are for builders while they are the audience of working drawing
diagram.