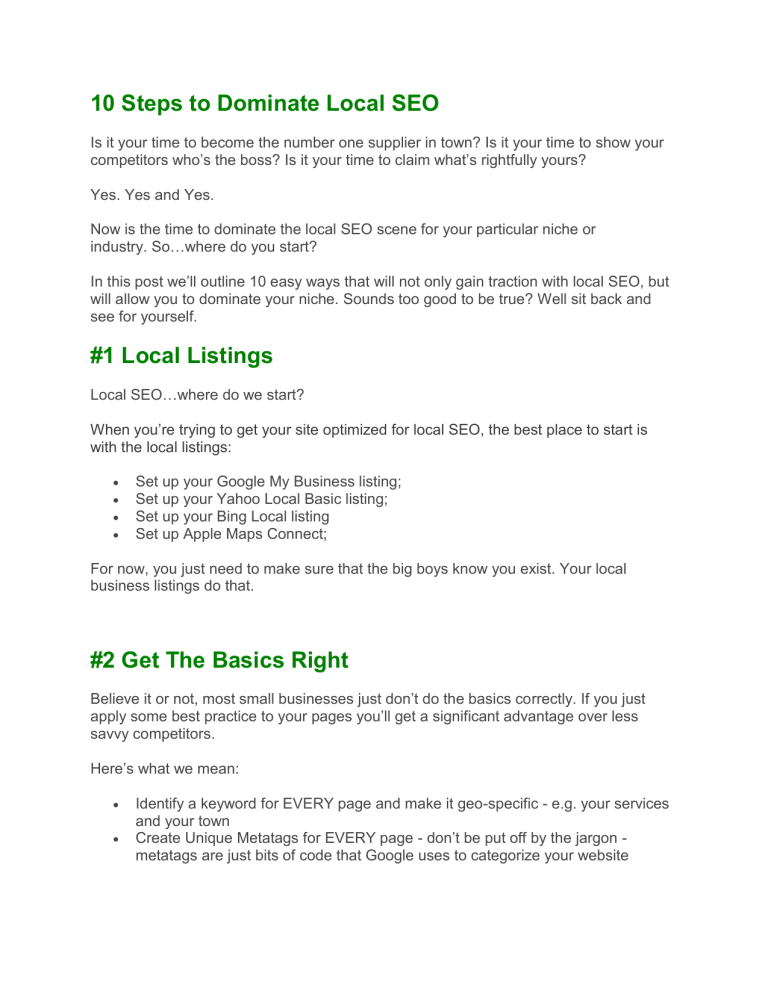 10 Steps to Dominate Local SEO
Is it your time to become the number one supplier in town? Is it your time to show your
competitors who's the boss? Is it your time to claim what's rightfully yours?
Yes. Yes and Yes.
Now is the time to dominate the local SEO scene for your particular niche or
industry. So…where do you start?
In this post we'll outline 10 easy ways that will not only gain traction with local SEO, but
will allow you to dominate your niche. Sounds too good to be true? Well sit back and
see for yourself.
#1 Local Listings
Local SEO…where do we start?
When you're trying to get your site optimized for local SEO, the best place to start is
with the local listings:




Set up your Google My Business listing;
Set up your Yahoo Local Basic listing;
Set up your Bing Local listing
Set up Apple Maps Connect;
For now, you just need to make sure that the big boys know you exist. Your local
business listings do that.
#2 Get The Basics Right
Believe it or not, most small businesses just don't do the basics correctly. If you just
apply some best practice to your pages you'll get a significant advantage over less
savvy competitors.
Here's what we mean:


Identify a keyword for EVERY page and make it geo-specific - e.g. your services
and your town
Create Unique Metatags for EVERY page - don't be put off by the jargon metatags are just bits of code that Google uses to categorize your website




Create Keyword Rich URLs for EVERY page - eg: don't call your pages
www.mybusiness.com/services - better to use - www.mybusiness.com/myservice-my-town
Add your keywords to Headings on EVERY page - Headings are like the ones
you use when you create a document in Word. Google uses them to understand
the layout of the page. Use H1, H2 and H3 headings on each page
Create long pages (see below) and include your keywords in the text and link to
other pages in your website using these keywords
Optimize any images you have on your pages - Google can't understand images
so you need to describe the content of them
#3 Go Mobile
The web is going mobile - big time. And don't think that only applies to big business.
Think about your potential customers - are they sitting at home or in an office browsing
on their desktop?
No - if they're anything like you (and they are) they're out and about browsing with their
mobiles or their tablets.
Still not convinced?
Well we know from an August 2015 report that "18% of local mobile searches lead to a
sale within one day" and "local searches lead 50% of mobile visitors" to your ecommerce store "within one day."
Back in May 2015 it was reported that mobile traffic had overtaken desktop traffic as
well, making up 29% of all search traffic. Mobile is how people are finding what to do in
their local area. For your local business, this is great.
First up, check if your site is mobile friendly.
If it isn't then one option is to build a responsive website which can be viewed perfectly
on any device. If budget is an issue then look at a low cost option such as a mobile
website builder where you can create a basic mobile site which operates side by side
with your normal site and displays when a mobile browser is detected.
#4 Be Location Specific
One of the biggest problems that sites run into is that they're not specific.
By specific, we mean your location.




Your Site Needs Location-Specific Content
Your Site Needs Location-Specific Pages
Your Site Needs Good Citations
Your Site Needs to Avoid Multiple or Incorrect Listings on Google
The good news is that you can get all of this through your content alone…and it's super
easy.
Just add your Name, Address and Phone to your contact page!
We call that NAP and Google loves to see it. When it does see it you'll start to get those
good citations, something that boosts traffic from your local area.
#5 Get on the Local SEO Map
Are you a SAB?
An SAB is a service-area business and if you qualify you'll do even better on Google.
A good place to start is with a Moz post called Getting on the Map: The Intro to Local
SEO for SABs
The tips are for brick and mortar stores, the kind that have a physical location and hours
of operation like we talked about earlier.
A good tip is defining your service in an exact and specific way so Google picks up on it.
The more generic, the more Google ignores you. The more specific, the more Google
will pay attention to you.
And please – check those duplicate listings! Having the same name as another
business is one thing. When it's in the same area it might cause you problems. When
it's online, you'll experience even more headaches.
So define your service exactly and get better results because of it.
#6 Content Marketing for Local SEO
Content Marketing is becoming increasingly important for business of all sizes and in all
markets. Google loves all that shiny, new, relevant content.
If your website is just static and never has any new content then over time Google will
just ignore you.
So what you need is targeted content marketing, the kind that taps into the basic wants
and needs, the core desires, of those local SEO searchers
You can add that content to your blog, promote it on social media, use it to build
relationships with bloggers an people who can promote it to their audience.
So Content Marketing is the place where online search, blogging and social media all
meet.
If you're still scratching your head then a good place to start is with a Definitive Guide to
eCommerce Content Marketing infographic which takes you step by step through the
process.
Here, take a look:
The main takeaways here are that Content Marketing is a predictable, repeatable
process that anyone can master.
If you're really stuck with Content Marketing there are loads of types of content that are
proven to increase traffic and conversions (i.e. people who come to your website and
become clients). Here are five particularly effective types of content:





Definitive Guides
How To Guides
Buyer's Guides
List Based Content
Case Studies
#7 Target Focused Geographic Areas
Are you using Google Analytics geo-targeting feature?
Pretty much it's just looking at the large map of your geographic area to figure out which
smaller areas are giving you the most traffic.
Let's say you're in West Australia.
That's a huge metropolitan area and has tons of smaller municipalities, suburbs, and
locales.
That's why Lilo in Perth suggested focusing your local SEO content and local SEO
marketing to a demographic area as large as West Australia doesn't make a lot of
sense.
You'll need to drill down further, targeting all those smaller circles around it so you can
get even more traffic to your site.
So consider writing content for places like Perth, Albany, Rockingham and other
geographic areas in the larger area.
Once you have this list of areas you can add these to your pages, either in the URLs
(the website address) as well as in the text of each page.
It's just another way to get ahead of the competition by focusing on areas they ignore.
#8 Create Product and Service Specific Pages
Often local business websites have 'thin' content. What we mean by this is that the
website includes the very basic information about the business.
That's a mistake.
Why? Because Google wants more content. It wants to see specific pages talking about
specific products or services.
For example, let's say that you are a local plumber. You offer a range of call-out
services for emergencies but you also have project services like kitchen plumbing
installation, bathroom installation, boiler installation, heating installation, external
drainage, etc...
Instead of having just one 'Services' page listing them, create a page for each.
This way you are casting a wider net with Google. You are creating service specific
pages that reflect what people are actually searching on.
Also, make the pages quite long - say between 500 to 1500 words. That might sound
like a lot, but think about it. If we sat down for a coffee and you started to explain what
you do for each service you could probably talk for hours.
So just have that imaginary conversation with your prospects, listen to the questions
they have and that will give you that content.
That's all there is to it - just list out all of the products and services you offer and create
a page for each with loads of useful information.
#9 Encourage Reviews
You love your customers and you want them to know that. When they do, they'll return
that love. Today, returning that love means leaving reviews. For local SEO, reviews are
critical.
We know from an August 2015 post that "88% of consumers trust online reviews as
much as personal recommendations." Sites that have reviews move up the search
results like no other. When it comes to local listings, this is even truer.
You have a lot of different ways to gain local SEO traffic. Reviews are one of the best
ways because people see them right on the main Google search page:
If you type in New York City pizza this listing is one of the first to come up. A big reason
for that are the 242 customer reviews the place has.
For comparison's sake, look at the other top restaurants that came up for that search
query:
As you can see, the restaurant we chose doesn't have the most reviews. The third
result has 800 more reviews!
The reason that restaurant came up first is because the average of its reviews is 4.4
stars while the other restaurant has 4.0 stars. So review quality is more important than
the number of reviews. Again, you love your customers – make sure they know it!
A word of caution though. Don't try to game the system with either fake reviews or by
getting tons of reviews in a short space of time. Either of these can get your business
banned from the listings.
Just take your time and do it slowly but surely and you'll be just fine.
#10 Study the Competition
You can learn so much about what your customers want if you just look at your
competition.



What are they putting on their blog?
What product promos are they doing this month or season?
What are their social efforts and how is this keyed to their site?
When you look at those things you'll get a clear idea of what the market expects. You'll
also get an idea of what you're not doing, or perhaps things that are working that you
should try.
Beside that, you'll see your competition's contact page, how they list their NAP info, and
what they're doing for local SEO efforts. That goes doubly so for their blog. Take a look
at what content is put up, how often, and how many comments it gets.
Are they targeting to specific audiences and needs or just going with general talking
points you could see on the other side of the country? Study all of these things so you
can do them better than the competition.
Conclusion
Local SEO is something you can dominate.
Just remember to do the basics right. That means getting listed in local listings like
Google, Bing and Yahoo and getting plenty of NAP Citations. It means optimizing your
pages and making sure you have plenty of content on specific product and service
pages.
You'll need to get geo-specific and focus in on the areas you cover rather than trying to
cover a major city. Also, be aware that people are searching for you on their
phones and mobile devices nowadays so make sure your website passes the mobile
test.
Content is important too and Google loves all that fresh, relevant content. You're going
to need to get reviews too - especially in Google. I hope you find that useful and good
luck on your journey to the top!