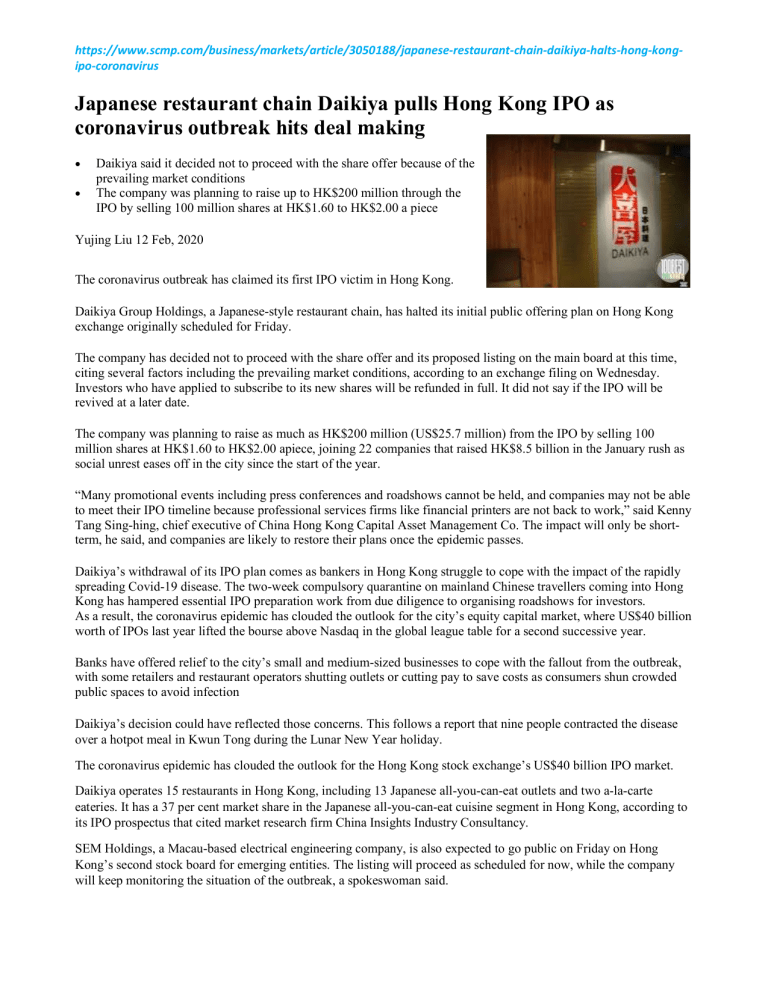 https://www.scmp.com/business/markets/article/3050188/japanese-restaurant-chain-daikiya-halts-hong-kongipo-coronavirus
Japanese restaurant chain Daikiya pulls Hong Kong IPO as
coronavirus outbreak hits deal making


Daikiya said it decided not to proceed with the share offer because of the
prevailing market conditions
The company was planning to raise up to HK$200 million through the
IPO by selling 100 million shares at HK$1.60 to HK$2.00 a piece
Yujing Liu 12 Feb, 2020
The coronavirus outbreak has claimed its first IPO victim in Hong Kong.
Daikiya Group Holdings, a Japanese-style restaurant chain, has halted its initial public offering plan on Hong Kong
exchange originally scheduled for Friday.
The company has decided not to proceed with the share offer and its proposed listing on the main board at this time,
citing several factors including the prevailing market conditions, according to an exchange filing on Wednesday.
Investors who have applied to subscribe to its new shares will be refunded in full. It did not say if the IPO will be
revived at a later date.
The company was planning to raise as much as HK$200 million (US$25.7 million) from the IPO by selling 100
million shares at HK$1.60 to HK$2.00 apiece, joining 22 companies that raised HK$8.5 billion in the January rush as
social unrest eases off in the city since the start of the year.
"Many promotional events including press conferences and roadshows cannot be held, and companies may not be able
to meet their IPO timeline because professional services firms like financial printers are not back to work," said Kenny
Tang Sing-hing, chief executive of China Hong Kong Capital Asset Management Co. The impact will only be shortterm, he said, and companies are likely to restore their plans once the epidemic passes.
Daikiya's withdrawal of its IPO plan comes as bankers in Hong Kong struggle to cope with the impact of the rapidly
spreading Covid-19 disease. The two-week compulsory quarantine on mainland Chinese travellers coming into Hong
Kong has hampered essential IPO preparation work from due diligence to organising roadshows for investors.
As a result, the coronavirus epidemic has clouded the outlook for the city's equity capital market, where US$40 billion
worth of IPOs last year lifted the bourse above Nasdaq in the global league table for a second successive year.
Banks have offered relief to the city's small and medium-sized businesses to cope with the fallout from the outbreak,
with some retailers and restaurant operators shutting outlets or cutting pay to save costs as consumers shun crowded
public spaces to avoid infection
Daikiya's decision could have reflected those concerns. This follows a report that nine people contracted the disease
over a hotpot meal in Kwun Tong during the Lunar New Year holiday.
The coronavirus epidemic has clouded the outlook for the Hong Kong stock exchange's US$40 billion IPO market.
Daikiya operates 15 restaurants in Hong Kong, including 13 Japanese all-you-can-eat outlets and two a-la-carte
eateries. It has a 37 per cent market share in the Japanese all-you-can-eat cuisine segment in Hong Kong, according to
its IPO prospectus that cited market research firm China Insights Industry Consultancy.
SEM Holdings, a Macau-based electrical engineering company, is also expected to go public on Friday on Hong
Kong's second stock board for emerging entities. The listing will proceed as scheduled for now, while the company
will keep monitoring the situation of the outbreak, a spokeswoman said.
https://www.thestandard.com.hk/section-news/section/2/216192/HKTV-placement-to-raise-$426m
HKTV placement to raise $426m
Avery Chen 12 Feb 2020
Hong Kong Television Network (1137) is planning a share placement to raise as much as HK$426 million after its
shares fell 10 percent from a historic high yesterday.
The operator of HKTVmall is set to place 80 million shares at a price range between HK$5.15 and HK$5.35 for
general working capital and expanding its e-commerce business. That represents a discount of 11 percent to 14.3
percent compared with yesterday's closing price of HK$6.01. The company also could sell additional placing shares of
10 million.
Class Discussion 1
Que 1: If you were the CEO of a company with IPO in coming weeks, would you cancel the IPO?
Que 2: What are your key considerations (e.g. overall market performance, specific sector of the company)?
Que 3: How would you assess HKTV's placement? Timing? Pricing? Market sentiment?
Que 4: If you were given the chance, would you like to subscribe for the new shares?