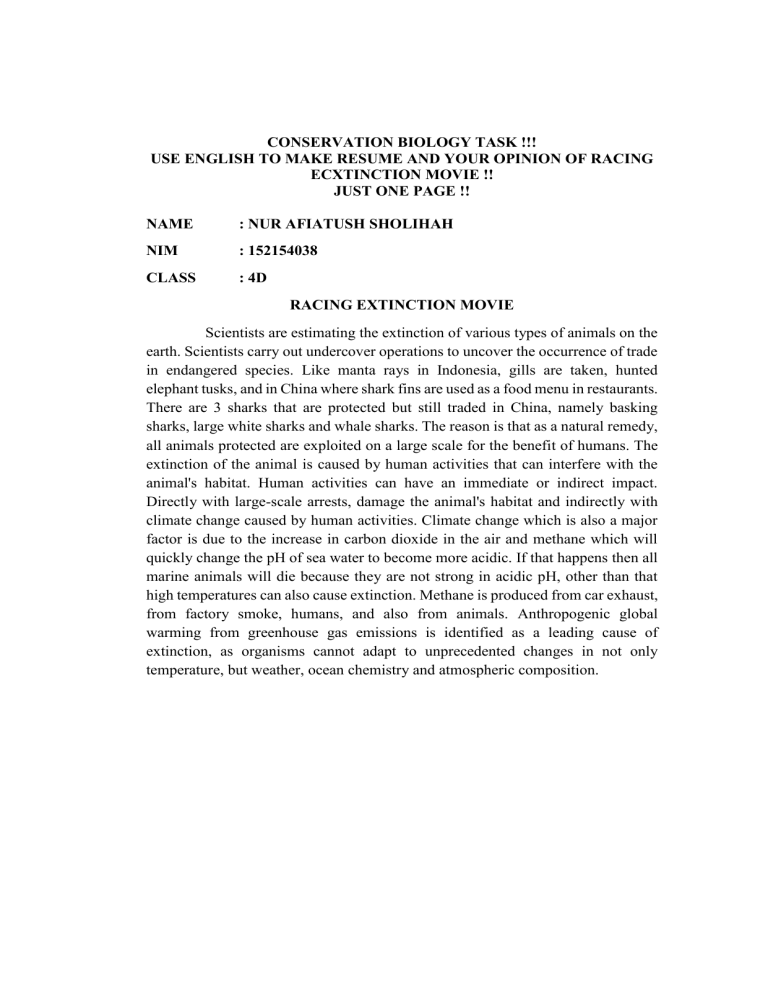 CONSERVATION BIOLOGY TASK !!!
USE ENGLISH TO MAKE RESUME AND YOUR OPINION OF RACING
ECXTINCTION MOVIE !!
JUST ONE PAGE !!
NAME
: NUR AFIATUSH SHOLIHAH
NIM
: 152154038
CLASS
: 4D
RACING EXTINCTION MOVIE
Scientists are estimating the extinction of various types of animals on the
earth. Scientists carry out undercover operations to uncover the occurrence of trade
in endangered species. Like manta rays in Indonesia, gills are taken, hunted
elephant tusks, and in China where shark fins are used as a food menu in restaurants.
There are 3 sharks that are protected but still traded in China, namely basking
sharks, large white sharks and whale sharks. The reason is that as a natural remedy,
all animals protected are exploited on a large scale for the benefit of humans. The
extinction of the animal is caused by human activities that can interfere with the
animal's habitat. Human activities can have an immediate or indirect impact.
Directly with large-scale arrests, damage the animal's habitat and indirectly with
climate change caused by human activities. Climate change which is also a major
factor is due to the increase in carbon dioxide in the air and methane which will
quickly change the pH of sea water to become more acidic. If that happens then all
marine animals will die because they are not strong in acidic pH, other than that
high temperatures can also cause extinction. Methane is produced from car exhaust,
from factory smoke, humans, and also from animals. Anthropogenic global
warming from greenhouse gas emissions is identified as a leading cause of
extinction, as organisms cannot adapt to unprecedented changes in not only
temperature, but weather, ocean chemistry and atmospheric composition.