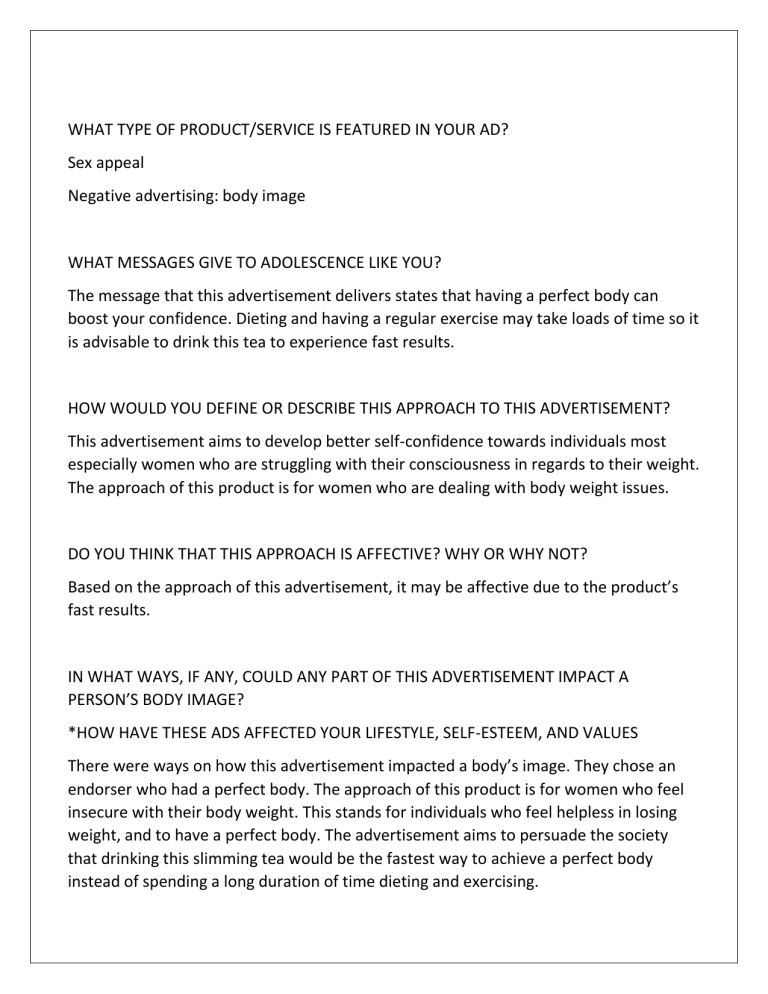 WHAT TYPE OF PRODUCT/SERVICE IS FEATURED IN YOUR AD?
Sex appeal
Negative advertising: body image
WHAT MESSAGES GIVE TO ADOLESCENCE LIKE YOU?
The message that this advertisement delivers states that having a perfect body can
boost your confidence. Dieting and having a regular exercise may take loads of time so it
is advisable to drink this tea to experience fast results.
HOW WOULD YOU DEFINE OR DESCRIBE THIS APPROACH TO THIS ADVERTISEMENT?
This advertisement aims to develop better self-confidence towards individuals most
especially women who are struggling with their consciousness in regards to their weight.
The approach of this product is for women who are dealing with body weight issues.
DO YOU THINK THAT THIS APPROACH IS AFFECTIVE? WHY OR WHY NOT?
Based on the approach of this advertisement, it may be affective due to the product's
fast results.
IN WHAT WAYS, IF ANY, COULD ANY PART OF THIS ADVERTISEMENT IMPACT A
PERSON'S BODY IMAGE?
*HOW HAVE THESE ADS AFFECTED YOUR LIFESTYLE, SELF-ESTEEM, AND VALUES
There were ways on how this advertisement impacted a body's image. They chose an
endorser who had a perfect body. The approach of this product is for women who feel
insecure with their body weight. This stands for individuals who feel helpless in losing
weight, and to have a perfect body. The advertisement aims to persuade the society
that drinking this slimming tea would be the fastest way to achieve a perfect body
instead of spending a long duration of time dieting and exercising.