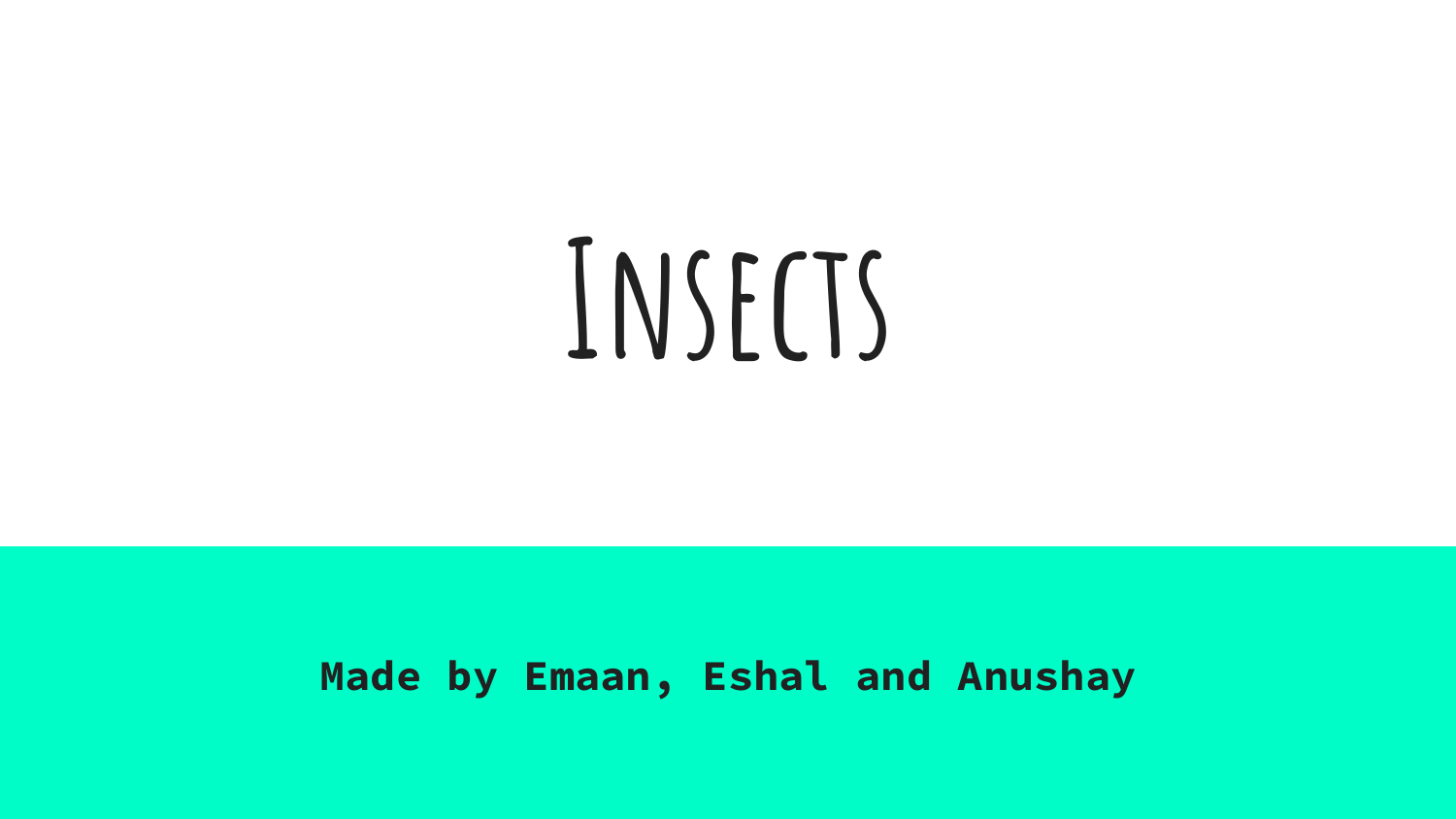 Insects
Made by Emaan, Eshal and Anushay
what are insects?
● They belong to the Animal
kingdom
● They belong to Arthropod
phyla.
● They are invertebrates.
● They are eukaryotes.
● Insects need water, air, and
food to live.
Examples of Insects ;
Bee
Ant
Butterfly
House Fly
Characteristics
● It is a small arthropod animal
● Segmented body into three parts
● Has six legs
● Generally 2-3 pairs of wings
(midges & mosquitoes have one pair
of wings)
● Have three pairs of jointed legs
● Have one pair of antennas
● Have a exoskeleton
● Compound eyes
Adaptation
● Move about by walking, flying
and sometimes swimming
● Are mostly solitary (like to
live alone)
● Insects like bees, ants and
termites live in well-organized
large colonies
● They are mainly terrestrial
● They can live in very dry places
because their exoskeleton and
trachea are very good at
stopping water from evaporating
from the insect's body
an ant colony
Nutrition
● Insects eat in many different ways and they eat
a huge range of foods.
● Around half are plant-eaters, feeding on
leaves, roots, seeds, nectar, or wood.
● Aphids and leafhoppers suck up the sap from
plants.
Sensitivity
● Most insects have one or more
sensory organs that are sensitive to
vibrations transmitting through the
air.
● Some insects even listen for the
sounds of predators in order to
avoid being eaten by them.
● All insects have sense organs that
allow them to see, smell, taste,
hear, and touch their environment.
● They use their antenna to feel
around and also for their sense of
smell
Respiration
● Instead of lungs, insects breathe with a network of tiny
tubes called tracheae.
● Air enters the tubes through a row of holes along an
insect's abdomen, which then diffuses down the blindended tracheae.
reproduction
Most insects reproduce by sexual
reproduction.
The female produces eggs, which are
fertilized by the male.
The eggs are usually placed near the
food source and in a place safe from
predators.
In some insects there is asexual
reproduction during which the
offspring comes from a single parent.