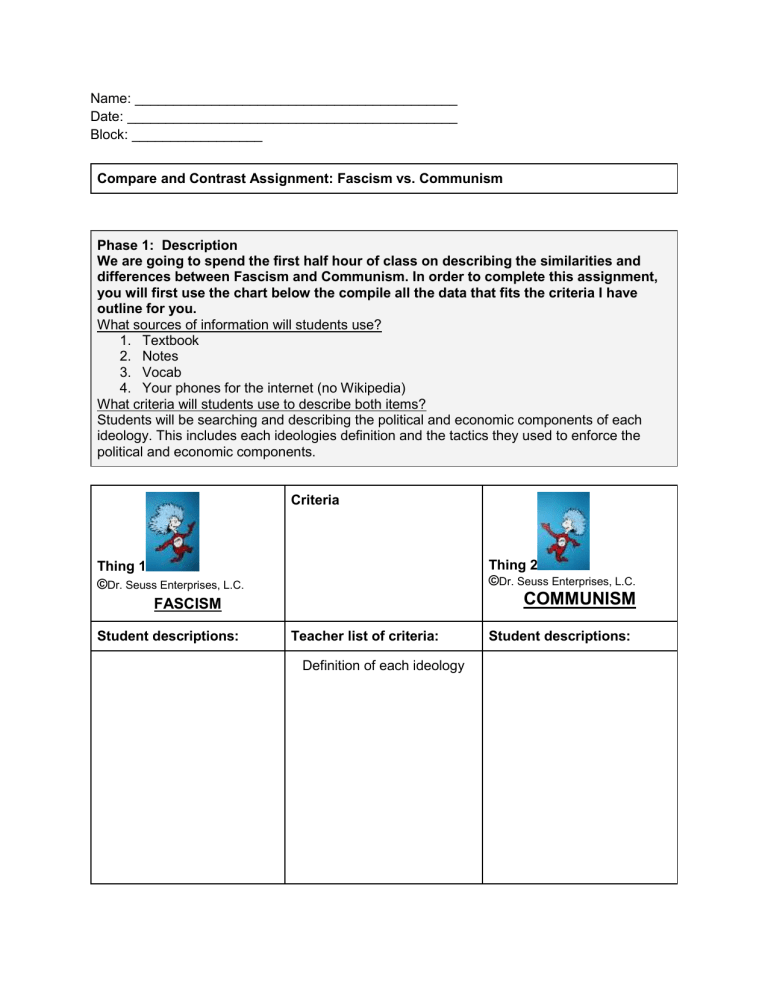 Name: __________________________________________
Date: ___________________________________________
Block: _________________
Compare and Contrast Assignment: Fascism vs. Communism
Phase 1: Description
We are going to spend the first half hour of class on describing the similarities and
differences between Fascism and Communism. In order to complete this assignment,
you will first use the chart below the compile all the data that fits the criteria I have
outline for you.
What sources of information will students use?
1. Textbook
2. Notes
3. Vocab
4. Your phones for the internet (no Wikipedia)
What criteria will students use to describe both items?
Students will be searching and describing the political and economic components of each
ideology. This includes each ideologies definition and the tactics they used to enforce the
political and economic components.
Criteria
Thing 2
©Dr. Seuss Enterprises, L.C.
Thing 1
©Dr. Seuss Enterprises, L.C.
COMMUNISM
FASCISM
Student descriptions:
Teacher list of criteria:
Definition of each ideology
Student descriptions:
Political Characteristics
Economic Characteristics
Tactics used to enforce the
ideology
Phase 2: Comparison
After reviewing our Totalitarianism test, we still struggled with differentiating between Fascism
and Communism and the ways (political and economic) the government was enforcing it on
the people and the country. We are next will use your descriptions and criteria from phase
one to search for important similarities and differences.
A Top Hot Organizer is an easier way of organizing comparing and contrasting characteristics
by showing the description of each ideology, than focusing on a few key similarities and
differences of the two ideologies based on our Political and Economic competencies.
Students:
Thing 1 (Fascism) Description
Thing 2 (Communism)Description
Similarities
Differences
Phase 3: Conclusion
Below are three questions that are asking you to draw conclusions about the difference and
similarities between the two ideologies. Your answers must be in complete sentences and
supported by evidence from Phase 1 and Phase 2 of this assignment.
1. What is the most important difference between Fascism and Communism
2. Does this difference make one "softer" than the other? Why?
3. What conclusions can you draw about the effectiveness of fascism and communism?
Student:
Conclusions:
1.
2.
3.
Phase 4: Application
Predict what components of Fascism and Communism will spark World War II. Explain why in
complete sentences.
Student:
Prediction:
1.
2.
3.
4.