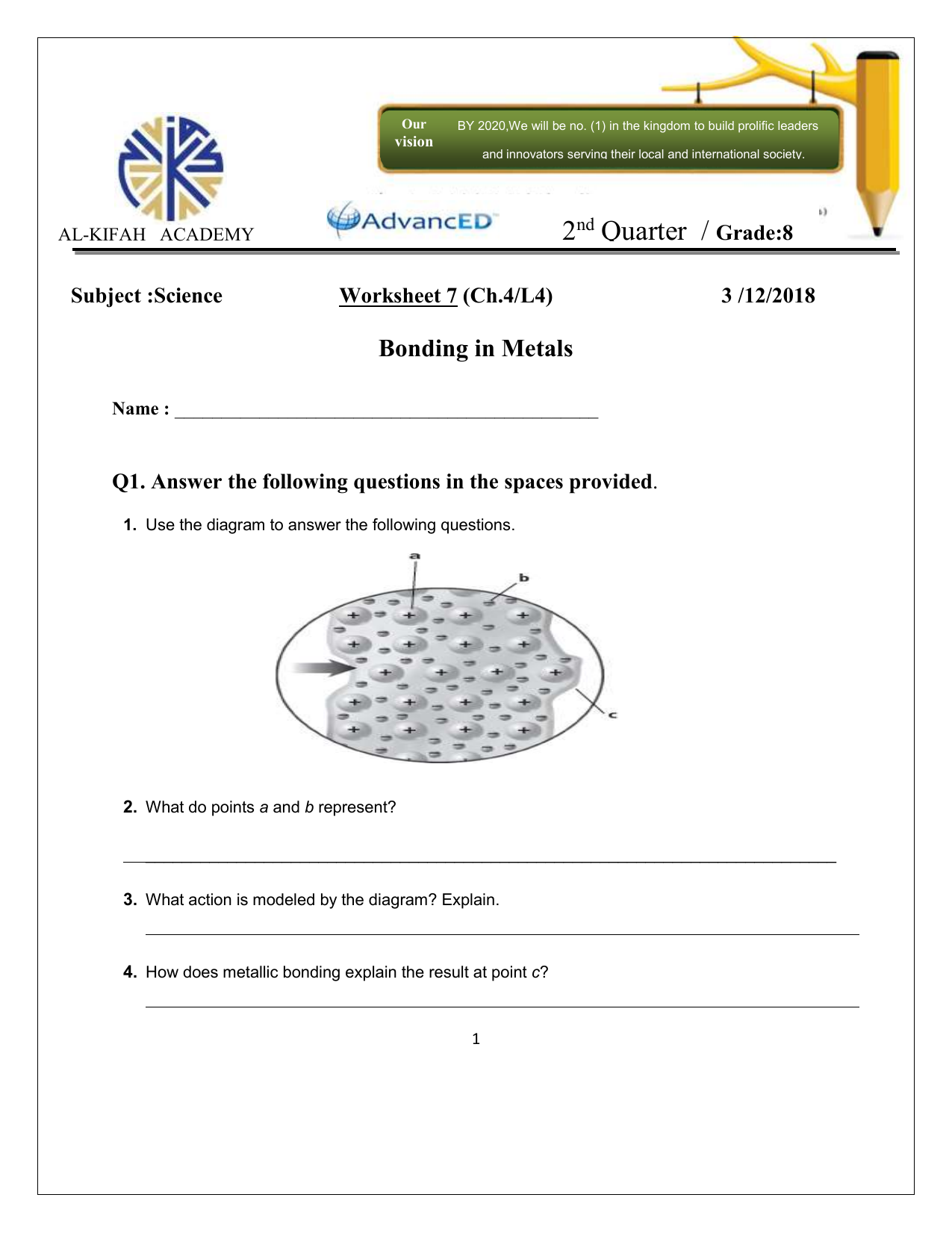 Our
BY 2020,We will be no. (1) in the kingdom to build prolific leaders
vision
and innovators serving their local and international society.
2nd Quarter / Grade:8
AL-KIFAH ACADEMY
44
Subject :Science
Worksheet 7 (Ch.4/L4)
3 /12/2018
Bonding in Metals
Name : _____________________________________________
Q1. Answer the following questions in the spaces provided.
1. Use the diagram to answer the following questions.
2. What do points a and b represent?
____________________________________________________________________________
3. What action is modeled by the diagram? Explain.
4. How does metallic bonding explain the result at point c?
1
5. write a definition for each of these terms.
a. metallic bond :
b. alloy :
______________________________________________________________________
Q2: Match each property of metal with its description by writing the letter of the correct
description in the right column on the line beside the property in the left column.
1.
luster
a. easily beaten into complex shapes
2.
ductility
b. conducts electric current well
3.
malleability
c. shiny and reflective
4.
thermal conductivity
d. easily bent and pulled into thin strands
5.
electrical conductivity
e. conducts heat well
Q3: Write the letter of the correct answer on the line at the left.
1.
A
B
C
D
Why are alloys generally used to make everyday objects?
Alloys are often stronger and less reactive than pure metals.
Alloys have higher melting points than pure metals.
Alloys are less expensive to produce than pure metals.
Alloys have ionic bonds instead of metallic bonds.
A
B
C
D
Metallic bonding is
a type of covalent bond
a type of ionic bond
an attraction between positive and negative ions
an attraction between positive ions and electrons
A
B
C
D
Which of the following is NOT a property of metals?
ductile
good electrical conductor
good thermal insulator
malleable
2.
3.
2
4.
A
B
C
D
At room temperature, most metals are
liquid
solid
gas
an alloy
Q4 : Fill in the blank to complete each statement.
5. An attraction between a positive metal ion and surrounding electrons is a(n) _______________
bond.
6. Metals typically have
melting points.
7. The metal fins that cool a motorcycle's engine make use of the high________________
conductivity of metals.
8. Metals are often used to make wire because they are
9. Metals are used in electrical wires because they have high
10. Nonmetals are unlikely to form metallic bonds because their
are strongly held.
Science Teacher
Mrs. Maryam Alabdulqader
Academic Supervisor
Mrs.Noha Ahmed
Principal
Mrs. Reem Al Mousa
3
.
conductivity.