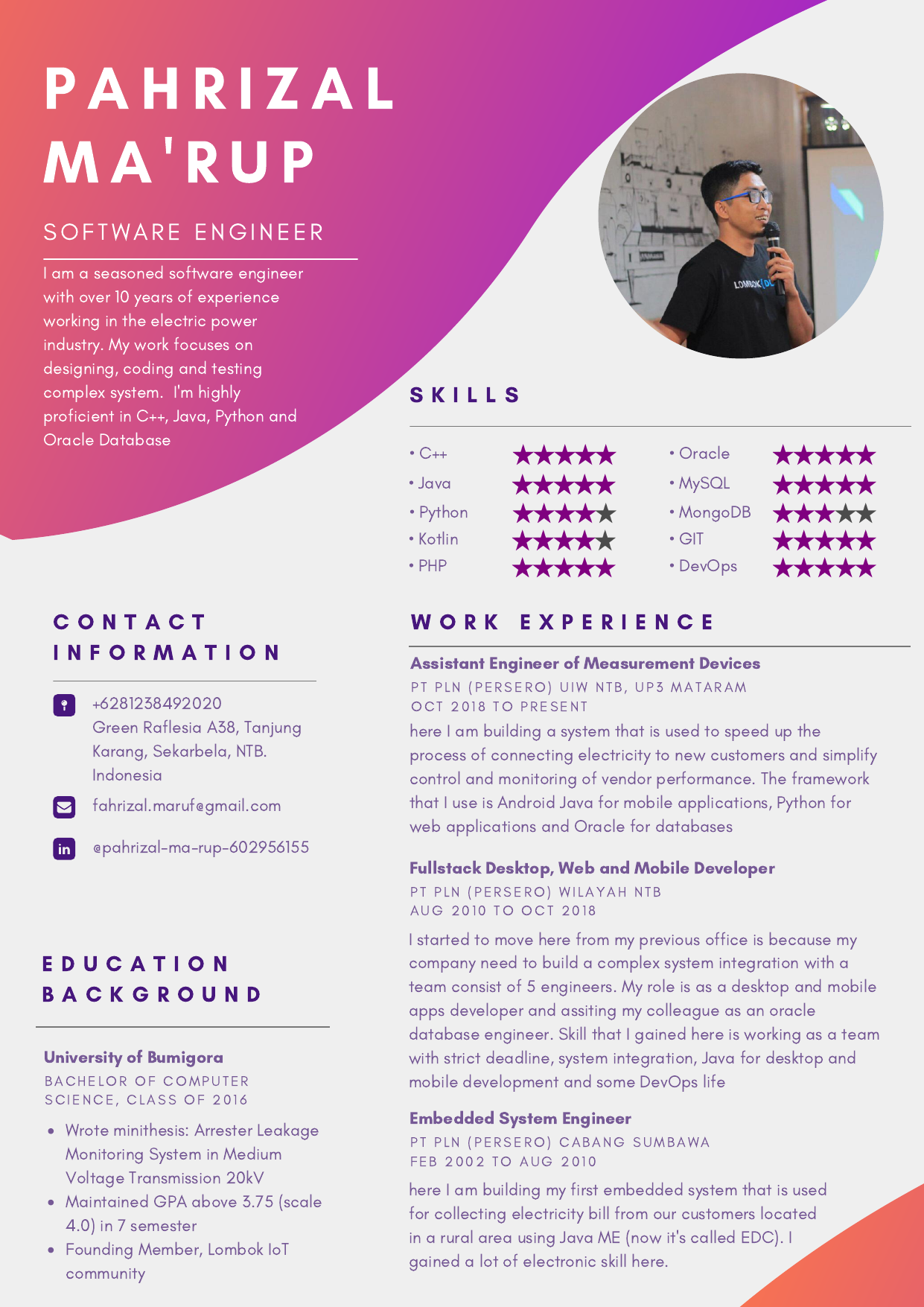 PAHRIZAL
MA'RUP
SOFTWARE
ENGINEER
I am a seasoned software engineer
with over 10 years of experience
working in the electric power
industry. My work focuses on
designing, coding and testing
complex system. I'm highly
SKILLS
proficient in C++, Java, Python and
Oracle Database
CONTACT
INFORMATION
• C++
• Oracle
• Java
• MySQL
• Python
• MongoDB
• Kotlin
• GIT
• PHP
• DevOps
WORK EXPERIENCE
Assistant Engineer of Measurement Devices
PT
PLN
(PERSERO)
UIW
NTB,
UP3
MATARAM
+6281238492020
OCT
Green Raflesia A38, Tanjung
here I am building a system that is used to speed up the
Karang, Sekarbela, NTB.
process of connecting electricity to new customers and simplify
Indonesia
control and monitoring of vendor performance. The framework
[email protected]
that I use is Android Java for mobile applications, Python for
2018
TO
PRESENT
web applications and Oracle for databases
@pahrizal-ma-rup-602956155
Fullstack Desktop, Web and Mobile Developer
PT
PLN
AUG
(PERSERO)
2010
TO
OCT
WILAYAH
NTB
2018
I started to move here from my previous office is because my
EDUCATION
BACKGROUND
company need to build a complex system integration with a
team consist of 5 engineers. My role is as a desktop and mobile
apps developer and assiting my colleague as an oracle
database engineer. Skill that I gained here is working as a team
University of Bumigora
with strict deadline, system integration, Java for desktop and
BACHELOR
mobile development and some DevOps life
SCIENCE,
OF
COMPUTER
CLASS
OF
2016
Wrote minithesis: Arrester Leakage
Embedded System Engineer
PT
Monitoring System in Medium
Voltage Transmission 20kV
Maintained GPA above 3.75 (scale
4.0) in 7 semester
Founding Member, Lombok IoT
community
PLN
FEB
(PERSERO)
2002
TO
AUG
CABANG
SUMBAWA
2010
here I am building my first embedded system that is used
for collecting electricity bill from our customers located
in a rural area using Java ME (now it's called EDC). I
gained a lot of electronic skill here.