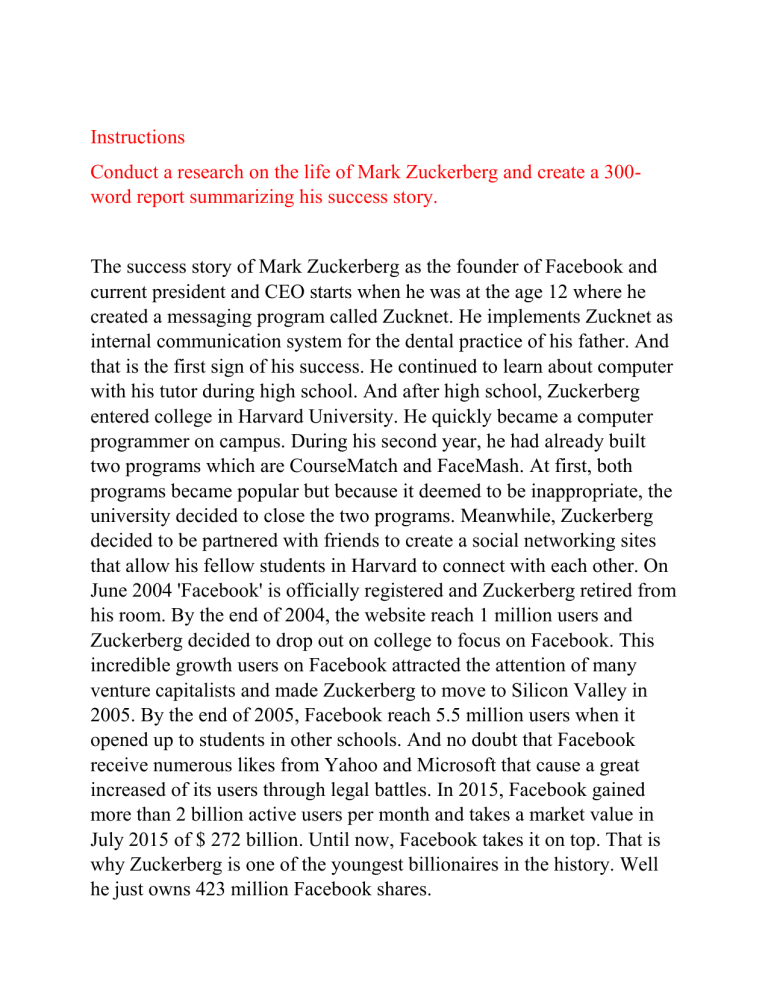 Instructions
Conduct a research on the life of Mark Zuckerberg and create a 300word report summarizing his success story.
The success story of Mark Zuckerberg as the founder of Facebook and
current president and CEO starts when he was at the age 12 where he
created a messaging program called Zucknet. He implements Zucknet as
internal communication system for the dental practice of his father. And
that is the first sign of his success. He continued to learn about computer
with his tutor during high school. And after high school, Zuckerberg
entered college in Harvard University. He quickly became a computer
programmer on campus. During his second year, he had already built
two programs which are CourseMatch and FaceMash. At first, both
programs became popular but because it deemed to be inappropriate, the
university decided to close the two programs. Meanwhile, Zuckerberg
decided to be partnered with friends to create a social networking sites
that allow his fellow students in Harvard to connect with each other. On
June 2004 'Facebook' is officially registered and Zuckerberg retired from
his room. By the end of 2004, the website reach 1 million users and
Zuckerberg decided to drop out on college to focus on Facebook. This
incredible growth users on Facebook attracted the attention of many
venture capitalists and made Zuckerberg to move to Silicon Valley in
2005. By the end of 2005, Facebook reach 5.5 million users when it
opened up to students in other schools. And no doubt that Facebook
receive numerous likes from Yahoo and Microsoft that cause a great
increased of its users through legal battles. In 2015, Facebook gained
more than 2 billion active users per month and takes a market value in
July 2015 of $ 272 billion. Until now, Facebook takes it on top. That is
why Zuckerberg is one of the youngest billionaires in the history. Well
he just owns 423 million Facebook shares.