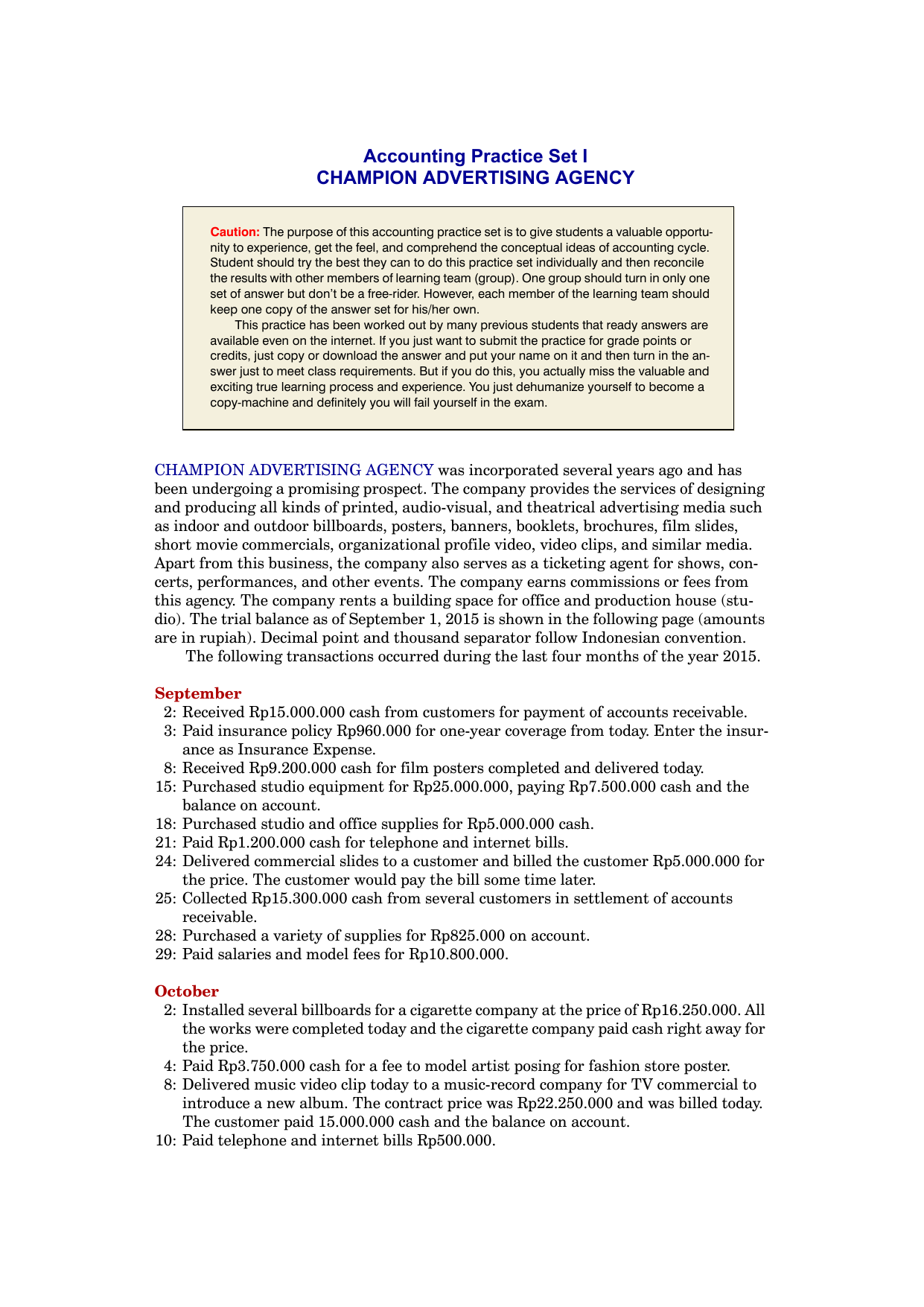 Accounting Practice Set I
CHAMPION ADVERTISING AGENCY
Caution: The purpose of this accounting practice set is to give students a valuable opportunity to experience, get the feel, and comprehend the conceptual ideas of accounting cycle.
Student should try the best they can to do this practice set individually and then reconcile
the results with other members of learning team (group). One group should turn in only one
set of answer but don't be a free-rider. However, each member of the learning team should
keep one copy of the answer set for his/her own.
This practice has been worked out by many previous students that ready answers are
available even on the internet. If you just want to submit the practice for grade points or
credits, just copy or download the answer and put your name on it and then turn in the answer just to meet class requirements. But if you do this, you actually miss the valuable and
exciting true learning process and experience. You just dehumanize yourself to become a
copy-machine and definitely you will fail yourself in the exam.
CHAMPION ADVERTISING AGENCY was incorporated several years ago and has
been undergoing a promising prospect. The company provides the services of designing
and producing all kinds of printed, audio-visual, and theatrical advertising media such
as indoor and outdoor billboards, posters, banners, booklets, brochures, film slides,
short movie commercials, organizational profile video, video clips, and similar media.
Apart from this business, the company also serves as a ticketing agent for shows, concerts, performances, and other events. The company earns commissions or fees from
this agency. The company rents a building space for office and production house (studio). The trial balance as of September 1, 2015 is shown in the following page (amounts
are in rupiah). Decimal point and thousand separator follow Indonesian convention.
The following transactions occurred during the last four months of the year 2015.
September
2: Received Rp15.000.000 cash from customers for payment of accounts receivable.
3: Paid insurance policy Rp960.000 for one-year coverage from today. Enter the insurance as Insurance Expense.
8: Received Rp9.200.000 cash for film posters completed and delivered today.
15: Purchased studio equipment for Rp25.000.000, paying Rp7.500.000 cash and the
balance on account.
18: Purchased studio and office supplies for Rp5.000.000 cash.
21: Paid Rp1.200.000 cash for telephone and internet bills.
24: Delivered commercial slides to a customer and billed the customer Rp5.000.000 for
the price. The customer would pay the bill some time later.
25: Collected Rp15.300.000 cash from several customers in settlement of accounts
receivable.
28: Purchased a variety of supplies for Rp825.000 on account.
29: Paid salaries and model fees for Rp10.800.000.
October
2: Installed several billboards for a cigarette company at the price of Rp16.250.000. All
the works were completed today and the cigarette company paid cash right away for
the price.
4: Paid Rp3.750.000 cash for a fee to model artist posing for fashion store poster.
8: Delivered music video clip today to a music-record company for TV commercial to
introduce a new album. The contract price was Rp22.250.000 and was billed today.
The customer paid 15.000.000 cash and the balance on account.
10: Paid telephone and internet bills Rp500.000.
16: Declared dividends and distributed dividends coupons Rp7.500.000. The coupons
could be cashed by November 1, 2015. Record payable amount as Accounts Payable.
21: Paid accounts payable for Rp15.800.000.
24: Paid miscellaneous expense for Rp1.625.000.
27: Received Rp10.00.000 cash from an event organizer for making and installing
several music performance billboards finished today. The company also received
ticket commission fee Rp1.250.000 cash. Record the cash receipts as a single
amount.
29: Collected Rp8.100.000 from customers for payments of accounts receivable.
31: Paid salaries to employees and fees to models Rp17.000.000.
CHAMPION ADVERTISING AGENCY
Trial Balance, September 1, 2015
Code
Accounts
Debit
101
102
103
104
105
106
201
202
203
204
305
306
307
308
309
401
402
403
501
502
601
602
603
604
605
606
607
609
701
901
Cash
Accounts Receivable
Allowance for Bad Debts
Inventory of Supplies
Prepaid Rent
Prepaid Insurance
Studio Equipment
Accumulated Depreciation—Studio Equipment
Office Equipment
Accumulated Depreciation—Office Equipment
Accounts Payable
Accrued Interest Payable
Accrued Salaries and Fees Payable
Estimated Income Tax Payable
Bank Loan
Share Capital
Retained Earnings
Dividends
Advertising Revenue
Commission Revenues
Salaries and Fees Expense
Communication Expense
Supplies Expense
Depreciation Expense—Studio Equipment
Depreciation Expense—Office Equipment
Rent Expense
Insurance Expense
Miscellaneous Expense
Interest Expense
Estimated Income Tax
22.200.000
37.500.000
Credit
450.000
62.250.000
72.000.000
50.000.000
17.250.000
15.000.000
3.750.000
21.500.000
45.000.000
50.000.000
39.130.000
144.140.000
14.700.000
54.300.000
6.400.000
1.440.000
11.680.000
3.150.000
335.920.000
335.920.000
November
1: Purchased supplies Rp3.100.000 cash.
5: Paid accounts payable Rp3.750.000.
9: Wrote off several accounts receivable at the amount of Rp525.000 that was definitely uncollectable. Bad debts are considered as miscellaneous expense.
12: Paid off several dividend coupons of Rp4.500.000 cashed today. The coupons were
distributed earlier on October 16.
17: Paid model fees for Rp2.000.000 cash.
22: Purchased office equipment for Rp11.000.000, paying Rp6.000.000 cash and the
balance on account.
29: Paid salaries for employees Rp11.200.000.
December
2: Received Rp24.000.000 cash from payment by a customer for making film slides
and commercials finished and handed over today. They would be shown in the
movie theater before feature movie.
13: Paid telephone and internet bill for November and this month Rp1.650.000.
18: Paid accounts payable Rp12.500.000.
22: Billed a political party office Rp10.000.000 for printing and putting up campaign
banners in a lot of places completed today. The party official promised to pay the
bill in a month.
28: Paid salaries for employees and fees for models Rp12.200.000.
30: Paid off bank loan Rp5.000.000.
Instructions
Don't change the appearance (format) of the template
or your print-outs will look messy.
You may change the width of columns or rows to fit your printer.
Task A: Open CHAMPION ADVERTISING AGENCY Excel template and write the
names and student's number of your group in the space provided.
Journalize the above transactions in the General Journal provided in the
template. Omit description of each entry. Put no line-space between entries.
If necessary, print the completed General Journal after entering transactions (pages 1 and 2) for your convenience in posting journal entries (this will
prevent you from scrolling from journal pages to ledger pages and vice versa).
This is optional.
Task B: Based on the printed General Journal, post the journal entries to the General
Ledger. Provide a one-line brief explanation for each posted entry. Don't forget to fill up reference columns in the General Journal and in General Ledger
appropriately.
Change the title and date of the trial balance and print the Unadjusted
Trial Balance (page 19).
The following were the adjustments information collected at the end of the year.
a) The cost of supplies on hand was Rp23.175.000.
b) Based on the space rent agreement document, the rent for the year 2015 was
Rp14.400.000.
c) Depreciation of studio equipment was determined to be Rp3.380.000.
d) Depreciation of office equipment was determined to be Rp753.500.
e) A salary of an employee at the amount of Rp660.000 was not paid yet because he
was out of town and would not return until the first week of next year.
f) Allowance for Bad Debts was increased to 2% of Accounts Receivable balance at the
end of the year. Bad debts are considered as miscellaneous expense.
g) Interest on Bank Loan was 12% per year payable semi-annually on August 1 and
February 1. Note: On December 30, Rp5.000.000 of bank loan was paid off.
h) On examination of several insurance policies, it was known that the insurance
expense for 2015 was only Rp1.400.000.
i) Income tax was estimated to be 25% of income before tax.
Task C: Journalize the above adjustments information in the General Journal and
print the journal (page 3).
Post the adjusting entries into the respective accounts in the General
Ledger and complete the cross-referencing.
Task D: Change the title of the trial balance and print the Adjusted Trial Balance
(page 19). Financial statements will be automatically shown
Print all the financial statements (pages 28-29).
Task E: Make closing entries in the General Journal provided and print the journal
(page 4).
Post the closing entries to the General Ledger.
Note: All balances of real (balance sheet) accounts will be automatically carried forward to the next year.
Task F: Suppose that the company made reversing entries at the beginning of 2016,
make the entries and post them to the General ledger and complete crossreferencing.
Print the General Ledger (pages 10-18).
Task G: Suppose that CHAMPION ADVERTISING AGENCY used a worksheet to adjust the accounts, what would the worksheet look like?
Design your own worksheet!
Enjoy this practice and prove that you can't wait the exam.
Note:
This is a group assignment. Only one set of answers is submitted.
Arrange the print-outs in order of pages in the template.
Please e-mail me if you find any doubts or errors about this assignment.