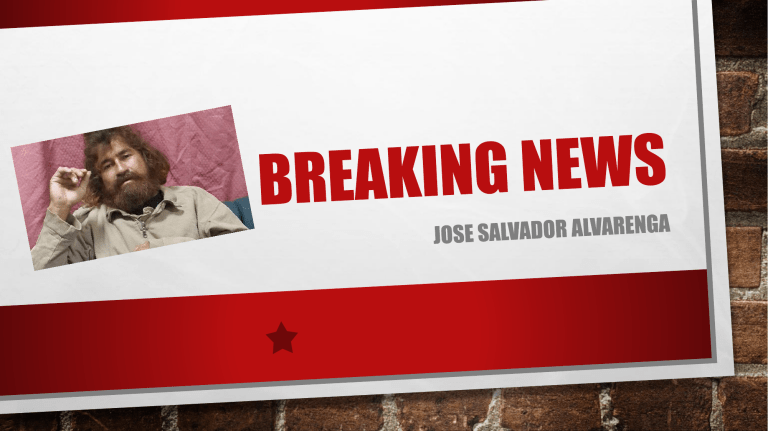 WELCOME TO BBC NEWS TODAY A MAN NAMED JOSE SALVADOR ALVARENGA
AGED 37 WHO CLAIMS TO HAVE SURVIVED FOR 14 MONTHS, AT THE SEA IN A FISHING
BOAT WITH HIS FRIEND EZEQUIEL WHO HAD DIED.
AGE:37
PARENTS: María Julia Alvarenga, José Ricardo
Orellana
Known for: Surviving 14 months at sea in a fishing
boat with his friend Ezequiel who had died
EATS:
ARTICLE HOW WE SURVIVED
• HE FOCUSED ON FINDING FOOD. HE PRAYED MORE AND SANG HYMNS AND EVEN IN THE MOST DEVASTATING
MOMENTS AT SEA. ALVARENGA REMEMBERS NUMEROUS CARGO SHIPS PASSING HIM BY, BUT HE DIDN'T KNOW
IF ALL THE SHIPS WERE REAL OR IF HE IMAGINED THEM. "I WOULD SIGNAL THEM AND NOTHING WOULD
HAPPEN," HE SAID. "BUT I THOUGHT GOD WILL DETERMINE WHICH BOAT WILL SAVE ME. "SEA BIRDS BEGAN
LINGERING AROUND THEIR BOAT. FOR THEM, THE FIBERGLASS VESSEL WAS AN UNEXPECTED PLACE TO REST IN
THE VAST WATER. WHEN ALVARENGA GRABBED THE FIRST ONE, HE RECALLED, CÓRDOBA STARED AT HIM IN
HORROR. HE RIPPED IT APART LIKE A RAW CHICKEN. BUT UNLIKE PROCESSED CHICKEN, THESE SEA BIRDS HAD
A VITAL SOURCE OF LIQUID: THEIR BLOOD. THE ONLY PART THEY DISCARDED WERE THE CONTENTS OF THE
BIRDS' STOMACHS, WHICH WERE OFTEN FILLED WITH PLASTIC AND GARBAGE.
COULD THIS BE TRUEEEEEEE??????
• IN THE END, IT WAS NOT A BOAT, BUT LAND THAT SAVED ALVARENGA. AFTER 438 DAYS OF FLOATING ON
ENDLESS WATER, HE SAW MOUNTAINS. WHEN HE FELT HE WAS CLOSE ENOUGH, ALVARENGA DOVE INTO
THE WATER, SWIMMING TOWARD WHAT HE WOULD LATER LEARN WAS ONE IN THE STRING OF THE
MARSHALL ISLANDS. BUT THE FEW FISH HE CAUGHT WEREN'T ENOUGH. THEIR BODIES WERE STARVED
FOR WATER AND PROTEIN; ALVARENGA COULD FEEL HIS THROAT CLOSING IN ON ITSELF. EXTREME SUN
BLASTED THE MEN, AND THEIR ONLY REFUGE WAS HUDDLING TOGETHER IN THEIR ICEBOX. HE SURVIVED
ON A DIET OF RAW FISH, TURTLES, SMALL BIRDS, SHARKS, AND RAINWATER.
SOME OTHER INFORMATION
• AFTER 11 DAYS IN HOSPITAL, ALVARENGA WAS DEEMED HEALTHY ENOUGH TO RETURN TO EL SALVADOR.
HOWEVER, HE WAS DIAGNOSED WITH ANEMIA, HAD TROUBLE SLEEPING AND DEVELOPED A FEAR OF
WATER. IN 2015, HE GAVE A SERIES OF INTERVIEWS TO THE JOURNALIST JONATHAN FRANKLIN ABOUT HIS
ORDEAL, WHO PUBLISHED HIS STORY AS THE BOOK 438 DAYS: AN EXTRAORDINARY TRUE STORY OF
SURVIVAL AT SEA.
• SHORTLY AFTER THE RELEASE OF HIS BOOK, THE FAMILY OF EZEQUIEL CÓRDOBA SUED ALVARENGA FOR
ONE MILLION DOLLARS, CLAIMING HE SURVIVED BY EATING THEIR RELATIVE. ALVARENGA'S LAWYER HAS
DENIED THIS ACCUSATION.
HOW HE WAS FOUND
• JOSÉ SALVADOR ALVARENGA IS A SALVADORAN FISHERMAN WHO WAS FOUND ON 30 JANUARY 2014,
AGED 36 OR 37, ON THE MARSHALL ISLANDS AFTER SPENDING 13 MONTHS ADRIFT IN A FISHING BOAT IN
THE PACIFIC OCEAN. ... HE WAS TREATED IN A HOSPITAL IN MAJURO BEFORE FLYING TO HIS FAMILY HOME
IN EL SALVADOR ON FEBRUARY 10.