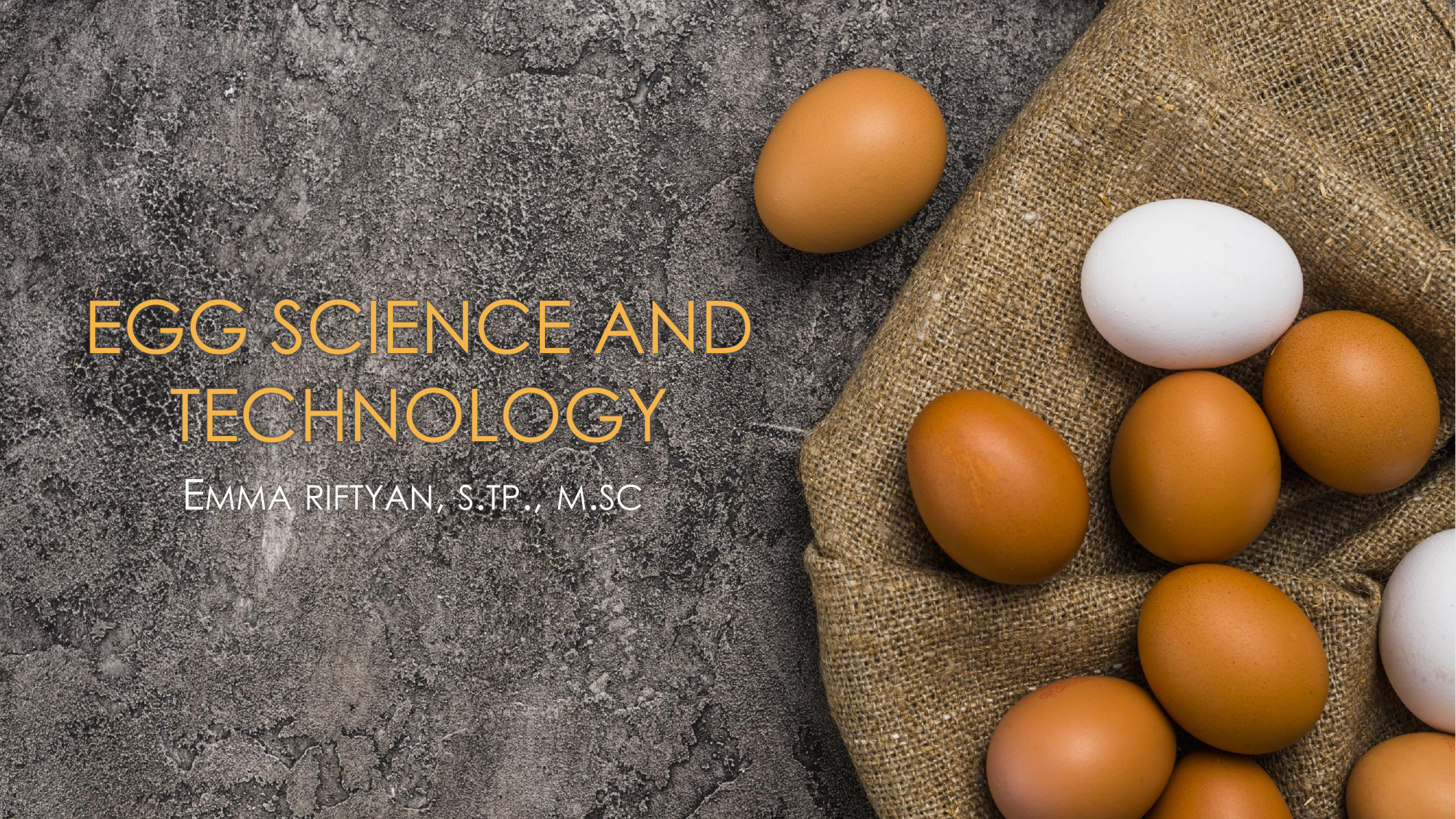 EGG SCIENCE AND
TECHNOLOGY
EMMA RIFTYAN, S.TP., M.SC
STRUCTURE OF THE EGG
Yolk
Albumen
Shell Membranes
Shell
Egg size is usually characteristic of the species, approximatively related to
the size of the parents (5 to 15%) and increases with hen age
The shape of the egg is usually oval and can be
characterized by its shape index:
where D represents the diameter (minor axis)
measured at the equator and L is the length (major
axis). This index varies mostly between 0.7 and 0.75,
the extreme values are ranging from 0.65 to 0.85.
The surface (S) of an egg can be estimated taking
into account its dimensions:
where k1 is between 4.63 and 5.07
using the weight (W) of the egg
The volume (V) of an egg can
be
calculated
taking
into
account its diameter and its
length:
where k3 = 0.85 to 0.99
using the weight (W) of the egg
k2 = 4.67, 4.68 or 4.69 for eggs with a
weight respectively below 60 g,
between 60 and 70 g or greater than
70 g.
The egg white (or albumen) is a heterogeneous
medium consisting of three parts (in addition to
chalazae) that can be differentiated by their viscosity.
The inner liquid layer (17% of the total weight of
albumen) in contact with the yolk is surrounded by the
thick white (57%).
Structure and formation of the
eggshell.
(a) Transverse section of the
eggshell: schematic view
(left) and scanning
electron
photomicrographs of the
shell and shell
membranes (right) and of
the upper area of the
shell (center).
(Photograph McKee,
University of Montreal).
(b) (b) Surface of forming
egg during eggshell
formation observed by
scanning electron
microscopy: interlacing
fibers of eggshell
membranes (left),
presence of mammillary
cores on eggshell
membranes (center) and
initiation of shell formation
by the fusion of calcium
carbonate crystals (right).
COMPOSITION OF THE EGG
The egg is composed of about 59%
white and 31% yolk, contained in a
shell corresponding to 10% of the
total egg weight. Concerning the
edible portion, the whole hen egg
contains 74.4% water and two sets of
major nutrients: proteins (12.3%) and
an equivalent quantity of lipids
(11.6%). All the vitamins (except
vitamin C) are present, as well as
many minerals and trace elements.
The egg is also a source of easily
digested fats, choline- and cephalinrich phospholipids, unsaturated fatty
acids and cholesterol.
COMPOSITION OF THE EGG YOLK
The egg yolk represents about 30% of the full egg weight and
contains more than 50% dry matter. A mass of 100g of product
supplies 16g of proteins and more than twice of this amount
regarding the lipids
Protein
Lipids
Carbohydrates
•Globular proteins,
such as livetins,
phosvitin and also
some minor proteins
are present in the
egg yolk.
•Livetins are made up
of serum albumin (alivetin) 14%,
glycoproteins (blivetin) 41% and
immunoglobulins (glivetin) 45% of total
livetins in egg yolk
•vitamin-binding
proteins(retinol,vitam
inD,biotin,riboflavin)
•Egg lipids are
exclusively linked to
egg yolk proteins to
form lipoproteins
•composed of
triglycerides (65%),
phospholipids (31%)
and cholesterol (4%)
•Considered as a
negative aspect of
the nutritional quality
of the egg,
•The egg yolk contains
0.7 to 1% of
carbohydrates
including 0.3% of free
glucose
•Other carbohydrates
are bound to proteins
(glycoproteins) or
lipids (glycolipids such
as cerebroside)
Minerals and
vitamins
•Egg yolk has high
levels of phosphorus
•60% of phosphorus is
included in
phospholipids
•egg compartment
also contains most of
the iron
•Egg yolk contains all
the fat-soluble
vitamins in the egg. It
also has high levels of
water-soluble vitamins
by comparison to egg
white, except for
niacin and riboflavin.
Carotenoids
•The color of egg yolk is
due to carotenoids
accumulated in the
egg
•The hen does not
have the ability to
synthesize
carotenoids. Therefore
all carotenoids
exported into the egg
come from the
carotenoids found in
the hen's food.
COMPOSITION OF THE EGG WHITE
Egg white is composed of water, proteins and some minerals
and vitamins. It also contains free glucose (0.4–0.9%) at a
concentration two times higher than that found in blood
plasma. Water is the major constituent of egg white;
Minerals and vitamins
Carbohydrates
Protein
•Proteins represent about 90% of the
dry matter of egg white which is
composed mainly of globular
glycoproteins.
•These proteins are particularly
remarkable due to their
antimicrobial properties covering a
broad spectrum of activities
•Egg white contains 0.8%
carbohydrates.
•Half of these carbohydrates are in
the free form, mainly glucose at 98%.
The other half is composed of
monosaccharides, N-acetylated
amino sugars, uronic acids and sialic
acids.
•The egg white contains all minerals
essential for the development of the
embryo, such as phosphorus,
potassium and some trace elements
(iodine, selenium), However, egg
contents are low in sodium and
calcium.
•Egg white contains low levels of
vitamins. Moreover, it contains no
liposoluble vitamins, but only
hydrosoluble vitamins belonging to
the B group.
EGG FUNCTIONALITY
https://www.aeb.org/food-manufacturers/egg-functionality
EGG FUNCTIONALITY
EGG FUNCTIONALITY
EGG FUNCTIONALITY
EGG FUNCTIONALITY
EGG PROCESSING
EGG PROCESSING SYSTEMS
•
•
IN-LINE PROCESSING
EGG PROCESSING OCCURS AT THE
SAME LOCATION AS THE EGG
PRODUCTION FACILITY.
 THIS PROCESSING METHOD IS THE MOST
EFFICIENT EGG COLLECTION AND
PROCESSING OF EGGS AVAILABLE.
EGGS ARE DELIVERED FROM THE EGG
PRODUCTION FACILITY TO THE EGG
PROCESSING FACILITY BY AN
ENCLOSED AND REFRIGERATED
CONVEYOR SYSTEM.
 EGG HANDLING AND PROCESSING IS
PERFORMED WITH AUTOMATED
EQUIPMENT.
•
OFF-LINE PROCESSING
•
EGG PROCESSING OCCURS SEPARATE FROM
THE EGG PRODUCTION FACILITY.
 THIS PROCESSING METHOD UTILIZES
SATELLITE FARMS. SATELLITE FARMS ARE
EGG PRODUCTION FACILITIES THAT ARE
LOCATED AT A DIFFERENT LOCATION FROM
THE EGG PROCESSING FACILITY.
 EGGS PRODUCED AT SATELLITE FARMS
MUST BE GATHERED AND DELIVERED TO
THE EGG PROCESSING FACILITY.
 EGG HANDLING AND GATHERING IS
PERFORMED WITH AUTOMATED
EQUIPMENT.
Egg Processing
Conveyor
Egg Production
Egg gathering
In-line egg processing
Off-line egg processing
PROCESSING FUNCTIONS
1) CLEANING THE EGGS
• ALL EGGS IN THE UNITED STATES ARE WASHED IN WARM WATER WITH A MILD
DETERGENT IN ORDER TO REMOVE ANY CONTAMINANTS (MANURE, GREASE, BLOOD,
YOLK, ETC.) BEFORE THEY ARE SOLD FOR HUMAN CONSUMPTION.
• EGGS ARE DRIED TO REMOVE AN EXCESS MOISTURE PRIOR TO PACKAGING.
• REMOVAL OF CONTAMINANTS PREVENTS EGG SPOILAGE BY BACTERIA.
• EGGS THAT ARE NOT CLEANED OR CONTAIN DEFECTS ARE REMOVED FROM THE
PROCESSING LINE AND ARE NOT PACKAGED FOR HUMAN CONSUMPTION.
PROCESSING FUNCTIONS
2) GRADING
• GRADING REFERS TO THE PROCESS OF GROUPING EGGS ACCORDING TO SIMILAR
CHARACTERISTICS, SUCH AS QUALITY AND WEIGHT.
• EGG GRADING IS PERFORMED BY TRAINED PROFESSIONALS FROM THE UNITED STATES
DEPARTMENT OF AGRICULTURE (U.S.D.A.).
• THE USDA HAS A STRINGENT SET OF REQUIREMENTS FOR THE GRADING OF FRESH
SHELL EGGS.
• EGG GRADING IS DEPENDENT UPON EXAMINATION OF INTERNAL QUALITY FACTORS
(E.G., CONDITION OF THE EGG WHITE AND YOLK, AIR CELL SIZE).
PROCESSING FUNCTIONS
GRADING CONTINUED
•
INTERNAL QUALITY
FACTORS CAN ALSO BE DETERMINED BY CANDLING.
•
CANDLING INVOLVES
•
EGG GRADING IS ALSO DEPENDENT UPON EXTERNAL QUALITY FACTORS
(E.G., SHAPE, TEXTURE, CLEANLINESS, AND SOUNDNESS OF THE SHELL).
•
AN EGG WITH A AA GRADE CONTAINS THE MOST DESIRABLE
CHARACTERISTICS WHILE AN EGG WITH A B GRADE CONTAINS THE LEAST
DESIRABLE CHARACTERISTICS.
•
EXTERNAL QUALITY
HOLDING THE EGG TO A CONCENTRATED LIGHT
SOURCE FOR VISUAL INSPECTION OF INTERNAL DEFECTS, SUCH AS
BLOOD SPOTS OR DOUBLE YOLKS.
CAN BE DETERMINED BY CANDLING FOR
ILLUMINATION AND DETECTION OF EGG SHELL CRACKS.
U.S.D.A. GRADING
DIAGRAM
Candling
Ideal egg shape.
Abnormal egg shape.
U.S.D.A. GRADING FACTORS
PROCESSING FUNCTIONS
3) SIZE DETERMINATION
• SIZES ARE DETERMINED BY WEIGHT. THERE ARE SIX DIFFERENT WEIGHT
CATEGORIES: PEEWEE, SMALL, MEDIUM, LARGE, EXTRA LARGE, AND
JUMBO. EACH SIZE CATEGORY RECEIVES A DIFFERENT PRICE ON THE FARM
AS WELL AS AT THE RETAIL LEVEL.
• MINIMUM AVERAGE WEIGHT FOR ONE DOZEN EGGS
• PEEWEE:
15 OUNCES
• SMALL:
18 OUNCES
• MEDIUM:
21 OUNCES
• LARGE:
24 OUNCES
• EXTRA LARGE:
27 OUNCES
• JUMBO:
30 OUNCES
PROCESSING FUNCTIONS
4) PACKAGING
• EGGS ARE PACKAGED INTO A VARIETY OF CONTAINERS DESIGNED FOR SAFE
SHIPMENT AND ENHANCED PRODUCT APPEARANCE FOR THE CONSUMER.
• LOOSE PACKAGING IS A SIMPLE WAY OF MOVING LARGE QUANTITIES OF EGGS IN
AN EFFICIENT BUT ALSO SIMPLE FASHION. LOOSE PACKAGING USUALLY REFERS TO
EITHER A THIRTY EGG LARGE OR EXTRA LARGE FLAT, OR A TWENTY EGG JUMBO
FLAT. LOOSE SALES MOSTLY CONSIST OF SALES TO RESTAURANTS OR OTHER LARGE
QUANTITY CONSUMERS.
• IN RETAIL SETTINGS, EGGS ARE OFTEN PACKAGED IN CARTONS CONTAINING
EITHER ONE DOZEN OR EIGHTEEN EGGS.
• THIS PACKAGING METHOD IS DESIGNED TO BE HANDLED BY THE FINAL CONSUMER
AND IS THEREFORE USUALLY DESIGNED TO BE QUITE APPEALING.
• THERE ARE SEVERAL DIFFERENT VARIETIES
OF EGGS AVAILABLE TO THE CONSUMER,
CALLED DESIGNER EGGS BY THE INDUSTRY.
CARE AND HANDLING
1) REFRIGERATION
• EGGS MUST BE COOLED TO A CORE TEMPERATURE OF
45 ˚F.
• EGGS HELD PRIOR TO PROCESSING MUST ALSO BE COOLED.
• ALL EGGS BEING TRANSPORTED MUST BE HAULED IN A REFRIGERATED
TRAILER SO THAT THE CORE TEMPERATURE IS HELD CONSTANT AT 45 ˚F.
CARE AND HANDLING
2) MECHANICAL HANDLING
• EGGS ARE MOVED USING CONVEYOR SYSTEMS BETWEEN THE
PRODUCTION FACILITY AND THE PROCESSING PLANT.
• THE PROCESSING MACHINERY IS FULLY MECHANICAL AND MOST
OF THE EQUIPMENT ON COMMERCIAL FARMS WORKS TO WASH,
DRY, SORT BY WEIGHT AND QUALITY, AND PACKAGE THE EGGS
INTO SPECIFIED PACKAGING.
• ONCE EGGS ARE CONSOLIDATED TO PALLETS, FORK LIFTS ARE
USED TO HANDLE THE PRODUCT.
LABELING
1) SELL BY DATE
 EVERY INDIVIDUAL PACKAGE OF EGGS PROCESSED MUST
DATE OF PROCESSING.
CONTAIN A SELL BY DATE THAT IS SET FROM THE
2) JULIAN DATE
 THIS IS THE THREE DIGIT DAY NUMBER RELATIVE TO THE DAY IN THE YEAR THE EGGS WERE PROCESSED. THIS
DATE IS CALCULATED WITH JANUARY 1 AS 001 AND DECEMBER 31 AS 365. THIS DATE IS LISTED NEXT TO
THE PLANT CODE.
3) GRADE
 BOTH THE SIZE OF THE EGGS AND THE LEVEL OF QUALITY ARE PRINTED ON THE CARTON. MOST FRESH SHELL
EGGS ARE SIGNIFIED BY AN A OR AA GRADE.
4) PLANT CODE
 A CODE IS PRINTED ON EVERY
CARTON PRODUCED IN A PROCESSING PLANT. EACH PLANT HAS ITS OWN
INDIVIDUAL CODE SO THAT IF THERE IS A NEED TO FIND THE ORIGIN OF THE FINISH PRODUCT, IT CAN BE
TRACED ALL THE WAY BACK TO THE PROCESSING PLANT.
CARTON LABELING
LABELING
6)
NUTRITIONAL FACTS
 NUTRITIONAL INFORMATION IS PRINTED ON EVERY PACKAGE FOR RETAIL SALE. THIS INFORMATION
VARIES SLIGHTLY DEPENDING ON THE EGG SIZE AND ALSO THE TYPE OF EGG (DESIGNER EGGS).
7)
"KEEP REFRIGERATED"
 ALL EGG PACKAGES ARE LABELED WITH A CAUTIONARY "KEEP REFRIGERATED" LABEL.
REFRIGERATION HELPS REDUCE THE GROWTH OF SALMONELLA OR OTHER BACTERIA.
8) U.E.P. "ANIMAL CARE CERTIFIED"
 NATIONWIDE MANY EGG FARMERS HAVE VOLUNTARILY JOINED THE UNITED EGG PRODUCERS
(U.E.P.), WHICH DEVELOPS REGULATIONS TO ENSURE THE OVERALL WELFARE OF CHICKENS BEING
USED FOR EGG PRODUCTION. WHEN A FARM BECOMES "ANIMAL CARE CERTIFIED", THIS LABEL
INFORMS THE CONSUMER THAT THE PRODUCT WAS PRODUCED IN ACCORDANCE WITH ACCEPTED
ANIMAL WELFARE STANDARDS.
EGG PRESERVATION
EGG DRYING
Drying methods of egg:
spray drying
freeze drying
Foam Mat Drying
POWDERED EGGS
 POWDERED EGGS ARE FULLY DEHYDRATED EGGS.
 THEY ARE MADE USING
SPRAY DRYING MAINLY.
 EGGS ARE A VERY NUTRITIOUS SOURCE OF FOOD THAT IS ONE
OF THE CORNERSTONES IN BAKING.
 IT'S LOW-COST BUT HIGH-QUALITY SOURCE OF PROTEIN.
 POWDERED
EGGS
CAN
BE
USED
WITHOUT REHYDRATION WHEN BAKING, AND CAN BE
REHYDRATED TO MAKE DISHES SUCH AS SCRAMBLED
EGGS AND OMELETTES.
PROCESS FLOW CHART
BREAKING OF EGGS AND REMOVAL OF SHELLS
FILTRATION
STORAGE AND DRYING
PACKING
1. SPRAY DRYING PROCESS
• The Manufacture of dried egg powder starts with
breaking of eggs and removing egg-shells.
• After removal of shells, the mixture is filtered and stored
in storage tanks at about 4º C.
• Then it is taken to tubular heater where in it is dried at
about 65º C for 8 to 10 minutes and it is filtered
• Then passed to high pressure spray drier with the help
of high pressure pump.
• The spray drying process enables the removal
nearly all the water from eggs.
of
• THE BASIC FEATURE OF SPRAY DRYING THAT
ENABLES THIS IS THE ATOMIZATION OF THE
LIQUID EGG PRODUCT INTO A SPRAY OF
DROPLETS THAT ARE DISPERSED INTO HOT AIR.
• THE SPRAY HAS AN EXTENSIVE SURFACE AREA
AND MOISTURE EVAPORATION IS VIRTUALLY
INSTANTANEOUS. BECAUSE OF THAT, THE
PRODUCT TEMPERATURE IS MAINTAINED WELL
BELOW LEVELS THAT CAUSE POTENTIAL HEAT
DAMAGE
AND
DETERIORATION
IN
THE
VALUABLE PROPERTIES OF EGG PRODUCTS.
• THE MATERIAL WHICH COMES OUT OF HIGH
PRESSURE SPRAY DRIER IS DRIED AND POWDER
FORM OF EGG.
• WHICH IS THEN PACKED IN POLY-LINED BOXES.
• THE AVERAGE YIELD IS AROUND 80%.
2. FOAM MAT DRYER
This starts by whipping the raw material
under controlled conditions using various
means such a blender or specially
designed devices in the presence of
edible foam agent and/or foam stabilizer.
The stable form foamed product is
consequently spread as a thin sheet or
mat to be exposed to stream of relatively
hot air until it is dried to desired moisture.
The drying process can systematically be
performed under soft conditions with
relatively low airflow temperature. It results
in a thin porous honeycomb sheet or mat.
The dried sheet product is then converted
into fine powder by simple and easy
grinding resulting in free-flowing powder
FOAM PREPARATION
 EGG WHITE
WAS KEPT UNDER REFRIGERATION
(50C)
 A GRADUATED GLASS BEAKER WAS USED AS A CONTAINER TO MAKE THE EGG WHITE FOAM.
 100 ML OF EGG WHITE WAS ADDED TO THE GLASS BEAKER. XANTHAN GUM (XG; MP BIOMEDICALS,
INC., ILLKIRCH, FRANCE) AT 0.125% CONCENTRATION WAS USED AS A STABILIZER.
 A 250-W KITCHEN BLENDER
WITH VARIOUS SPEED ADJUSTMENTS WAS USED FOR MAKING FOAM.
 THE XG OF 0.125% CONCENTRATION
STABILITY OF EGG WHITE FOAM.
 THE TOTAL WHIPPING TIME WAS 5 MIN
WAS ADDED GRADUALLY DURING THE WHIPPING FOR THE
MAJOR ADVANTAGES OF POWDERED
EGGS OVER FRESH EGGS
 THE PRICE.
 REDUCED
WEIGHT
PER
VOLUME
EQUIVALENT.
 THE SHELF LIFE.
 SMALLER USAGE OF STORAGE SPACE.
 LACK OF NEED FOR REFRIGERATION.
OF
WHOLE
EGG
3. EGG ALBUMEN FLAKES
EGG ALBUMEN FLAKES
 DRYING THE EGG WHITE MAKES EGG ALBUMEN FLAKES.
 THIS
DRIED PRODUCT HAS A CRYSTALLINE APPEARANCE WITH
GOLDEN YELLOW COLOUR.
 TECHNICAL
GRADE FLAKES ARE USED IN TANNING OF LEATHER, IN
OFFSET PRINTING AND AS ADHESIVE IN CROWN CORK CAP
MANUFACTURING.
 THE FOOD GRADE PRODUCT IS MAINLY USED IN BAKERY AND
CONFECTIONERY PRODUCTION.
 EGG YOLK CAN BE PASTEURIZED AND FROZEN FOR EDIBLE USAGE
QUALITY
DRIED EGG YOLKS
• INGREDIENTS: SPRAY DRIED, PASTEURIZED WHOLE
EGGS.
Moisture.
Fat
Protein (N x 6.25)
pH
Standard Plate Count
5.0% max
56.0% min.
• EGG PRODUCTS MUST BE HOMOGENEOUS
• FIT FOR HUMAN CONSUMPTION
• PRACTICALLY FREE FROM SHELL
FRAGMENTS, AND FOREIGN MATTER.
• THE TASTE, COLOUR AND ODOR OF EGG
30.0% min.
PRODUCTS SHALL BE NATURAL AND
CHARACTERISTIC OF EACH PRODUCT.
6.5 +/0.5
10,000/g max.
•
IN THE CASE OF DRIED EGG PRODUCTS
THESE SHALL BE EASILY RECONSTITUTED.
DRIED EGG WHITES
• INGREDIENTS: SPRAY DRIED, PASTEURIZED EGG
WHITES.
DRIED WHOLE EGGS
Ingredients: Spray dried, pasteurized whole eggs.
Moisture
8.0% max.
Moisture
5.0% max.
Protein (N x 6.25)
80.0% min.
Fat
40.0% min.
Reducing Sugar
0.1% max.
Protein (N x 6.25)
45.0% min.
pH
7.0 +/0.3
pH
8.5 +/0.5
Standard Plate Count
5,000/g max.
Standard Plate Count
10,000/g max.