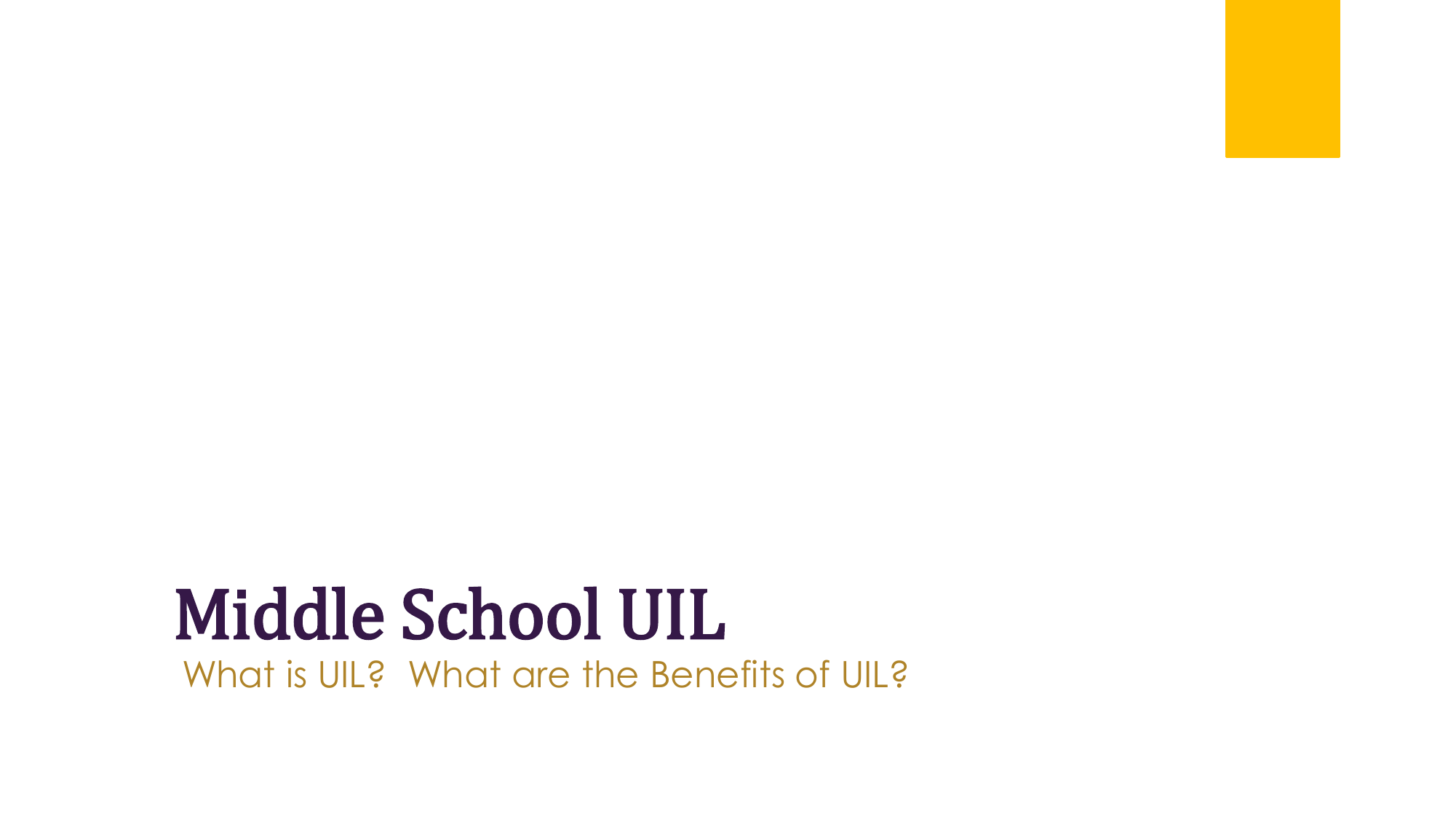 Middle School UIL
What is UIL? What are the Benefits of UIL?
What is UIL?
University Interscholastic League

UIL offers the most comprehensive program of academic competition in
the Nation

UIL Academics offers more activities than any other UIL Division

With 29 contests at the High School Level

20 A+ Academic Contest for Grades 2-8

Locally developed events including Spanish Speaking Students

More than half a million students participate in UIL academic contests each
year.
What is UIL?

The University Interscholastic League was created by the University of
Texas at Austin to provide leadership and guidance to public school
debate and athletic teachers. Since 1910 the UIL has grown into the largest
inter-school organization of its kind in the world.

The UIL exists to provide educational extracurricular academic, athletic,
and music contests. The initials UIL have come to represent quality
educational competition administered by school people on an equitable
basis.
Benefits of UIL Participation

TEAMWORK. Participation teaches that it is a privilege and an honor to represent
one's school.

Students learn to win and to lose; to take as well as to give.

Self-motivation and intellectual curiosity are essential to the best academic
participants.

Interscholastic competition is a fine way to encourage youngsters to enrich their
education and expand their horizons.

Leadership and citizenship experiences through interschool activities help
prepare students for a more useful and wholesome life.

And it's fun!
ACADEMIC EVENTS

Calculator Applications

Ready Writing

Dictionary Skills

Science

Impromptu Speaking

Social Studies

Listening Skills

Spanish Poetry

Maps, Charts, & Graphs

Spelling

Mathematics

Modern Oratory

Number Sense
ACADEMIC EVENTS

Participants will have the opportunity to choose events that
demonstrate their strengths with the continued support of their
sponsors/teachers.

Participants will compete in 2 invitational meets against other
middle schools in our district to prepare for our district meet.

The district meet includes only CISD to give participants a
competitive edge.

Awards will be distributed for each grade level ranking from 1st-6th
place.