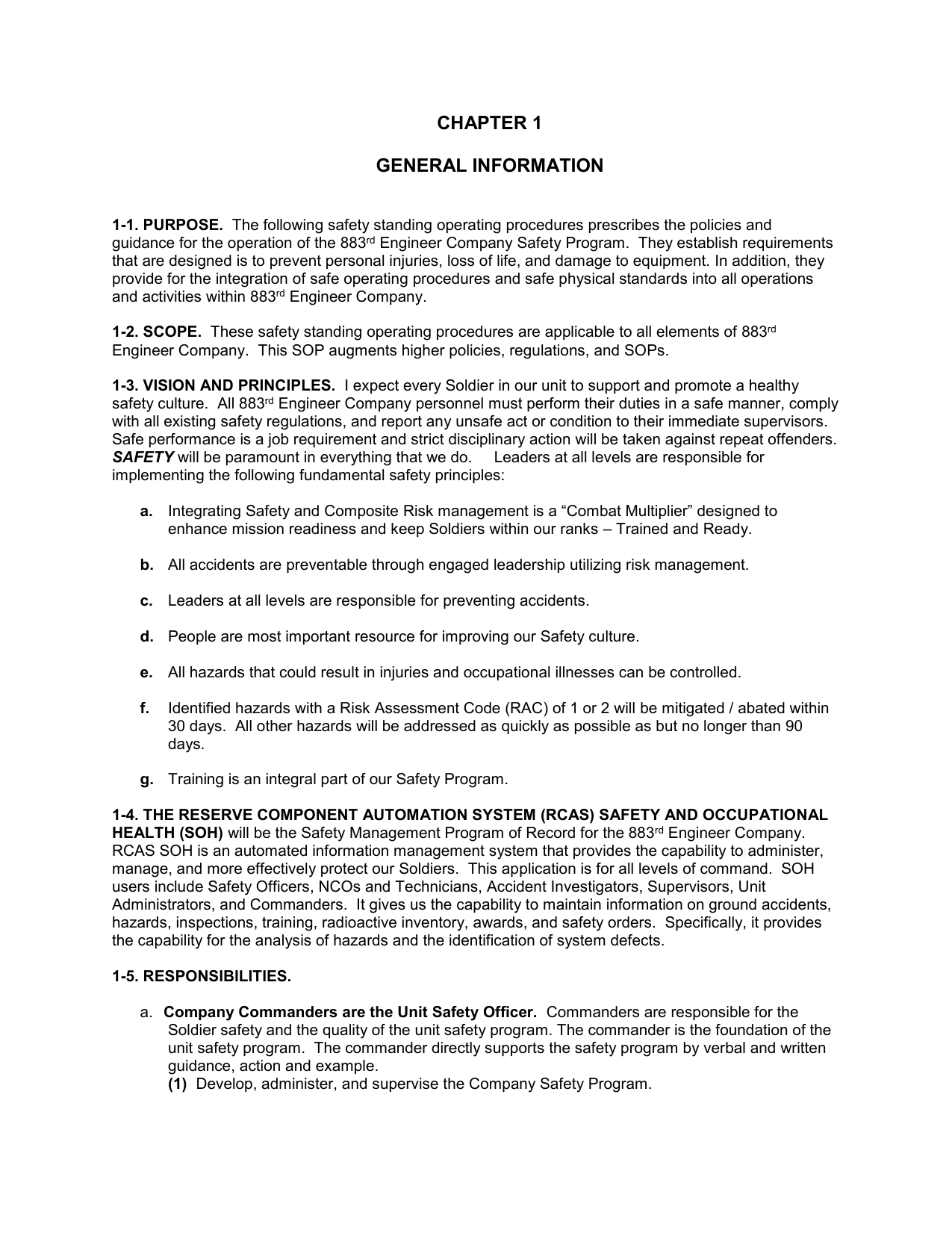 CHAPTER 1
GENERAL INFORMATION
1-1. PURPOSE. The following safety standing operating procedures prescribes the policies and
guidance for the operation of the 883rd Engineer Company Safety Program. They establish requirements
that are designed is to prevent personal injuries, loss of life, and damage to equipment. In addition, they
provide for the integration of safe operating procedures and safe physical standards into all operations
and activities within 883rd Engineer Company.
1-2. SCOPE. These safety standing operating procedures are applicable to all elements of 883rd
Engineer Company. This SOP augments higher policies, regulations, and SOPs.
1-3. VISION AND PRINCIPLES. I expect every Soldier in our unit to support and promote a healthy
safety culture. All 883rd Engineer Company personnel must perform their duties in a safe manner, comply
with all existing safety regulations, and report any unsafe act or condition to their immediate supervisors.
Safe performance is a job requirement and strict disciplinary action will be taken against repeat offenders.
SAFETY will be paramount in everything that we do. Leaders at all levels are responsible for
implementing the following fundamental safety principles:
a. Integrating Safety and Composite Risk management is a "Combat Multiplier" designed to
enhance mission readiness and keep Soldiers within our ranks – Trained and Ready.
b. All accidents are preventable through engaged leadership utilizing risk management.
c. Leaders at all levels are responsible for preventing accidents.
d. People are most important resource for improving our Safety culture.
e. All hazards that could result in injuries and occupational illnesses can be controlled.
f.
Identified hazards with a Risk Assessment Code (RAC) of 1 or 2 will be mitigated / abated within
30 days. All other hazards will be addressed as quickly as possible as but no longer than 90
days.
g. Training is an integral part of our Safety Program.
1-4. THE RESERVE COMPONENT AUTOMATION SYSTEM (RCAS) SAFETY AND OCCUPATIONAL
HEALTH (SOH) will be the Safety Management Program of Record for the 883rd Engineer Company.
RCAS SOH is an automated information management system that provides the capability to administer,
manage, and more effectively protect our Soldiers. This application is for all levels of command. SOH
users include Safety Officers, NCOs and Technicians, Accident Investigators, Supervisors, Unit
Administrators, and Commanders. It gives us the capability to maintain information on ground accidents,
hazards, inspections, training, radioactive inventory, awards, and safety orders. Specifically, it provides
the capability for the analysis of hazards and the identification of system defects.
1-5. RESPONSIBILITIES.
a. Company Commanders are the Unit Safety Officer. Commanders are responsible for the
Soldier safety and the quality of the unit safety program. The commander is the foundation of the
unit safety program. The commander directly supports the safety program by verbal and written
guidance, action and example.
(1) Develop, administer, and supervise the Company Safety Program.