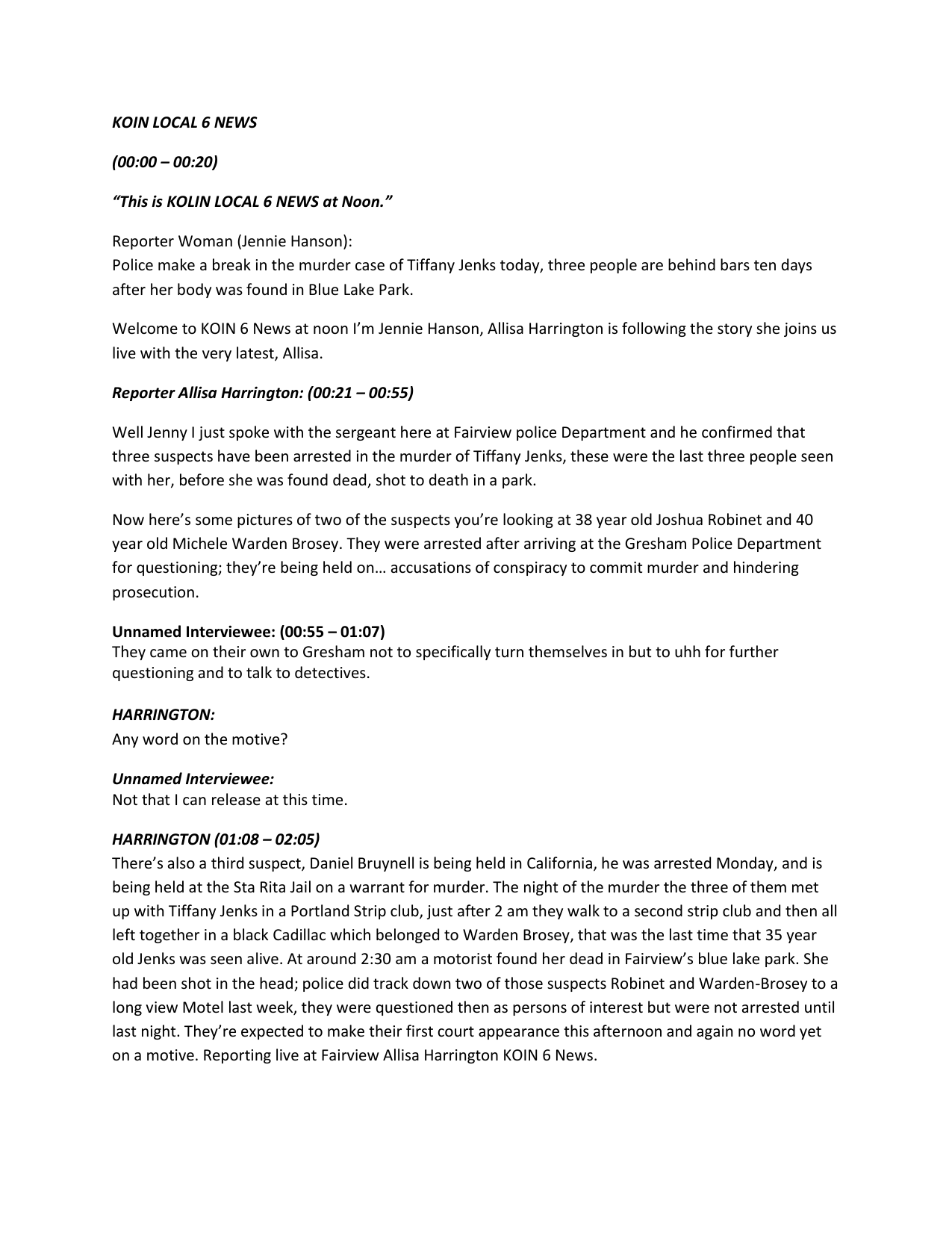 KOIN LOCAL 6 NEWS
(00:00 – 00:20)
"This is KOLIN LOCAL 6 NEWS at Noon."
Reporter Woman (Jennie Hanson):
Police make a break in the murder case of Tiffany Jenks today, three people are behind bars ten days
after her body was found in Blue Lake Park.
Welcome to KOIN 6 News at noon I'm Jennie Hanson, Allisa Harrington is following the story she joins us
live with the very latest, Allisa.
Reporter Allisa Harrington: (00:21 – 00:55)
Well Jenny I just spoke with the sergeant here at Fairview police Department and he confirmed that
three suspects have been arrested in the murder of Tiffany Jenks, these were the last three people seen
with her, before she was found dead, shot to death in a park.
Now here's some pictures of two of the suspects you're looking at 38 year old Joshua Robinet and 40
year old Michele Warden Brosey. They were arrested after arriving at the Gresham Police Department
for questioning; they're being held on… accusations of conspiracy to commit murder and hindering
prosecution.
Unnamed Interviewee: (00:55 – 01:07)
They came on their own to Gresham not to specifically turn themselves in but to uhh for further
questioning and to talk to detectives.
HARRINGTON:
Any word on the motive?
Unnamed Interviewee:
Not that I can release at this time.
HARRINGTON (01:08 – 02:05)
There's also a third suspect, Daniel Bruynell is being held in California, he was arrested Monday, and is
being held at the Sta Rita Jail on a warrant for murder. The night of the murder the three of them met
up with Tiffany Jenks in a Portland Strip club, just after 2 am they walk to a second strip club and then all
left together in a black Cadillac which belonged to Warden Brosey, that was the last time that 35 year
old Jenks was seen alive. At around 2:30 am a motorist found her dead in Fairview's blue lake park. She
had been shot in the head; police did track down two of those suspects Robinet and Warden-Brosey to a
long view Motel last week, they were questioned then as persons of interest but were not arrested until
last night. They're expected to make their first court appearance this afternoon and again no word yet
on a motive. Reporting live at Fairview Allisa Harrington KOIN 6 News.