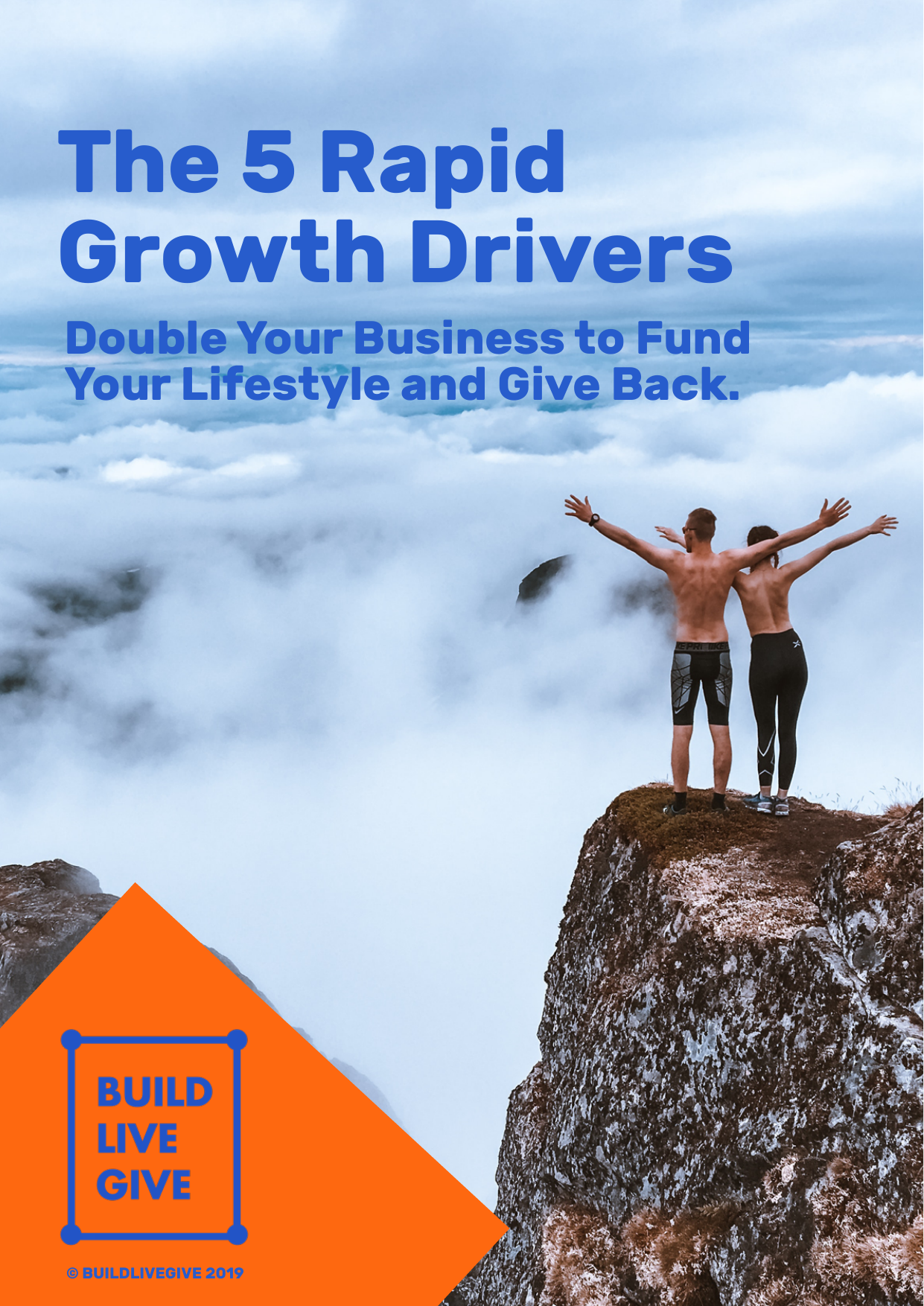 The 5 Rapid
Growth Drivers
Double Your Business to Fund
Your Lifestyle and Give Back.
© BUILDLIVEGIVE 2019
THE 5 RAPID
GROWTH DRIVERS
1
IDEAL CLIENT
2
PERSONAL EFFECTIVENESS
Defining your ideal client will make it
easy to get referrals and intros.
Save time to work ON other 4 drivers.
1. Niche down
2. Research
1. Mindset
2. Virtual Assistant
3. Personal systems
BUSINESS MODEL
3
4
Pay yourself whilst delivering for
clients.
1.
2.
3.
4.
Non-negotiables
Competitors
Point of Difference
Pricing
SALES FOCUS
Develop a killer marketing asset to drive
leads and convert offer that gets results
1. 3 x Traffic drivers = Free, Paid and JV
2. 3 x Sales habits = Mindset, Skills and
Systems
The 5 Rapid Growth drivers are the foundation of our memberships and
group mentoring. We do a gap analysis on where you are at today and
where you want to be in 12 months. We then set a 90 day plan to deliver.
Like to find out more? Book a call at https://rebrand.ly/xqgcl9
5
HIGH PERFORMING TEAM
Now you have the sales you need to
deliver and reduce reliance upon you.
1. Experts
2. Culture & Engagement
3. Team Systems
BUILD
LIVE
GIVE
Hi, I'm Paul
I left the safety of my job in 2011 to have the freedom of
running my own business manage renal failure.
Like to have a call to find
out more?
Book at https://rebrand.ly/
xqgcl9
Paul Higgins
Founder of Build Live Give
Over the first five years, I rode the roller coaster of the
hardest job on the planet- solopreneur. All those mistakes
I made helped me create the 5 Rapid Growth drivers.
I wish I had something to follow and for that reason, I have created
something for you.
It will save you both time and money. Why not learn from others
who have gone before you to Double Your Business faster so you
can Fund Your Lifestyle and Give Back.