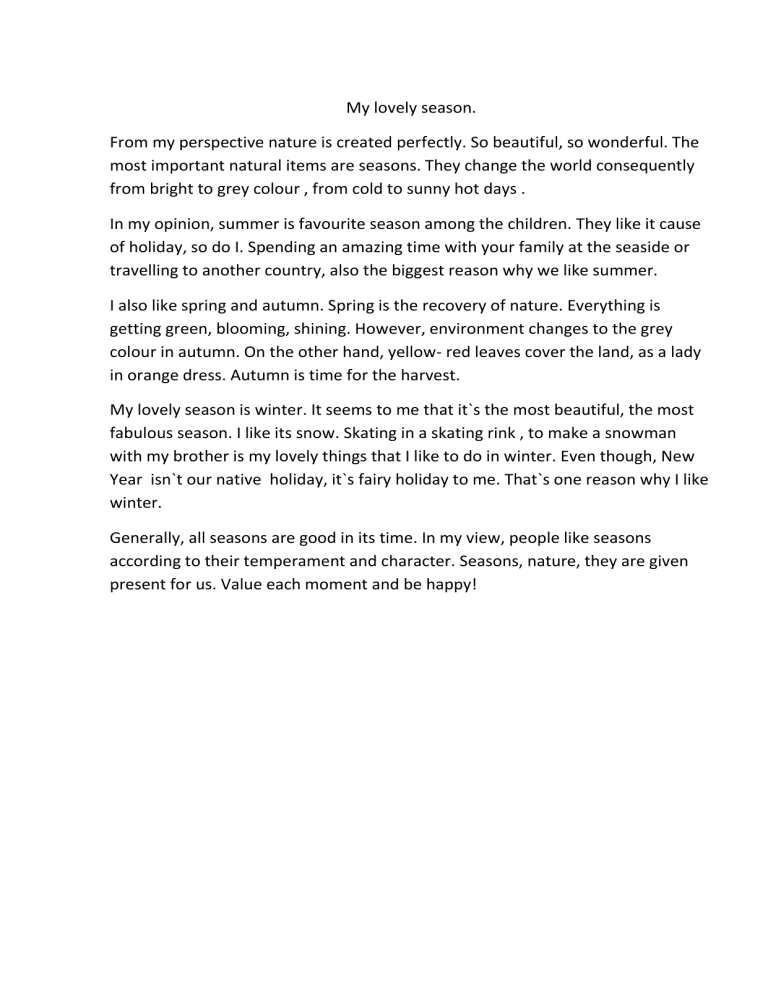 My lovely season.
From my perspective nature is created perfectly. So beautiful, so wonderful. The
most important natural items are seasons. They change the world consequently
from bright to grey colour , from cold to sunny hot days .
In my opinion, summer is favourite season among the children. They like it cause
of holiday, so do I. Spending an amazing time with your family at the seaside or
travelling to another country, also the biggest reason why we like summer.
I also like spring and autumn. Spring is the recovery of nature. Everything is
getting green, blooming, shining. However, environment changes to the grey
colour in autumn. On the other hand, yellow- red leaves cover the land, as a lady
in orange dress. Autumn is time for the harvest.
My lovely season is winter. It seems to me that it`s the most beautiful, the most
fabulous season. I like its snow. Skating in a skating rink , to make a snowman
with my brother is my lovely things that I like to do in winter. Even though, New
Year isn`t our native holiday, it`s fairy holiday to me. That`s one reason why I like
winter.
Generally, all seasons are good in its time. In my view, people like seasons
according to their temperament and character. Seasons, nature, they are given
present for us. Value each moment and be happy!