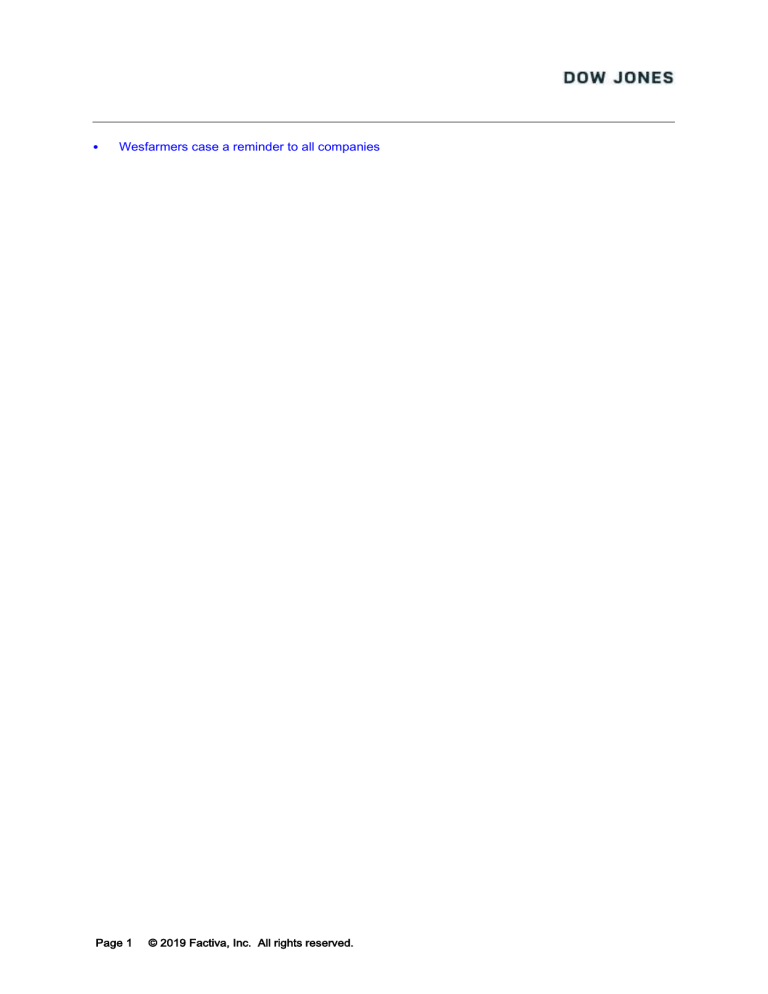 •
Wesfarmers case a reminder to all companies
Page 1
© 2019 Factiva, Inc. All rights reserved.
Business
Wesfarmers case a reminder to all companies
JOHN CHAPMAN OPINION
458 words
2 January 2015
The Advertiser
ADVTSR
Advertiser
34
English
© 2015 News Limited. All rights reserved.
WE hear a lot these days about corporate values, social responsibility, caring for the community, and
so on.
These are inherent in building an organisation which is reflective of community values and shows
positive leadership in the business sector.
While these are very worthy objectives, it often seems they are words only and designed to evoke a
feel-good factor among their target audience – the customer. But what happens when the values are
cast aside or selectively ignored in the constant drive by a corporate behemoth to cut costs or improve
revenues at the expense of its suppliers?
Organisations need to ask what is the commitment at the coalface to their values; what is the
commitment at the top to ensure these values are instilled throughout the business ?
The Federal Court list is littered with examples of poor corporate behaviour which has led to some big
names being caught by the Australian Competition and Consumer Commission (ACCC) for misleading or deceiving consumers and small businesses.
But let's take a look at one of the biggest and worst examples of ordinary behaviour to business
partners, courtesy of Wesfarmers – parent company of Coles Supermarkets.
It's website states: "Wesfarmers adheres to four core values: integrity; openness; accountability; and
boldness." Now look at the reality based on recent action by the ACCC which took Coles to task over
Page 2 of 3
© 2019 Factiva, Inc. All rights reserved.
its behaviour with suppliers. Put simply, Coles was using its market power to bully suppliers into
making payments to keep their items stocked.
This is not the first time the retail giant has been caught out. In June, Coles was found to have made
false, misleading or deceptive representations by advertising bread as freshly baked when in some
cases it had been baked overseas up to three months earlier!
Let's relate these cases back to the Wesfarmers' values with a little commentary:integrity(doesn't
stand up); openness (not proactive disclosure); accountability (only when the ACCC took legal action);
and boldness (Yep! Coles definitely adhered to that value with its questionable behaviours).
Coles was fined $10 million and costs which will hardly hurt its bottom line. Hopefully, though, the
message will sink in that such behaviour will not be tolerated.
Quite rightly, the Federal Court decision has caused a serious case of reflection by Wesfarmers on its
core beliefs and it has pledged suppliers and service providers will benefit from a new era of behaviour
which truly reflects its values.
Perhaps one goal should be: "Not be the subject of any ACCC action in 2015 and beyond." It is a
goal which should be ascribed to by all businesses.JOHN CHAPMAN IS THE SMALL BUSINESS
COMMISSIONER OF SOUTH AUSTRALIA
Document ADVTSR0020150102eb120002b
Search Summary
Text
Wesfarmers
Date
01/12/2014 to 28/02/2015
Source
All Sources
Author
All Authors
Company
All Companies
Subject
All Subjects
Industry
All Industries
Region
All Regions
Language
English
News Filters
Company: Wesfarmers Limited
Results Found
575
Timestamp
8 November 2019 3:59 GMT
Page 3 of 3
© 2019 Factiva, Inc. All rights reserved.