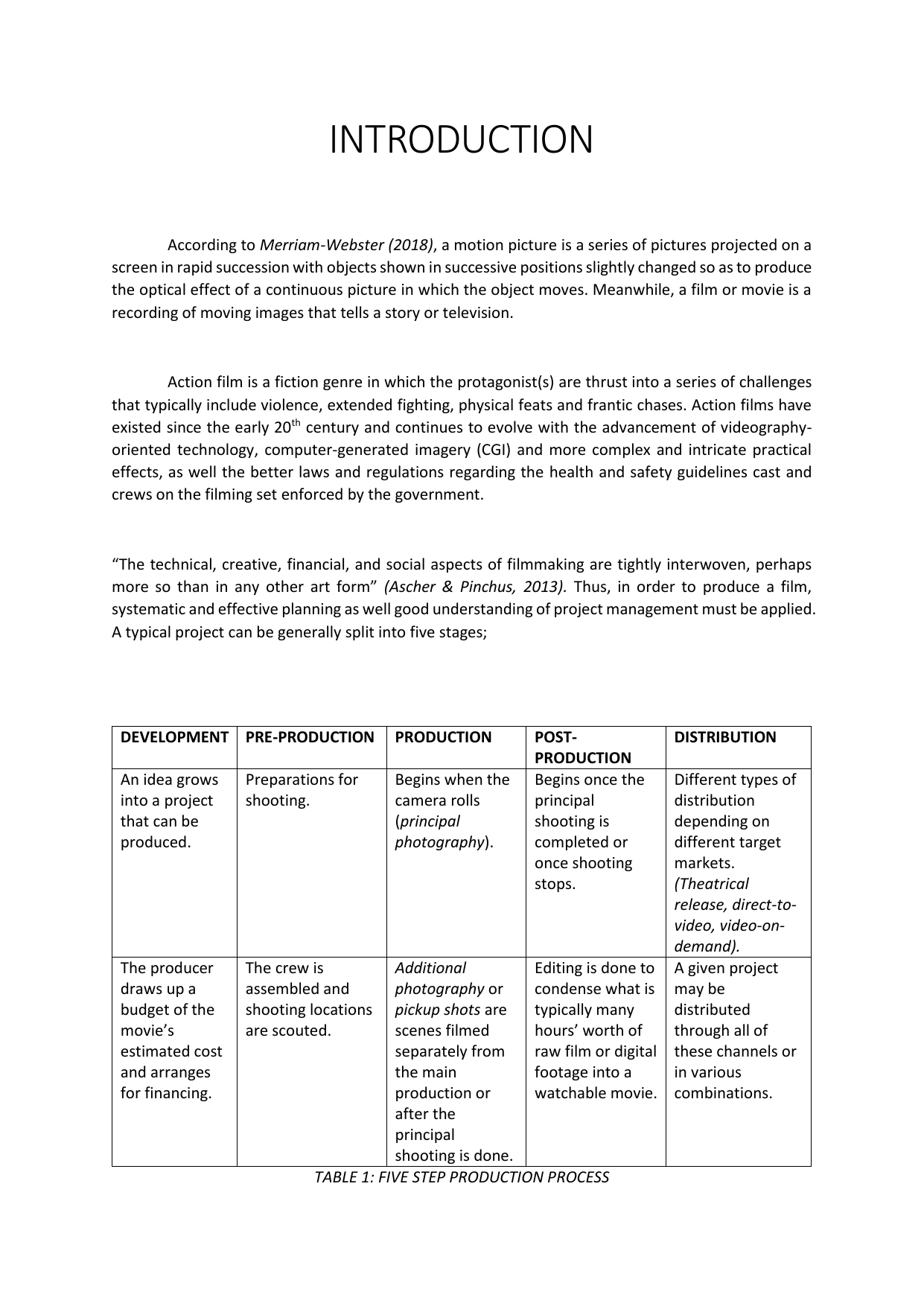 INTRODUCTION
According to Merriam-Webster (2018), a motion picture is a series of pictures projected on a
screen in rapid succession with objects shown in successive positions slightly changed so as to produce
the optical effect of a continuous picture in which the object moves. Meanwhile, a film or movie is a
recording of moving images that tells a story or television.
Action film is a fiction genre in which the protagonist(s) are thrust into a series of challenges
that typically include violence, extended fighting, physical feats and frantic chases. Action films have
existed since the early 20th century and continues to evolve with the advancement of videographyoriented technology, computer-generated imagery (CGI) and more complex and intricate practical
effects, as well the better laws and regulations regarding the health and safety guidelines cast and
crews on the filming set enforced by the government.
"The technical, creative, financial, and social aspects of filmmaking are tightly interwoven, perhaps
more so than in any other art form" (Ascher & Pinchus, 2013). Thus, in order to produce a film,
systematic and effective planning as well good understanding of project management must be applied.
A typical project can be generally split into five stages;
DEVELOPMENT PRE-PRODUCTION
PRODUCTION
An idea grows
into a project
that can be
produced.
Preparations for
shooting.
Begins when the
camera rolls
(principal
photography).
The producer
draws up a
budget of the
movie's
estimated cost
and arranges
for financing.
The crew is
assembled and
shooting locations
are scouted.
POSTPRODUCTION
Begins once the
principal
shooting is
completed or
once shooting
stops.
DISTRIBUTION
Different types of
distribution
depending on
different target
markets.
(Theatrical
release, direct-tovideo, video-ondemand).
Editing is done to A given project
condense what is may be
typically many
distributed
hours' worth of
through all of
raw film or digital these channels or
footage into a
in various
watchable movie. combinations.
Additional
photography or
pickup shots are
scenes filmed
separately from
the main
production or
after the
principal
shooting is done.
TABLE 1: FIVE STEP PRODUCTION PROCESS
DEVELOPMENT
To produce a movie, first and foremost, a core production team must be established in order
to assign tasks according to the film production requirements. Eve Light Honthaner (2010)
recommends the following hierarchy;








Producers
Director
Unit Production Manager
First Assistant Director
Production Accountant
Production Supervisor
Production Coordinator
Second Assistant Director
There are different kinds of producer – the most notable positions would be the executive
producer, producer, co-producer, line producer, post-production producer and associate producer.
The task of the producers is also to create other jobs to produce the film – depending on the
type of film to be produced. After that, the brainstorming session can begin. Paperwork such as
proposal, manuscript, script, storyboard, as well as paperwork for funding, budgeting, payment of
wages and cast and crew medical insurance is needed to create an action film.
During the writing of the proposal and manuscript, use the WH-Questions (who, what, when,
why, how). It must be clear on who will watch the film, where will the production take place, what are
the equipment and workforce needed to produce the film, how long is the entire project process, how
much is the budget, where the film goes, why investors should invest in the production.
In the scriptwriting and treatment phase, it must be ensured that the rights to the script have
been taken care of, as well as copyrighted in order to avoid plagiarism.
Budgeting is a very important stage in a production that must not be taken lightly. And with
great reason. As quoted by Ryan (2010), "An estimated budget will give you a good idea of the scope—
not just financial, but also logistical—of the film, which allows you to begin conceptualizing the project
on many different levels." By creating an initial rough budget, further analysis can be undergone to
maximise funds and save money on unnecessary spending.
Finding sponsors and funding is crucial to support the project throughout its runtime. Finding
sponsors through the use of pre-sales (a director with a good track record, employing an A-list actor,
having an award-winning scriptwriter in the project), fiscal sponsorship, in-kind donations or even
community involvement can be used to receive funding, which is why the proposal and manuscript
for the project must be careful in outlining the entire project, from conception to distribution, and
must be made clear of the intentions of kickstarting the project to readers of the proposal and
manuscript, as well as able to convince investors to invest in the project.
Risk Assessment is also a very important phase, as it is not only an analysis of crew and cast
safety on set, but also the projected performance of the upcoming film after distribution. It must be
certain that the project manager (producers) must be certain that the project is a profitable endeavour,
as well as managed efficiently.
It is the job of the casting director to cast actors and actresses in the film, as well as finding
extras for scenes that require so. This can be done via auditions or casting sessions, be it publicly or
privately done, depending on time and budget.
PRE-PRODUCTION
In this stage, the production team must establish company policies via a memo. Eve Light
Honthaner (2010) recommends the memo contains details outlining: -













Basic production office information: address, phone and fax numbers, security info, where to
park, etc.
Payroll, paychecks and timecards
Opening vendor accounts
Purchase orders
Check requests
Petty cash and reimbursable expenses
Competitive bids
Assets
Use of personal vehicles
Auto allowances and mileage reimbursement
Box rentals and computer rentals
Cell phone reimbursement
Confidentiality
At this stage, the producers must assemble a production crew to create the product.
Videographers, artists, coordinators, consultants, supervisors, safety personnel and the like can be
hired to produce the film. Wages can be paid at a constant rate or deferred, depending on the budget
planning.
Also take note that insurance policies must be put forward to the cast and crew. All high-risk
personnel must be medically insured in order to avoid legal complications and hinder production
progress.
Locations to shoot as well as studios to use must be sought out. Factors involving budget and
distance in between workplaces must be taken into consideration. Vehicles must also be provided for
the cast and crew, as well as accommodation if necessary.
Shooting and safety equipment can be bought or rented, depending on budget and necessity.
Expensive equipment such as video cameras may be rented from suppliers while cheaper equipment
such as props may be purchased. Another way to acquire equipment is to put out equipment list open
for vendors to bid.
A meeting with the cast and crew can now take place, as well actor rehearsals can now start.
It is important that the cast and crew understand their respective roles in the production and clarify
and rectify anything of question.
A final check in the budget can finally be done to update on any additional costs or reduced
spending so far in the production.
PRODUCTION
Pre-visualisation is key to a project management. It creates a projection of each of the crew
and cast's tasks throughout the production, as well as post-production. It also allows producers to
anticipate any trouble or problems that can occur throughout the production.
Throughout the production, the producer must be aware of the so called Enemy of The
Production (EOP). This EOP can be the person who complains about everything—the food, the pay,
the long hours, etc., and starts to infect the work environment with a bad attitude. Or they are the
people who try to hijack the production by denigrating one of the key positions like the director or
producer, undermining their leadership and trying to take control of the cast and crew. Or they are
the actors who battle with the director in front of everyone on set and try to destroy the director's
relationship and trust with the rest of the cast.
If an EOP is present on site, producers must discuss with the director first before taking action.
If the director and producer are on the same page, then action can be taken. A two-step process is
done. First, an honest discussion with the EOP. State has been witnessed and observed about their
attitude, behavior, or work style and explain why there are grave concerns about its negative effects
on the cast and crew. Ask the EOP what he or she thinks and feels. Are legitimate complaints or it is
coming from a place of malice and discontent that cannot be fixed through discussion and
compromise? If it is possible, try to come to a mutual compromise about moving forward, working
together. Then make it clear that the EOP is expected to change their ways and treat the production
with respect and that inappropriate behaviours or disrespectful attitude will not be tolerated. If the
problem still insists, terminate the EOP immediately. Ensure that a replacement has been already
made available before then.
Appreciation and tolerance towards cast and crew can go a long way in life. Building
relationships can be helpful as the entertainment industry in Malaysia is quite small. There is a saying,
"What goes around, comes around." A simple token of appreciation, treating them with respect or
even complimenting them for a job well done can be a huge in morale for the cast and crew.
Wrapping out is almost like what has been done during the pre-production phase, but in
reverse. Keeping equipment in check and inspection for any damages to props and equipment is
necessary. Actualizing budget must also be done to finalize the money spent and saved to be put in
the final report.
POST-PRODUCTION
The method and equipment used during production phase heavily influences the postproduction phase. The format used to shoot the film (film vs. digital), if visual effects are required,
even the colour correction if it is required to finalise the product must be all thought out.
Although sounds to be used for the film should be recoded during the production phase, there
are certain sounds that cannot be recorded and can only be recreated by crew such as foley artists
and sound engineers. These people require their own studios to recreate complicated sounds to be
used for the film.
Music clearance is process of securing permission to use musical compositions and recordings
owned by someone else. More specifically, however, it involves:
1. determining who owns the copyright to any given musical material;
2. negotiating permission to use that material in the territories and media in which exhibition
or distribution is planned; and
3. paying the negotiated license fees to the copyright owners.
An agreement between a copyright owner (or its representative) and a user of the copyright
is called a "license." There are many kinds of licenses that cover many different media of exploitation.
Every production presents a unique set of legal and business issues that should be addressed and
resolved before production begins. The media and terms of distribution affect the rights to be
obtained from music copyright owners. The clearance process should be undertaken before being
committed to using specific songs and recordings in order to eliminate musical material that may be
too expensive or that the copyright owners don't want used. For example, some musical compositions,
though popular and in general use in areas such as radio broadcast or nightclub performance, aren't
available (at any price) in certain other media applications.
DISTRIBUTION
After finishing the film production process and cleared for distribution, marketing for the
film can now be done. Advertisements and promotion for the film can be done via billboard signs,
trailers, merchandise, social media and even word of mouth. Early screenings in film festivals can be
done to promote the film and garner more interest in the general public.
Sales agents can be hire to represent the film in the marketplace as they have contacts and
relationships with distribution and DVD companies and work to sell the film. Sales agents usually
delineate between national and International sales markets. Once a sales agent is involved he or she
will partner with the producer to build a film festival and marketing strategy. The sales agent will need
marketing materials and DVD screeners to send out to various distribution companies to see if they
are interested in your film. The sales agent will follow up and stay in contact with the companies to
work toward selling the film.
POSITION & JOB SCOPE
PRODUCER




ASSOCIATE PRODUCER

DIRECTOR




ASSOCIATE DIRECTOR






FLOOR MANAGER
PRODUCTION
ASSISTANT





Concerned with the business organization, budget, the choice
of the staff and crew, interdepartmental coordination, script
acceptance, and production scheduling.
Select or initiate the program concepts and work with writers.
Assign the production's director and is responsible for meeting
deadlines, production planning, location projects, rehearsals,
production treatment, and other duties.
Involved in specifics such as craft or union problems, assessing
postproduction treatment, and the final program format.
Responsible for assisting the producer such as coordinating
appointments and production schedules, making sure
contracts are completed, booking guests, creating packages,
and supervising postproduction.
Responsible for creatively visualizing the script or event.
Advising, guiding, and coordinating the various members on
the production team (scenic, lighting, sound, cameras,
costume, etc.) and approving their anticipated treatment.
Choose and hire performers/talent/actors (casting), envision
and plan the camera treatment (shots and camera
movements) and editing, and direct/rehearse the performers
during pre-rehearsals.
Evaluates the crew's contributions (sets, camerawork, lighting,
sound, makeup, costume, graphics, etc.).
Assisting the director (supervising pre-rehearsals and location
organization.
Review storyboards, implement the shooting schedule, and
shield the director from interruptions, and he or she is
sometimes responsible for the cast.
Take the director's notes on changes, retakes, performance,
and other factors.
Lining up shots, graphics, and tapes.
Checking on special shots (such as chroma key), giving routine
cues (tape inserts), and other duties while the director guides
the actual performance and camera(s).
Check program timing and help the director with postproduction.
Cue talent and direct the floor crew.
General organization, safety, discipline (e.g., managing noise),
and security.
Ensure that the talent is present.
Supervising the production office (making copies, making
coffee, and running errands), pre-rehearsals, and location
organization.
Logging tapes and taking notes during production meetings.
TECHNICAL DIRECTOR


MAKE-UP ARTIST


GRAPHIC
DESIGNER/OPERATOR


LIGHTING
DIRECTOR/VISION
SUPERVISOR

CAMERA OPERATOR

CAMERA ASSISTANT


AUDIO MIXER






BOOM OPERATOR

ENGINEER

WRITER
EDITOR


SET DESIGNER



STUNT PERFORMERS


Assist the producer/director with graphics.
Responsible for operating the television production switcher
(and perhaps electronic effects).
Serve as the crew chief and reports to the director.
Designs, prepares, and applies makeup to the talent, aided by
makeup assistants and hair stylists.
Designing and implementing the graphics for the production.
Organizing and typing onscreen text and titles for a
production, either to be used during the production or stored
for later use.
Designing, arranging, and controlling all lighting treatment,
both technically and artistically.
Supervises the electricians, or gaffers, who rig and set the
lighting equipment.
Setting up their cameras (unless the cameras have already
been set up, such as in a studio situation) and then operating
the cameras to capture the video images as requested by the
director.
Assisting the camera operator in setting up the camera.
Making sure that the camera operator is safe (by keeping the
person from tripping over something or falling), keeping
people from walking in front of the camera when it is on,
keeping the camera cable from getting tangled or tripping
others, and guiding the camera operator during moving shots.
Work as a grip and push a camera dolly if needed.
Sound balance as well as the technical and artistic quality of
the program sound.
Determining the number and placement of the microphones
required for the production.
Makes sure that the audio cables are properly plugged into
the audio mixer and is responsible for the final mix (audio
levels, balance, and tonal quality) of the production.
Supervises all personnel operating microphones and audio
equipment.
Positioning microphones, running audio cables, operating the
sound boom, troubleshooting audio problems, and operating
field audio equipment.
Setting up, adjusting for optimal performance, maintaining,
and troubleshooting all equipment used in a production.
Writing the script.
Selects, compiles, and cuts video and audio to produce
programs.
Assemble clips into segments and segments into programs.
Correct mistakes that occurred during the production process.
Conceiving, designing, and organizing the scenic treatment for
a production.
Performing supervised stunts which are overseen by Stunt
Action Co-ordinators.
Taking actors' places when dangerous or specialised actions
are specified in the script.
STUNT COORDINATORS
SPECIAL EFFECTS
SUPERVISOR




FOLEY ARTIST


COLORIST

MUSIC SUPERVISOR

MUSIC COMPOSER
ARCHIVIST/RESEARCHER


Casting Stunt Performers
Choreographing stunts.
Collaborating with staff and conduct safety consultations
Supervising the planning and manufacturing of
all SFX elements during pre-production and will manage their
safe and proper operation on set during principal
photography.
Preparing the department budget and scheduling crew.
Creates sound effects in a foley studio that can't be effectively
used from a sound effects library.
Manipulates the video using a telecine machine to digitally
change the image to the desired look for the film.
Interfaces with the director and the editor to find pieces of
music for the film's soundtrack.
Composes an original soundtrack for the film.
Researches and finds archival material—photographs, film or
video, newspaper articles—related to the film and its topic.
HEALTH & SAFETY ASPECTS
Safety is the responsibility of every individual engaged on a film or television production and
takes precedence over expediency or short cuts. It is in the interest of high standards of safety on a
set that any report of unsafe elements be welcomed as a sign of conscientiousness and professional
competence.
Given the nature of the industry, some workers, particularly Department Heads and those in
a creative position, can impact not only the location of production but also can impact how a
production set is structured and run. Where a worker has the ability to influence the working
conditions of workers in general, a heightened awareness of health and safety issues should prevail
and should require that all appropriate safeguards are in place.
Under the Malaysian legislation Act 514 (Malaysian Occupational Safety and Health Act of 1994),
1. It shall be the duty of every employer and every self-employed person to ensure, so far as is
practicable, the safety, health and welfare at work of all his employees.
2. Except in such cases as may be prescribed, it be the duty of every employer and every selfemployed person to prepare and as often as may be appropriate revise a written statement
of his general policy with respect to the safety and health at work of his employees and the
organisation and arrangements for the time being in force for carrying out that policy, and to
bring the statement and any revision of it to the notice of all of his employees.
3. It shall be the duty of every employer and every self-employed person to conduct his
undertaking in such a manner as to ensure, so far as is practicable, that he and other persons,
not being his employees, who may be affected thereby are not thereby exposed to risks to
their safety or health.
4. It shall be the duty of every employer and every self-employed person, in the prescribed
circumstances and in the prescribed manner, to give to persons, not being his employees, who
may be affected by the manner in which he conducts his undertaking, the prescribed
information on such aspects of the manner in which he conducts his undertaking as might
affect their safety or health.
Thus, it is of utmost importance that producers must employ safety coordinators as well as
trained professionals such as stunt coordinators to supervise safety on a film set. Safety equipment
such as harnesses must be made available to use by the cast and crew according to safety regulations
placed by the producers and stunt coordinators. Emergency first aid kits as well as medical personnel
must be placed where they can be easily reached or contacted at a moment's notice. All members of
the production crew must also attend safety workshops to inform them on safety on the film set.
CONCLUSION
In conclusion, careful planning through systematic thinking is key to a successful project.
Managing budget and funds, as well as workplace safety and worker morale must never be sacrificed
in order to create a product that achieves its goal without the consequences of bad and improper
management.
"The bigger the risk, the bigger the gain." A producer must not only possess a wide arrange
of technical skills, but must also possess entrepreneurial skills and be able to convince people that
their projects will garner massive profit.
REFERENCES
American Psychological Association. (2013). Publication Manual of the American Psychological
Association. Washington D.C.: American Psychological Association.
Clews, P. (1 August, 2018). Filmmaking Health & Safety – Keeping Your Cast and Crew Safe. Retrieved
from FilmSourcing Website: https://www.filmsourcing.com/filmmaking-health-safetykeeping-your-cast-and-crew-safe/
Department of Safety and Health of Malaysia. (1 August, 2018). LAWS OF MALAYSIA. ACT 514.
OCCUPATIONAL SAFETY AND HEALTH ACT 1994. Retrieved from Department of Safety and
Health Malaysia: http://www.dosh.gov.my/index.php/en/list-of-documents/acts/23-02occupational-safety-and-health-act-1994-act-514/file
Gerard Millerson, J. O. (2008). Video Production Handbook. China: Elsevier Inc.
Honthaner, E. L. (2010). The Complete Film Production Handbook. Burlington: Elsevier Inc.
International Insurance Brokers Inc. (1 August, 2018). Safety Practices for Film and Equipment.
Retrieved from International Insurance Brokers Inc. Website:
http://www.csins.com/csins/Safety-Practices%20
John J. Lee, J. A. (2011). A Producer's Business Handbook: A Roadmap Guide For The Balanced Film
Producer. Burlington: Elsevier Inc.
Merriam-Webster. (1 August, 2018). Definition of Motion Picture. Retrieved from Merriam-Webster
Website: https://www.merriam-webster.com/dictionary/motion%20picture
Merriam-Webster. (1 August, 2018). Defintion of Movie. Retrieved from Merriam-Webster Website:
https://www.merriam-webster.com/dictionary/movie
Musburger, R. B. (2010). Single-Camera Video Production. Burlington: Elsevier Inc.
Ontario Ministry of Labour. (1 August, 2018). Safety Responsibilities and Duties | Safety Guidelines
for the Film and Television Industry in Ontario. Retrieved from Ontario Ministry of Labour
Website: https://www.labour.gov.on.ca/english/hs/pubs/filmguide/safety_duties.php
Open Channel. (1 August, 2018). SAFETY CHECKLIST FOR FILM AND TELEVISION. Retrieved from Open
Channel Website: http://www.openchannel.org.au/safety-checklist-for-film-and-television/
Rabiger, M. (2008). Directing: Film Techniques and Aesthetics. Burlington: Elsvier Inc.
Ryan, M. A. (2010). Producer to Producer: A Step-By-Step Guide to Low-Budget Independet Film
Producing. Studio City: Sheridan Books.
Steven Ascher, E. P. (2012). The Filmmaker's Handbook: A Comprehensive Guide For The Digital Age.
London: Penguin Group.