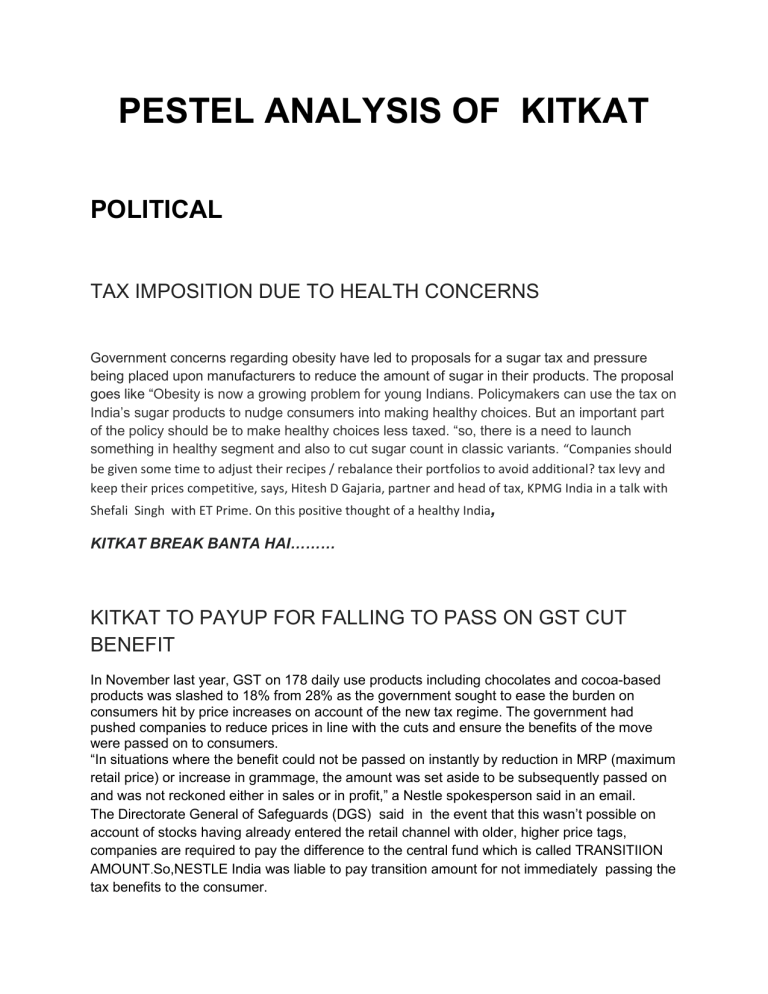 PESTEL ANALYSIS OF KITKAT
POLITICAL
TAX IMPOSITION DUE TO HEALTH CONCERNS
Government concerns regarding obesity have led to proposals for a sugar tax and pressure
being placed upon manufacturers to reduce the amount of sugar in their products. The proposal
goes like "Obesity is now a growing problem for young Indians. Policymakers can use the tax on
India's sugar products to nudge consumers into making healthy choices. But an important part
of the policy should be to make healthy choices less taxed. "so, there is a need to launch
something in healthy segment and also to cut sugar count in classic variants. "Companies should
be given some time to adjust their recipes / rebalance their portfolios to avoid additional? tax levy and
keep their prices competitive, says, Hitesh D Gajaria, partner and head of tax, KPMG India in a talk with
Shefali Singh with ET Prime. On this positive thought of a healthy India,
KITKAT BREAK BANTA HAI………
KITKAT TO PAYUP FOR FALLING TO PASS ON GST CUT
BENEFIT
In November last year, GST on 178 daily use products including chocolates and cocoa-based
products was slashed to 18% from 28% as the government sought to ease the burden on
consumers hit by price increases on account of the new tax regime. The government had
pushed companies to reduce prices in line with the cuts and ensure the benefits of the move
were passed on to consumers.
"In situations where the benefit could not be passed on instantly by reduction in MRP (maximum
retail price) or increase in grammage, the amount was set aside to be subsequently passed on
and was not reckoned either in sales or in profit," a Nestle spokesperson said in an email.
The Directorate General of Safeguards (DGS) said in the event that this wasn't possible on
account of stocks having already entered the retail channel with older, higher price tags,
companies are required to pay the difference to the central fund which is called TRANSITIION
AMOUNT.So,NESTLE India was liable to pay transition amount for not immediately passing the
tax benefits to the consumer.
ECONOMICAL
SURGING RAW MATERIAL COST
As raw material costs are surging up same effect be seen on the prices but the developing
countries where Nestle just have entered find it hard to buy.
So,there is a need to launch a more economical kind of variant for the developing economies
where company has to build its base first.
PENETRATION INTO THE RURAL MARKET
This is a goal which is yet to be achieved by Nestle Kit Kat and that is when kit Kat can do
wonders by using its deep pocket of establishing itself in rural market. Rural market is the real
market the business which can be made by making it's presence countable in the rural segment
can be helpful for the company as well as the country in which such things are to considered
and also play an important role in emerging markets of developing economies.
CHOCOLATES ARE REPLACING TRADITIONAL SWEETS IN
THE COUNTRY
If we talk about India, India is a country of festivals and no festival is complete without
sweets and it has been proven by the report that states that Indian chocolate market
reached a value of US$ 1,495 Million in 2018 with the country currently representing one
of the world's fastest growing markets for chocolates and company has not yet realized
this thing that chocolate is the new sweet of India. If it would have, there could have
been many lucrative offers from the company replacing traditional sweet of country with
its crunchy wafer bar.
SOCIO-CULTURAL
USAGE OF PALM OIL NOT GOOD FOR HEALTH
It's been seen that Nestle kitkat is extensively using PALM OIL which is the cheapest vegetable
oil available in the market. Even though having a lot of vitamins, about 50 per cent of the palm
oil contains saturated fatty acids, which can lead to elevated cholesterol levels or other heart
diseases. In addition to that, they also comprise fatty acid esters like glycidyl fatty acid ester and
3-MCPD fatty acid ester. These are rumored to be carcinogenic which means it causes Cancer
which is one reason, why palm oil isn't the best choice of vegetable oil for KitKat.Company
should look for other healthy options available in the market and also can keep an eye on what
it's competitors like CADBUY, FERRERO etc. are using though company is working towards it
but a significant result is yet to be seen.
AWARENESS ABOUT FLAVORS
NESTLE produces 350 flavors of kitkat in Japan and Nestle kitkat is being produced in 16
countries by Nestlé: Brazil, Mexico, United Kingdom, Canada, Australia, New Zealand, South Africa,
Germany, Russia, Japan, China, Malaysia, Thailand, India, Turkey, United Arab Emirates, Bulgaria
and Algeria.So,people are not aware about the different kind of flavors offered by kitkat
HEALTH CONSCIOUS
People are going towards healthy regimes so they want to cut on calories count.That's why nestle
kitkat cut calories from 215 to 110 in their four finger variant and need to improve more on this
part.
AGE IS NOT JUST A NUMBER
It's been seen that KITKAT has become the chocolate of the people from the age group of 2540 whereas dark variant is there for the persons above 50 but there should be some variant
segmented for the age group of 12-20 years old as it's also an important class to be targeted
earlier KITKAT had its presence from the age group of 12 to
TECHNOLOGICAL
PACKAGING TECHNOLOGY
As kitkat is famous for its three layered wafer covered with chocolate ,So, it has been found
some customer complaining about the breakage of chocolate inside packaging not getting exact
flavor for what they have bought.So,company needs to work on that part also.
RESEARCH AND DEVELOPMENT
Company need to spend more on research and development how to cut on cost by producing
more efficiently.
Though company is producing various new variant with a center with "live chocolate making" in
London where you can have chocolate of your choice but some cost effective variant in market
is also demanded.
KitKat Chocolatory
At the heart of KitKat Chocolatory is the eight-finger 'Create Your Break' option which
offers nearly 1500 different flavour combinations from four different chocolate varieties; milk,
dark, white and ruby, and a host of diverse ingredients including shortbread pieces, salted
caramel chunks, honeycomb and rose petals.The Chocolatory has been a successful concept
for Nestlé KitKat in Japan, Australia, Canada, Malaysia and other countries. You can create
your own chocolate you be having packaging option which are rarely available with any other
brand and you can write your special message also. This kind of innovations are necessary and
should be started in every feasible market with time passing by.
Social and Digital Media
As people are not aware about the different variants in the market so people can be made
aware about the same through the help of some social media campaign etcetera.Especially the
youth, which is the most important segment always looking for change should be made aware
about different variants and innovations company come up with by organizing campus
awareness program with the help of digital media.
ENVIRONMENTAL
FIGHT BETWEEN GREENPEACE AND NESTLÉ
For vegetable oil producers, the African oil palm tree is a cost effective way of meeting market
demand. It thrives in hot Asian environments and is relatively easy to farm, harvest and process
which promotes the harvesting of palm oil at the expense of tropical forests and other sensitive
ecosystems. Companies ruthlessly clear biodiversity rich sites in order to make way for
monoculture oil palm plantations for which Greenpeace started campaign against kitkat in 2010
and urged the company to stop taking palm oil from the companies that destroys rainforest As
the rainforest are habitat for ORANG-TUANS which are on a verge to extinct.So,company must
be aware about the source from where they are buying their main ingredient.
PLASTIC PACKAGING
In 2018 Nestlé produced 1.7 million tonnes of plastic packaging last year— a 13%
increase from the year before! Greenpeace and its supporters around the world
are calling on mega corporations like @Nestlé to stop polluting our planet with
single-use plastic.
At a time when companies need to be focused on urgently reducing their overall plastic
production, Nestlé continues to increase it, distracting concerned customers and the media with more
talk of recycling and small reuse initiatives that are nowhere near the scale needed to actually make a
dent in the obscene amount of plastic they are pumping out into the world. In fact, Nestlé was named
one of the worst plastic polluters after cleanups and brand audits of plastic waste around the world in
2018.So,a campaign by GREENPEACE is also into force after that which
Though Nestlé Japan recently released new packaging for its popular miniature Kit Kat
chocolate bars, which will now be wrapped in origami paper instead of plastic. Nestlé
announced that it plans to use 100% recyclable packaging for its products by 2025.So,company
should focus on not just making false claims but stick to the agenda and hopes it is giving.
LEGAL
BAD BUY
Purchase of cocoa beans from IVORIAN plantations that uses child slave labour. Children are
usually 12-15 years old and some are trafficked from nearby countries. UNICEF estimates that
nearly a half-million children work on farms across Ivory Coast, which produces nearly 40% of
the world's supply of cocoa. Nestle also has its name counted in buying from such sources .If
not legally then morally is liable.If not intentionally but morally company can be counted as a
bad name among its buyers.
Union Busting
The company's attitudes toward organized labor, especially in the developing world, are
notorious in the labor community. Workers who attempt to organize at Nestlé facilities have
been threatened with firing and have also been physically intimidated; in India, for example,
Nestlé successfully won a court injunction to ban labor organizing activities near its facilities.
So,company should be more considerate about such things as it can
damage Company's long created good will.