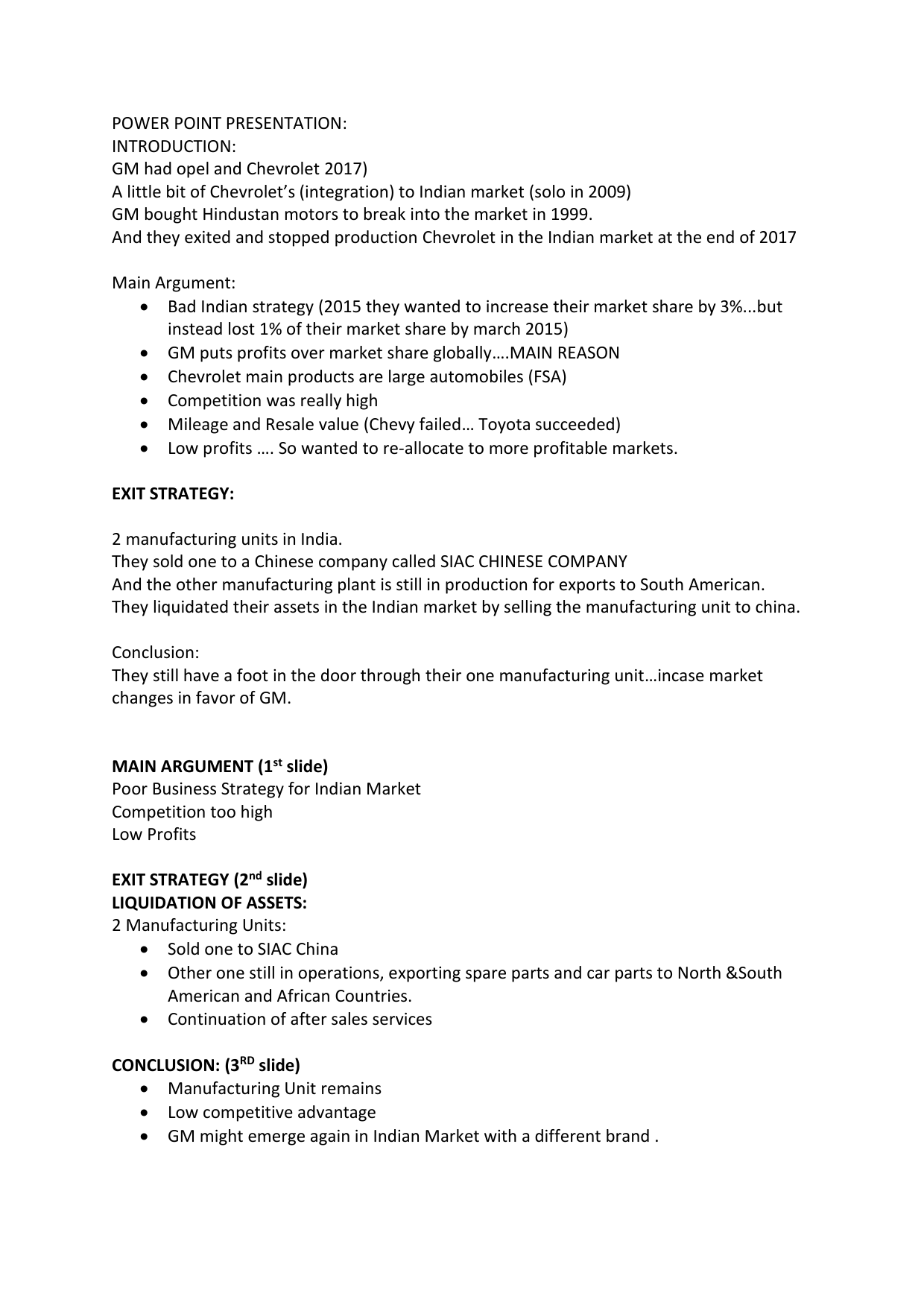 POWER POINT PRESENTATION:
INTRODUCTION:
GM had opel and Chevrolet 2017)
A little bit of Chevrolet's (integration) to Indian market (solo in 2009)
GM bought Hindustan motors to break into the market in 1999.
And they exited and stopped production Chevrolet in the Indian market at the end of 2017
Main Argument:
 Bad Indian strategy (2015 they wanted to increase their market share by 3%...but
instead lost 1% of their market share by march 2015)
 GM puts profits over market share globally….MAIN REASON
 Chevrolet main products are large automobiles (FSA)
 Competition was really high
 Mileage and Resale value (Chevy failed… Toyota succeeded)
 Low profits …. So wanted to re-allocate to more profitable markets.
EXIT STRATEGY:
2 manufacturing units in India.
They sold one to a Chinese company called SIAC CHINESE COMPANY
And the other manufacturing plant is still in production for exports to South American.
They liquidated their assets in the Indian market by selling the manufacturing unit to china.
Conclusion:
They still have a foot in the door through their one manufacturing unit…incase market
changes in favor of GM.
MAIN ARGUMENT (1st slide)
Poor Business Strategy for Indian Market
Competition too high
Low Profits
EXIT STRATEGY (2nd slide)
LIQUIDATION OF ASSETS:
2 Manufacturing Units:
 Sold one to SIAC China
 Other one still in operations, exporting spare parts and car parts to North &South
American and African Countries.
 Continuation of after sales services
CONCLUSION: (3RD slide)
 Manufacturing Unit remains
 Low competitive advantage
 GM might emerge again in Indian Market with a different brand .