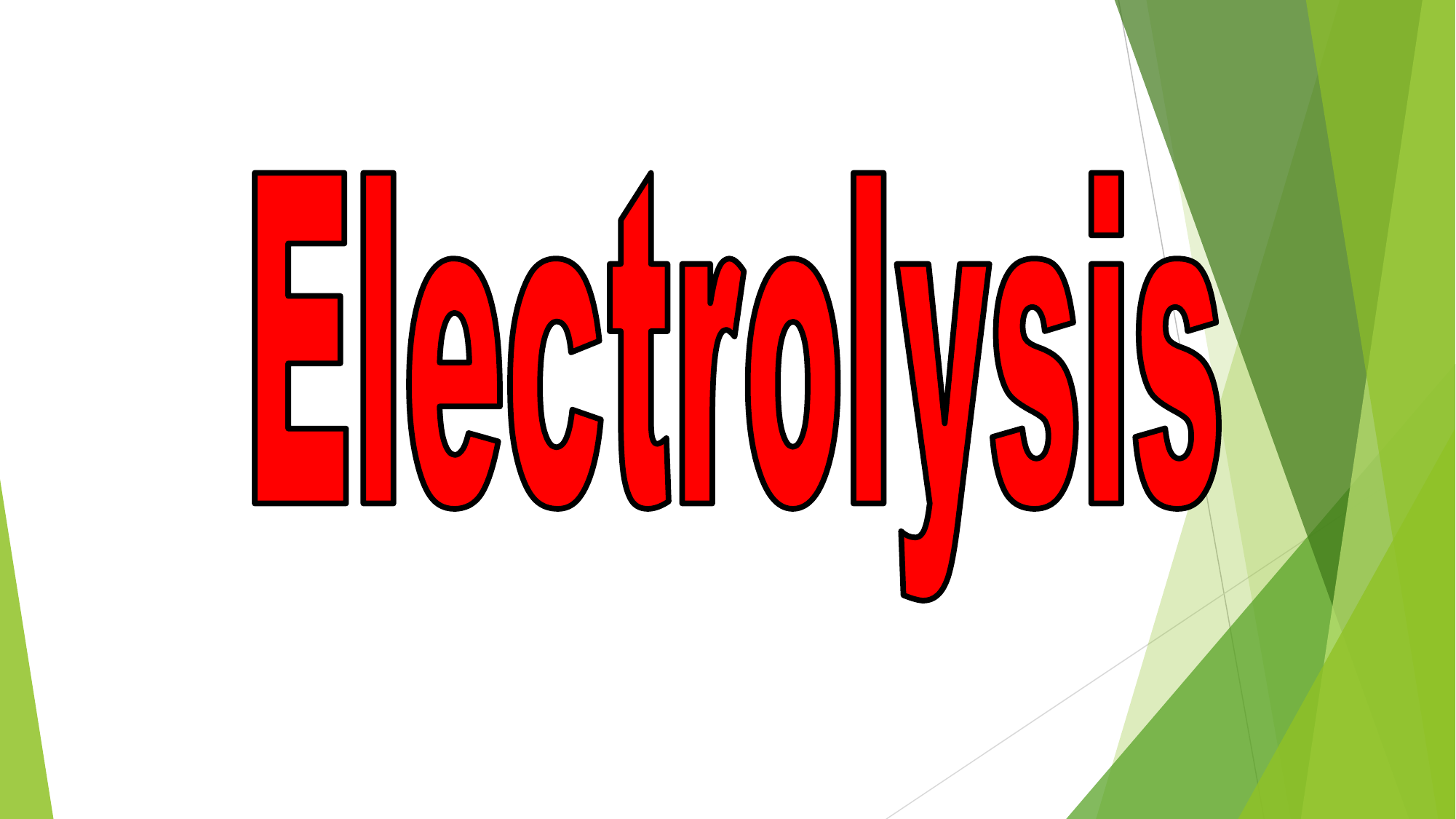 Oxidation or Reduction
a) Addition of oxygen to a substance
b) Loss of electrons
c) Addition of hydrogen
d) Decrease in oxidation number
Use the equation below to Identify the chemical substance that
that have undergone reduction / oxidation.
Fe (s)
+
Ag+(aq)
 Ag (s) +
Fe2+`(aq)
Learning Objectives

By the end of the lesson I will be able to:

1) Describe the process of electrolysis.

2) Explain how to separate lead(II)bromide using
electrolysis.
DEFINITION OF KEYWORDS
Electrolysis Splitting a substance using electricity
Electrolyte
Electrode
Anode
The substance being broken down. It is
usually in form of molten or aqueous solution.
It is a conductor through which electricity
enters or leaves the electrolyte
Positive electrode
Cathode
Negative electrode
Anion
Negative ion
Cation
Positive ion
Examples of electrolytes



Acids
Nitric acid - HNO3
Sulphuric acid- H2SO4

Hydrochloric acid – HCl

Bases/Alkali

Sodium hydroxide - NaOH

Potassium hydroxide - KOH

Calcium hydroxide - Ca(OH)2

Salts :
Potassium chloride – KCl
Sodium Chloride - NaCl
Potassium bromide - KBr
MOVEMENT OF IONS
Negative ion
Positive ion
Cathode
Anode
Electrolysis of Molten PbBr2
(lead(II)bromide)
+
CATHODE
The lead ions move
to the cathode and
the bromide ions
move to the anode.
Pb2+
BrPb2+
-
+
ANODE
Pb2+
Br-
BrPb2+
-
Br-
= bromide ion
At the cathode:
Pb2+ gains electrons to form
lead metal.
Pb2+ + 2e-  Pb
It is REDUCED.
= lead ion
Cathode
Anode
At the anode:
Br- loses electrons to form
bromine gas.
2Br-  Br2 + 2eIt is OXIDISED.