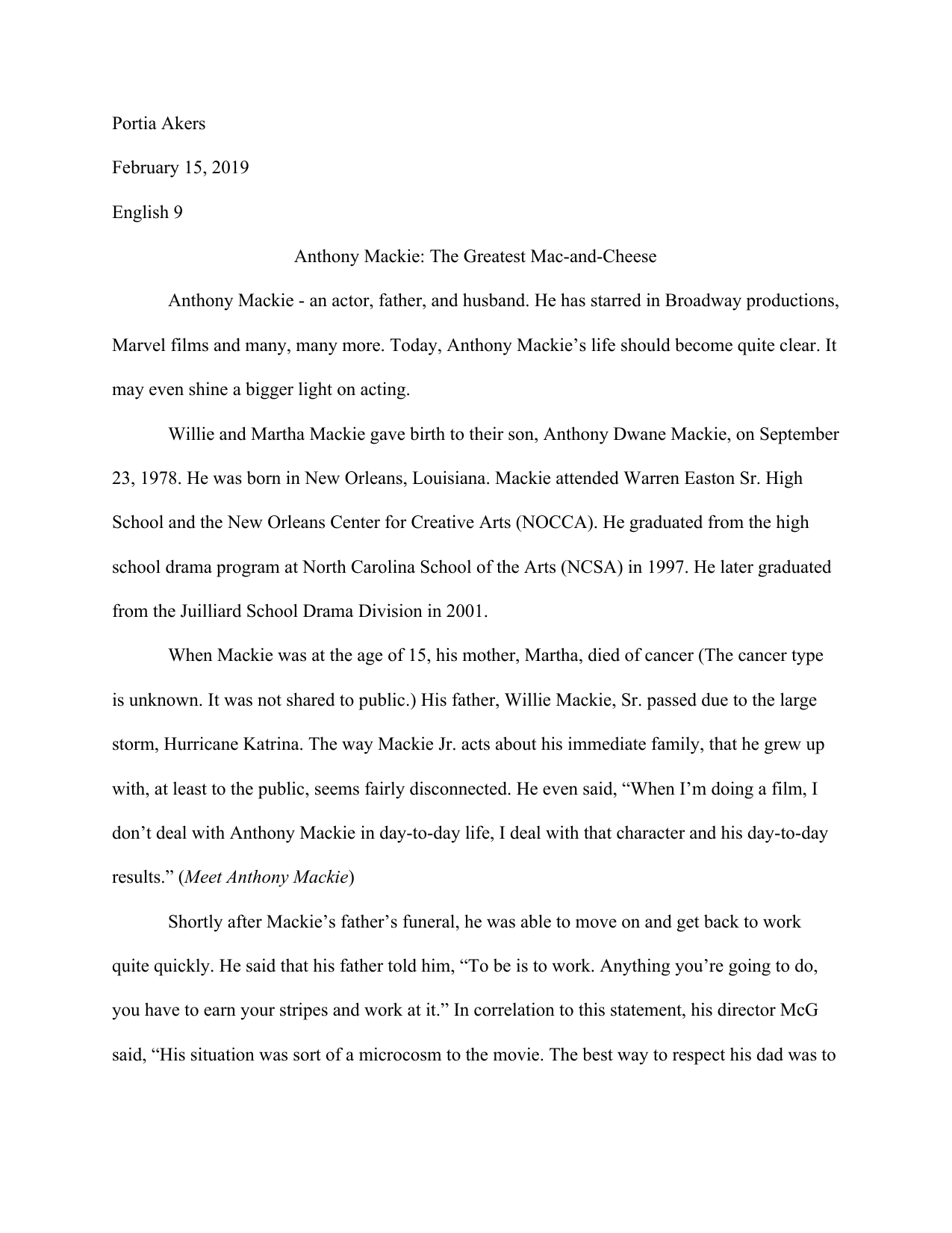 Portia Akers
February 15, 2019
English 9
Anthony Mackie: The Greatest Mac-and-Cheese
Anthony Mackie - an actor, father, and husband. He has starred in Broadway productions,
Marvel films and many, many more. Today, Anthony Mackie's life should become quite clear. It
may even shine a bigger light on acting.
Willie and Martha Mackie gave birth to their son, Anthony Dwane Mackie, on September
23, 1978. He was born in New Orleans, Louisiana. Mackie attended Warren Easton Sr. High
School​ and the ​New Orleans Center for Creative Arts (NOCCA).​ He graduated from the high
school drama program at ​North Carolina School of the Arts (NCSA​) in 1997. He later graduated
from the ​Juilliard School Drama Division​ in 2001.
When Mackie was at the age of 15, his mother, Martha, died of cancer (The cancer type
is unknown. It was not shared to public.) His father, Willie Mackie, Sr. passed due to the large
storm, Hurricane Katrina. The way Mackie Jr. acts about his immediate family, that he grew up
with, at least to the public, seems fairly disconnected. He even said, "When I'm doing a film, I
don't deal with Anthony Mackie in day-to-day life, I deal with that character and his day-to-day
results." (​Meet Anthony Mackie​)
Shortly after Mackie's father's funeral, he was able to move on and get back to work
quite quickly. He said that his father told him, "To be is to work. Anything you're going to do,
you have to earn your stripes and work at it." In correlation to this statement, his director McG
said, "His situation was sort of a microcosm to the movie. The best way to respect his dad was to
move forward and be the best actor he could be."(​Meet Anthony Mackie​) He did honor​ ​his father,
but by the sounds of it, they did not always get along.
Anthony Mackie, 40 years old, married his longtime girlfriend, Sheletta​ ​Chapital, on
December 17 of 2014. They have three children and are still happily married. They had two of
their sons before they married, but had their third child in late 2015.
Mackie has acted in many movies, such as: ​Brother to Brother,​ as Perry (directed by
Rodney Evans), ​Avengers Infinity War​, as Sam Wilson or Falcon (directed by the Russo
Brothers, Anthony and Joe). He even acted in the tv show, ​All the Way,​ as Martin Luther King,
Jr., though, that is just to name a few. Although, when Mackie is not acting, he likes to go
fishing, play golf, and make seafood as a few hobbies.
Although acting may be tough, Anthony Mackie seems to pull off raising three kids and
focusing on his job, quite well. He may have not been too fond of his previous life, and may have
been forced to make some tough decisions when it came to work and mourning over his parents,
to keep going even through the pain.
Sources:
1. Anthony Mackie Bio​, 4 May 2018,
marriedbiography.com/anthony-mackie-biography/#Anthony_MackieBirth_Facts_Famil
y_and_Childhood. Accessed 24 Feb. 2019.
2. Gajewski, Josh. ​Meet Anthony Mackie​, Up & Comer, 23 Dec. 2006,
news.google.com/newspapers?id=KNk8AAAAIBAJ&sjid=IS4MAAAAIBAJ&pg=4610,
2302814&dq=anthony-mackie+28&hl=en&safe=active. Accessed 24 Feb. 2019.
3. Greer, Carlos. ​Anthony Mackie Quietly Weds Longtime Girlfriend​, Page Six, 8 June 2015,
pagesix.com/2015/06/08/anthony-mackie-secretly-wed-longtime-girlfriend-last-december
/. Accessed 24 Feb. 2019.