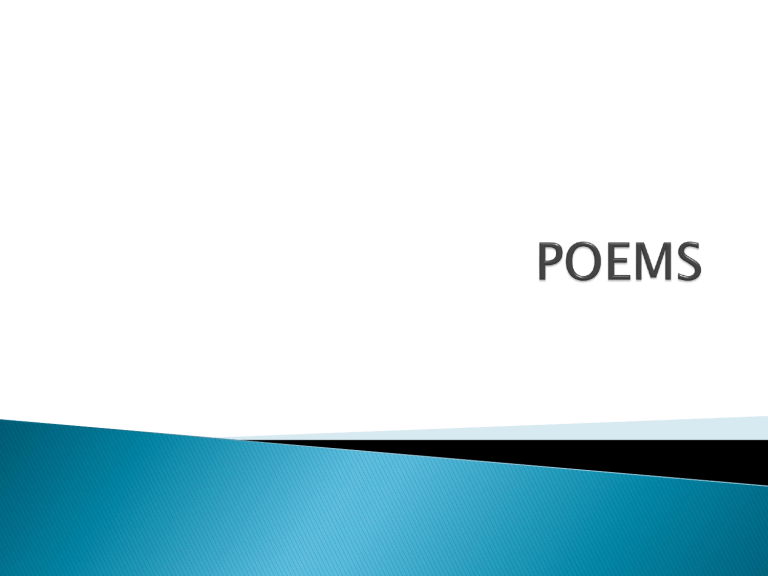 




Paragraphs
Characters
Events
Settings
Sequence of events
STORIES





Stanzas
Lines
Rhymes
Focus on one thing
Don't have "correct"
answers – about
feelings and wonder
and things that we
want to think more
about
POEMS
Air comes in tickly
Through my nose,
Then very quicklyOut it goes;
Ahh-CHOO!
With every sneeze
I have to do,
I make a breezeAhh-CHOO!-Ahh-CHOO!
Rhyming words
Line
Stanza

Choose a topic.
◦ Going to school
◦ Nature
◦ Water

Choose one word that stands
for that topic.
◦ SCHOOL
◦ TREE
◦ WATER

Write the word top to
bottom.
LIKE
THIS!

Then, write your poem using the letters of your
word as the first letter of the line.
uper
ool
appy
utside recess
ur teacher
earning
Weather as rain
Another thunderstorm
Turning brown grass green
Everything is good about water
Repeating the water cycle



Let your poem take the shape of it's topic!
Write about anything and write it in the shape
of the main idea.
If your poem is about stars, shape it like a
star…

If it is about rain, shape it like an umbrella…

Or like a raindrop…



Just like it sounds…free!
Not a story, but no rhymes or patterns either.
Can have any length of line, number of
stanzas and be about any subject
The Moths
There's a kind of white moth, I don't know
what kind, that glimmers
by mid-May
in the forest, just
as the pink moccasin flowers
are rising.
If you notice anything,
it leads you to notice
more
and more.
And anyway
I was so full of energy.
I was always running around, looking
at this and that.
~ Mary Oliver (abridged)
The fog comes
on little cat feet.
It sits looking
over harbour and city
on silent haunches
and then moves on.
~ Carl Sandburg

Describe a topic using each of the five
senses.
I smell the chlorine in the air.
I hear the splash of cannon balls off the high dive.
I see the glint of sun off the water.
I taste the ice cold popsicle from the treat stand.
I feel the heat of the chair under my legs.
Another day at the pool!


A cinquain poem is a verse of five lines that do
not rhyme.
It follows a pattern like this:
◦
◦
◦
◦
◦

Line 1 – One word subject (noun – person, place, thing)
Line 2 – Two describing words (adjectives)
Line 3 – Three action words (verbs)
Line 4 – Four word phrase – feelings
Line 5 – Repeat the one word subject
So, what does that actually look like?
Dragons
Majestic, elegant
Glides, roars, shines
The most beautiful creature
Dragons.
~ by Lily Martin
Truck
Loud, smelly
Rumbling, crunching, squishing
Trash feeds you daily
Truck.



A haiku is a form of poetry that comes from
Japan.
It is about a very small moment, a strong
feeling,
It follows a set pattern of syllables, like this:
◦ Line 1- 5 syllables
◦ Line 2 – 7 syllables
◦ Line 3 - 5 syllables

What does that look like?
Always prancing through
Followed by a rainbow
They are unicorns.
Al*ways pran*cing through
Fol*lowed by man*y rain*bows
They are un*i*corns.
Always prancing through
Followed by many rainbows
They are unicorns.