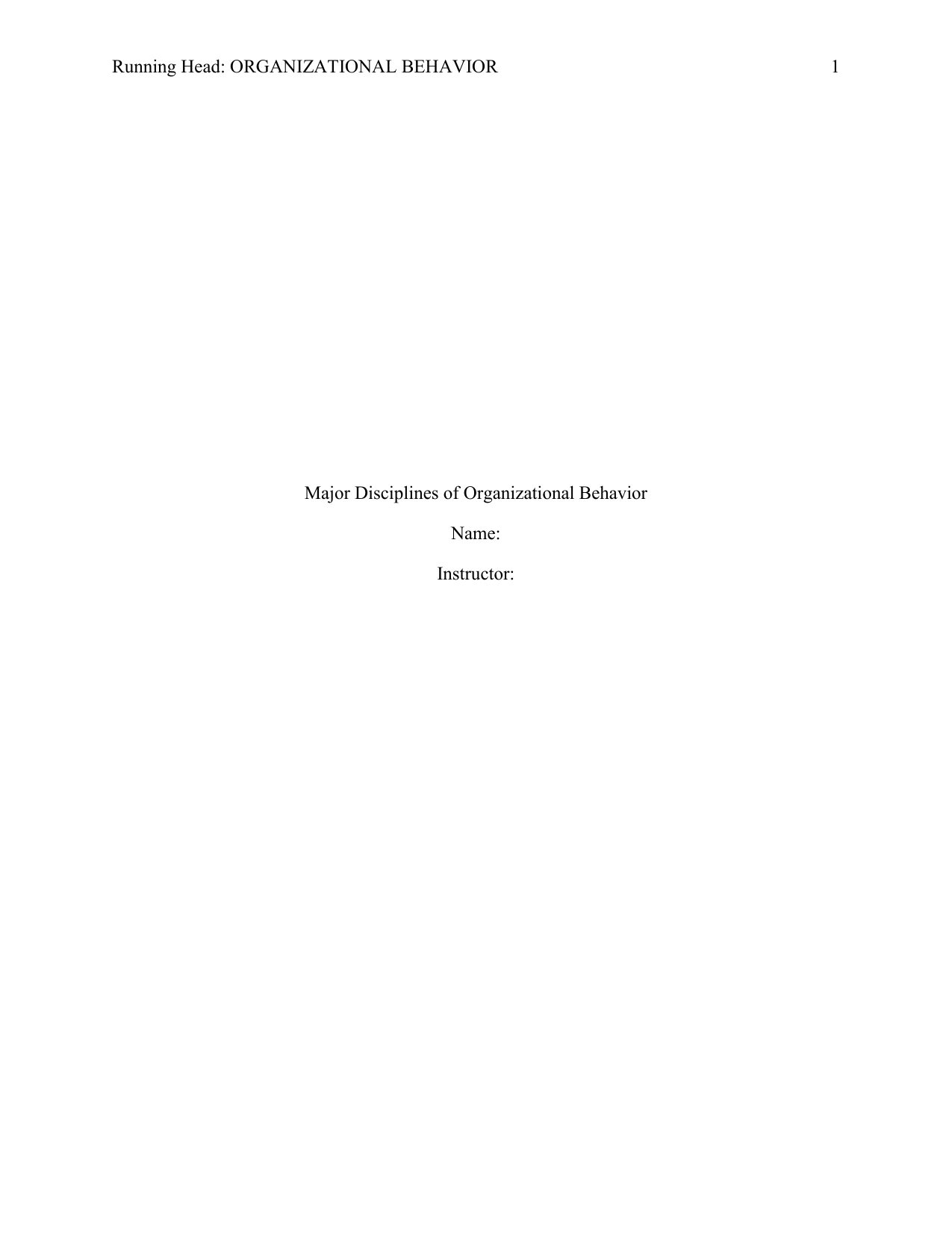 Running Head: ORGANIZATIONAL BEHAVIOR
Major Disciplines of Organizational Behavior
Name:
Instructor:
1
ORGANIZATIONAL BEHAVIOR
2
Organizational refers to the study of the interaction of individual and groups within an
organization. How different individual behaves affects the formation of teams and groups in any
organization. The main reason why this study is applied is in an effort to try and create a more
and better effective business organization. Different organization behavior is used to ensure that
companies human resource maximize the output from individual and group members.
Consequently, it draws its knowledge from different knowledge and theories which includes
political science, sociology, psychology, anthropology, and social psychology.
Psychology
Psychology can be said to be the first influence on organizational behavior, and this is
because itself is a science of behavior and study almost all areas of functioning (Miner, 2015).
Additionally, it deals with the study of human behavior to give an explanation and change the
behavior of human and also predict individual responses.
Sociology
Sociology mainly focuses on the study of a social system in which different individuals
fill their roles and group dynamics of an organization. The contribution of sociologists in OB has
been great especially through their study on group behaviors. They help to understand the group
dynamics and the culture of the organization better.
Social psychology
It refers to the scientific investigation of how the feelings of different persons are affected
by imagined or actual presence of others. Hence sociology focuses on how individual or groups
of people function.
ORGANIZATIONAL BEHAVIOR
3
Anthropology
Anthropology assists in getting a better understanding of the relationship between human
beings and the surroundings. As a result, it makes people have a good knowledge of different
fundamental values, behaviors, and attitudes amongst people in different places.
Political science
It is the study of individual and groups behaviors within a political environment. It
further helps in the understanding of the dynamics of power centers, and the structure of conflict
and the resolution tactics that are put in place (Miner, 2015). In a business environment,
companies always compete to gain supremacy in their field and involve themselves in politicking
activities all to gain maximum advantage other the others.
ORGANIZATIONAL BEHAVIOR
4
References
Miner, John B. Organizational behavior 1: Essential theories of motivation and leadership.
Routledge, 2015.