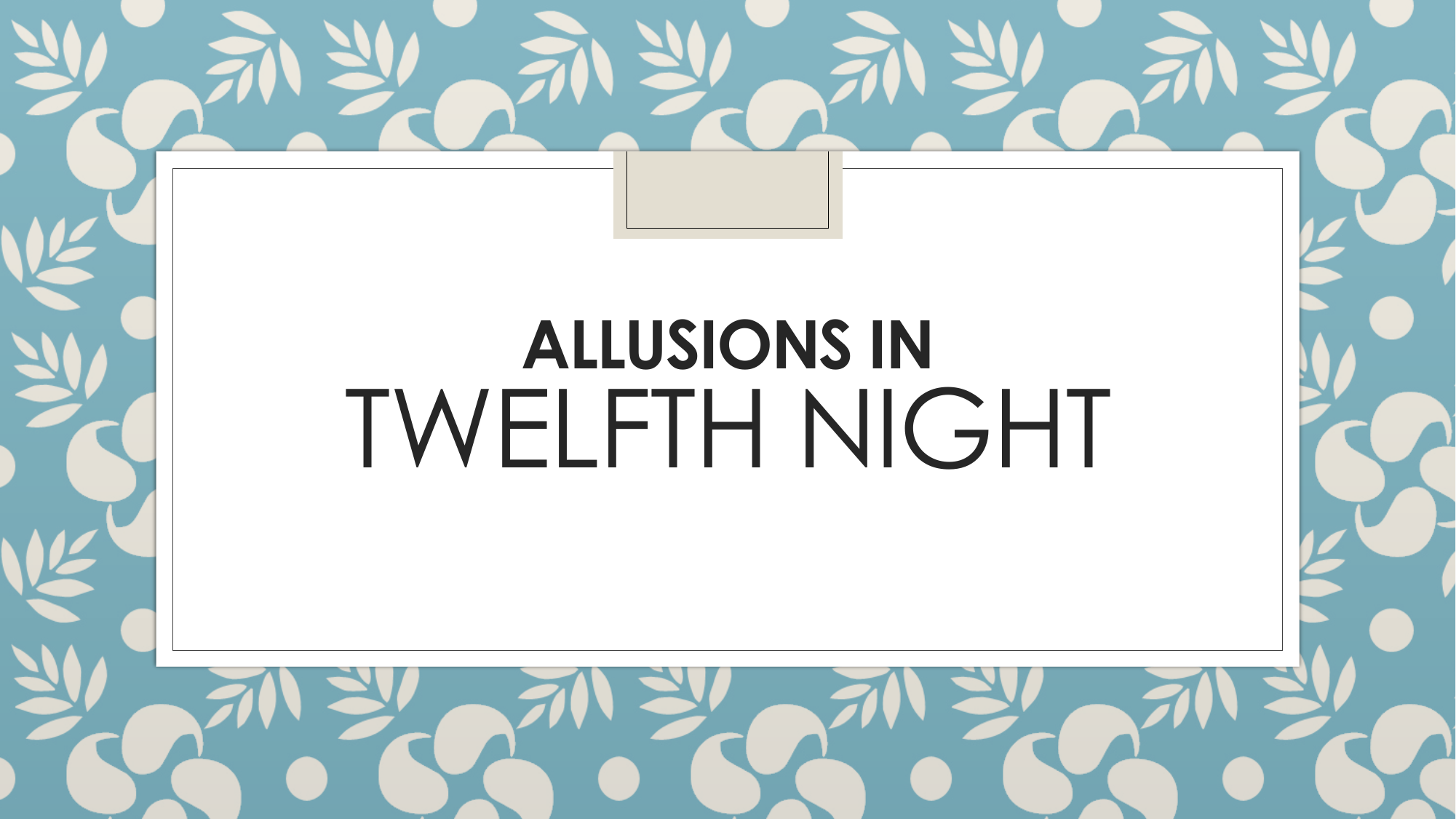 ALLUSIONS IN
TWELFTH NIGHT
• METHOUGHT SHE PURGED THE
AIR OF PESTILENCE/THAT INSTANT
WAS I TURN'D INTO A HART' AND
MY DESIRES, LIKE FELL AND CRUEL
HOUNDS, E'ER SINCE PUSUE ME.
Classical allusion to Artemis and
Actaeon.
Orsino is compared to actaeon, a
greek youth, who watched artemis
bathing in a poind when he was
hunting. She caught him looking and
transformed him into a stag(deer).
Actaeons hounds chased him and
killed him
HOW WILL SHE LOVE WHEN THE
RICH GOLDEN SHAFT HATH KILL'D
THE FLOCK OF ALL AFFECTIONS
ELSE THAT LIVE IN HER; WHEN LIVER,
BRAIN, AND HEART
Classical allusion to eros/cupid.
Cupid, roman boy-god of love, had
two cinks of arrows: the arrows with
golden tips caused instant love,
while those with leaden tips cause
hatred or scorn.
MY BROTHER HE IS IN
ELYSIUM
classical allusion to mythical heaven
"Elysium"
• Home of the blessed dead, a kind
of heaven
I SAW YOUR BROTHER/ BIND
HIMSELF/TO A STRONG MAST THAT
LIVED UPON THE SEA/ WHERE, LIKE
ARION ON THE DOLPHINS BACK,/ I
SAW HIM HOLD ACQUAINTANCE
WITH THE WAVES
Arion is a young greek musician who
leapt into the sea to escape a crew
of seamen who were planning to rob
him, he was carried to safety on the
back of a dolphin
FOR THEY SHALL YET BELIE THY
HAPPY YEARS,/ THAT SAY THOU
ART A MAN. DIANA'S LIP. IS NOT
MORE SMOOTH AND RUBIOUS,
THAT SMALL PIE/ IS AS THE
MAIDENS ORGAN, SHRILL AND
SOUND.
duke says this
classical allusion Diana/artemis
• Diana's lip: the beautiful roman
goddess of the moon, the hunt, and
spiritual love
TOBY WOULD LEAVE DRINKING,
THOUGH WERT AS WITTY A PIECE
OF EVE'S FLESH AS ANY IN ILLYRIA
Eve's flesh is woman
biblical allusion to Adam and Eveeves flesh
NOW MAY MERCURY ENDUE THEE
WITH LEASING, FOR THOU
SPEAKEST WELL OF FOOLS
May mercury make you a skilled liar,
mercury(hermes) was the roman god
of liars, cheats, tricksters, and
thieves.
THOU HAST SPOKE FOR US,
MADONNA, AS IF THY ELDEST SON
SHOULD BE A FOOL, WHOSE SKULL
JOVE CRAM WITH BRAINS! FOR
HERE HE COMES, ONE OF THY KIN
MOSET WEAK PIA MASTER
Classical Allusion "whose skull jove"
it is zeus. Jupiter is zeus too
• Jupiter was the god of the romans
(like zeus
HOW NOW, MY HEARTS! DID YOU
NEVER SEE THE PICTURE OF "WE
THREE"?
A common illustration for an inn's
sign. It featured two fools or asses
and was inscribed we three. The
viewer was the third. Feste is
suggesting that he, sir toby and sir
Andrew are asses
regular allusion to a shakesperean
inn's sign . picture
GOOD NIGHT
PENTHESILEA
Sir toby regular allusion to
"penthesilea"/queen of amazons
To maria, penthesillia was a tall
queen of amazons
COME AWAY, COME
AWAY/ AND IN SAD
CYPRESS LET ME BE
LAID
Cypress a coffin made of cypress
wood. It is associated with death
symbol
FIE ON HIM, JEZEBEL
Sir Andrew:
, jezebel proud and wicked wife of
ahab, king of Israel, in the bible.
biblical allusion to jezebel
NOW IS THE
WOODCOCK NEAR
THE GIN
Fabian: \
• Woodcock a proverbially stupid
bird
woodcock is a symbol of stupidity
TO THE GATES OF
TARTAR, THOU MOST
EXCELLENT DEVIL OF
WIT!
Sir toby:
• The underworld of classical
mythology classical allusion to
tartarus/mythological hell
I WOULD PLAY LORD PANDARUS
OF PHRYGIA, SIR, TO BRING A
CRESSIDA TO THIS TROILUS
Cressida was the daughter of a
greek priest a beggar, Troilus, a
Trojan prince. They were lovers
during the Trojan war. Cressida's
unchle, pandarus, had introduced
them. 3 coins classical allusion to
Troilus and Cressida
AN'T BE ANY WAY, IT MUST BE WITH
VALOUR, FOR POLICY I HATE, I HAD
AS LIFE BE A BROWNIST AS A
POLITICIAN
Sir andrew
• Follower of Robert brown, who
advocated the complete separation
of church and sate, puritan.
: regular allusion to the brownists
MADMAN, THOU ERREST. I SAY
THERE IS NO DARKNESS BUT
IGNORANCE, IN WHICH THOU ARE
MORE PUZZLED THAN EGYPTIANS
IN THEIR FOG.
Reference to the plage of darkness
that moses inflicted.
: biblical allusion to the Egyptians "in
their fog" refers to the plague
THAT FACE OF HIS I DO REMEMBER
WELL, YET WHEN I SAW IT LAST IT
WAS BESMEAR'D AS A BLACK
VULCAN IN THE SMOKE OF WAR.
Roman god of fire and blacksmiths
classical allusion to Vulcan /
hephaestus (215) fire and
blacksmiths
TITLE TWELFTH NIGHT
allusion to the 12 days after
Christmas because everything is
turned upside down/ROLL REVERSAL
AND CROSS DRESSING.