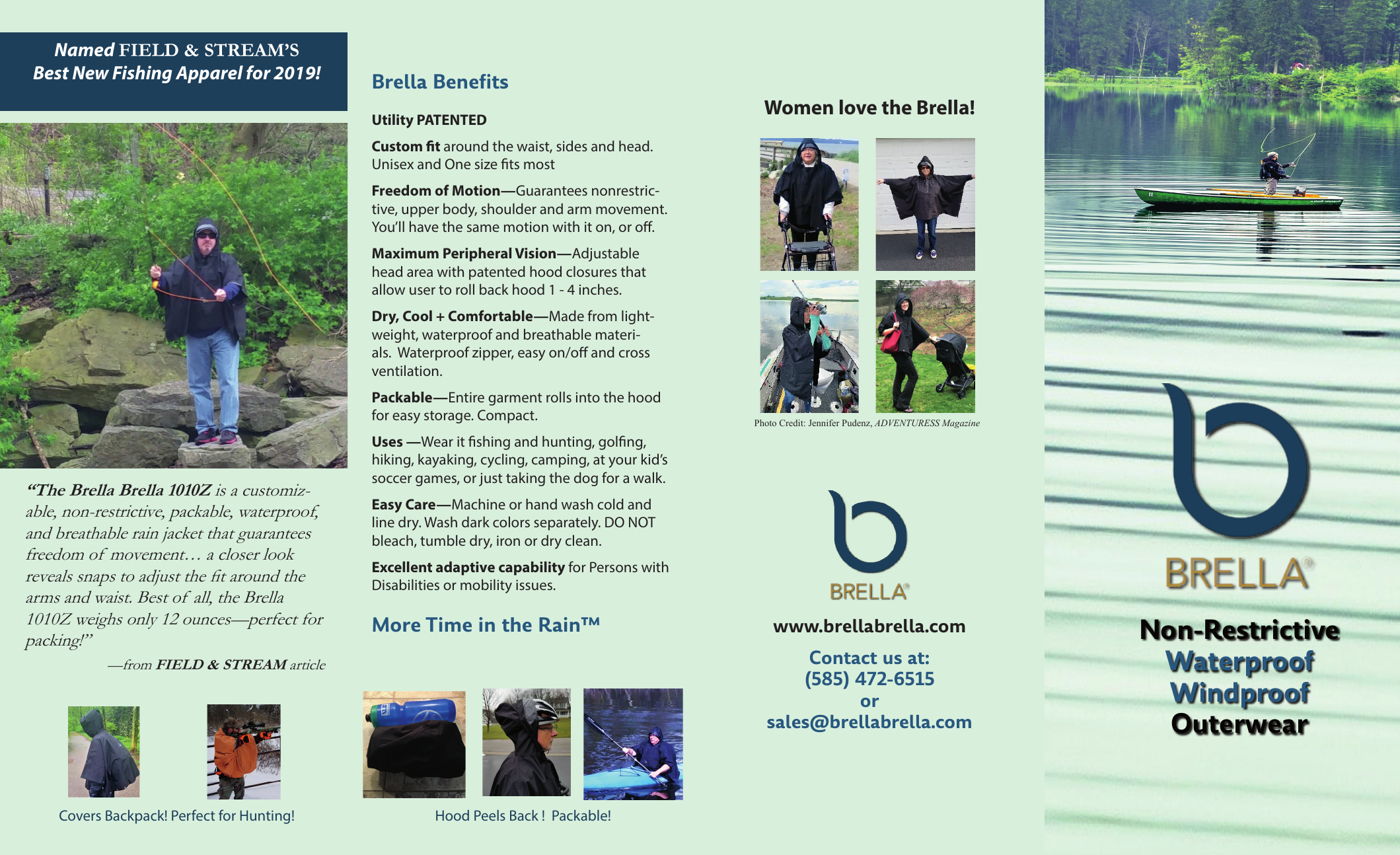 Named FIELD & STREAM'S
Best New Fishing Apparel for 2019!
Brella Benefits
Utility PATENTED
Women love the Brella!
Custom fit around the waist, sides and head.
Unisex and One size fits most
Freedom of Motion—Guarantees nonrestrictive, upper body, shoulder and arm movement.
You'll have the same motion with it on, or off.
Maximum Peripheral Vision—Adjustable
head area with patented hood closures that
allow user to roll back hood 1 - 4 inches.
Dry, Cool + Comfortable—Made from lightweight, waterproof and breathable materials. Waterproof zipper, easy on/off and cross
ventilation.
Packable—Entire garment rolls into the hood
for easy storage. Compact.
"The Brella Brella 1010Z is a customizable, non-restrictive, packable, waterproof,
and breathable rain jacket that guarantees
freedom of movement… a closer look
reveals snaps to adjust the fit around the
arms and waist. Best of all, the Brella
1010Z weighs only 12 ounces—perfect for
packing!"
Uses —Wear it fishing and hunting, golfing,
hiking, kayaking, cycling, camping, at your kid's
soccer games, or just taking the dog for a walk.
Easy Care—Machine or hand wash cold and
line dry. Wash dark colors separately. DO NOT
bleach, tumble dry, iron or dry clean.
Excellent adaptive capability for Persons with
Disabilities or mobility issues.
More Time in the Rain™
www.brellabrella.com
Contact us at:
(585) 472-6515
or
[email protected]
—from FIELD & STREAM article
Covers Backpack! Perfect for Hunting!
Photo Credit: Jennifer Pudenz, ADVENTURESS Magazine
Hood Peels Back ! Packable!
Non-Restrictive
Waterproof
Windproof
Outerwear
Protection from Wind + Rain
The Brella® Features:
The Brella®...
Customizable, Non-Restrictive, Cross-Vented, Packable, Waterproof Rain Jacket
• 10,000/20,000mm waterproof*
• 10,000/20,000gm MVTR breathability*
Velcro Hood
Adjustments
• Windproof
Brellas are available in any color,
reflective strips or RealTree® camo
patterns with 10,000 or 20,000mm
waterproof rating.
• Adjustable waist fit
• Guaranteed freedom of motion
Non-restrictive Freedom
of Motion
• Adjustable hood
• Optimal peripheral vision
• BrellaVent™ cross-ventilation
• Lightweight – 12 oz.
Generously-sized
Interior/Exterior Pockets
• Inside or outside pockets
• Head-to-waist water protection
• Fully taped seams
• Waterproof zipper
The Brella is designed to be standalone
in warm climes and the final layer when it
gets colder, extending hours of protection
from the wind + rain and complementing
your current outdoor gear. Are several
extra hours in the rain worth it to a hunter in a tree stand? You know it is and the
Brella gives you...
More Time in the Rain!™
* 10.000 mm/10,000 gm = moderate rain and
moderate physical activity,
20,000 mm/20,000 gm = extreme conditions
and rigorous physical activity
Multiple Snaps to
Customize Waist Fit
The Brella is a customized, lightweight (12 oz.), multi-use, high performance waterproof rain jacket designed for those who work and play out-of-doors. Perfect for the outdoor enthusiast. Bundle with kayaks,
canoes, tree stands or backpacks.
Non-restrictive Range + Freedom of Movement
The Brella was invented to allow complete unrestricted range and freedom of movement for the upper
body and arms for all outdoor sports and worker activity. Whether you are fly fishing, kayaking, cycling,
golfing or working outdoors, you will have water and wind proof protection and the same range of motion
with the Brella on as off.
Maximum Peripheral Vision
A unique feature of the Brella allows you to peel back and secure the hood area with Velcro hood adjustments to provide the peripheral vision needed for the activity of the day. Plenty of room for head gear as
well.
The Brella is hand or machine-washable, cold.
GREAT BRANDING
Your Branding can be placed on the front
or the back, with minimum orders. The
Brella is ideal for companies to give to their
clients or employees
who work or play
outdoors. We sponsored the USA BASS
Kayak Fishing Team
with branded Brellas.